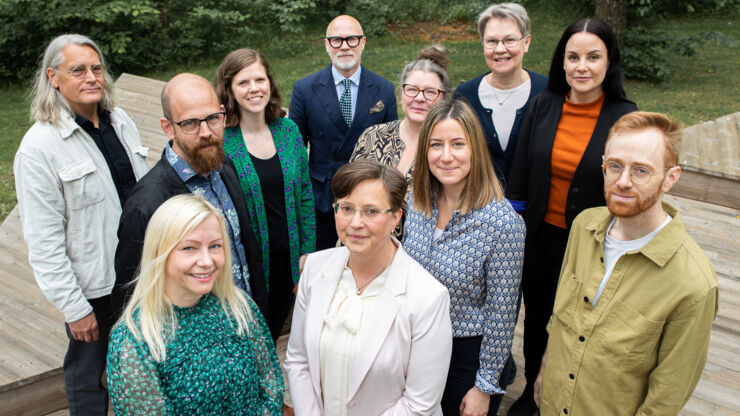 Co-workers at the National Centre for Priorities in Health 2022.
Photo credit

Cecilia Säfström
The National Centre for Priorities in Health was established in 2001 as a national centre of knowledge on the setting of priorities in health and social care.
Initially the Centre was commissioned by the Ministry of Health and Social Affairs, and the Swedish Association of Local Authorities and Regions.
In 2010 the Centre became part of the Division of Health Care Analysis at the Department of Medical and Health Sciences, Linköping University.
Today the main sponsors are the National Board of Health and Welfare, Östergötland Region and Linköping University.
Our role is to:
• Collaborate with a broad range of stakeholders in developing methods that can be used to support open priority setting
• Stimulate awareness and debate on open priority setting
• Contribute to the exchange of knowledge between research and real-world health care
• Develop and implement educational programmes and consultancy services

The Centre functions as skill support to state agencies, regional and local authorities (the regions/county councils and municipalities), and clinical management in the health service. We are linking education, research and policy development, and work with knowledge dissemination and exchange in the form of e.g. publications, newsletters, tutorials, method support, conferences and seminars.

Our vision is that the decisions on all levels that affect access to health care, will be based on shared priority-setting principles. The decisions should be based on ethical principles applied in an open process, and where the justifications for various decisions are transparent.