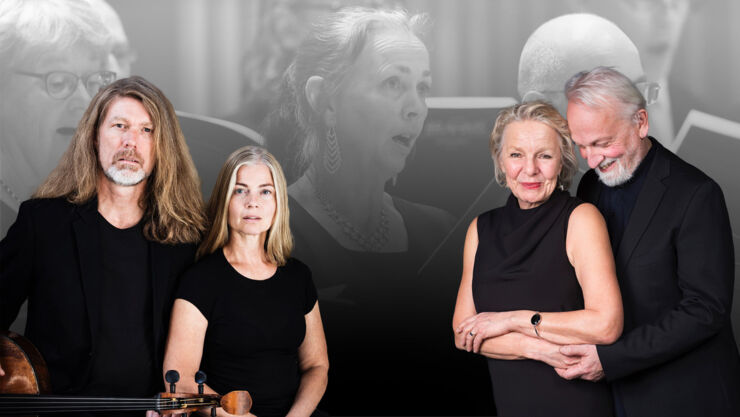 Svante and Katarina Henryson, Elise Einarsdotter and Olle Steinholtz
The Academic Gala Concert starts off the Academic Celebrations that take place in May every year. A long-standing tradition, the Gala Concert is now in its 44th year. It is open for everyone to enjoy, and will be a fantastic experience.
In this year's concert, we will hear soloist Katarina Henryson's voice meet the timbre of Linköping University Chamber Choir in texts by Tomas Tranströmer, E. E. Cummings, Karin Boye, W B Yates, Kerstin Söderholm and others. The virtuoso excursions of double bass player Olle Steinholtz interplays with the improvisations of pianist Elise Einarsdotter, and, together with the tunes from genre-defying multi-instrumentalist Svante Henrysson's cello, paints a landscape framing the stories in the songs. The concert is produced by Music at Linköping University, under the direction of Director Musices Christina Hörnell.
For the last few years, Christina Hörnell has been collaborating with Elise Einarsdotter and her husband, bass player Olle Steinholtz, who have jointly developed and enriched Linköping University Chamber Choir in numerous ways.
"The four musicians in this production move in many musical landscapes, and you can expect an evening centred around creativity, communication and expression. We are delighted to invite this year's promovendi and installandi to experience these talented musicians perform on stage in this year's Academic Gala Concert. As the concert is free of charge and will be held at a venue that can seat a large audience, we are looking forward to welcoming the Linköping audience and our friends to this event!" says Christina Hörnell.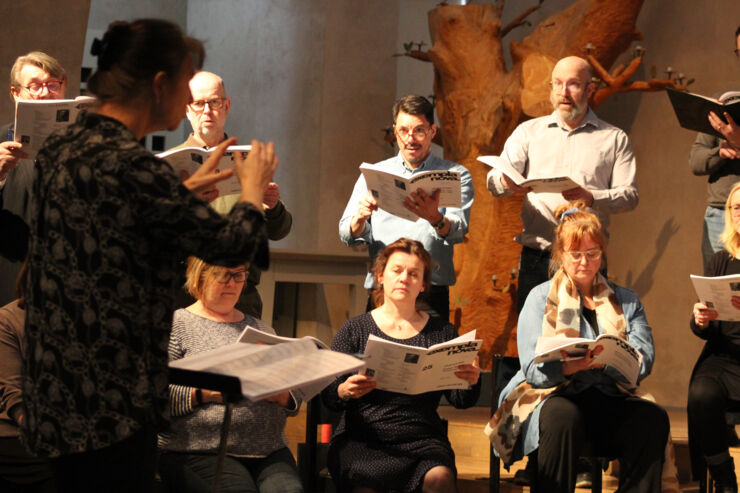 Linköping University Chamber Choir rehearsing

Photo credit

Jenny Ahlgren Linköping University Chamber Choir
was founded in 1989 and today consists of 40 experienced singers. They are students, LiU alumni and other singers wanting to sing at an advanced level. The choir members always enjoy a challenge and strive to develop their musical skills. Their meeting with Elise Einarsdotter has contributed many new perspectives in terms of musical expression and interplay, and has also provided valuable insight into jazz harmonics.
Elise Einarsdotter
is a jazz pianist and composer. She has studied at Berklee College of Music in Boston and at the Royal College of Music in Stockholm.
Olle Steinholtz
is a jazz musician. He has played with, among others, Egba, Tintomara, and Steve Dobrogosz Quartet.
Katarina Henryson
is a singer with a past in The Real Group, which she left after 32 years to focus on her own vocal artistry.
Svante Henryson
is a composer and musician. A jazz, classical and hard rock musician, he plays cello, double bass and electric guitar.