Final report RJ program on segregation
2019-09-09
At a breakfast seminar at the Institute for Future Studies 17/10, the results of a large research program on segregation processes in present-day Sweden are presented. The research has been funded by the Riksbank's anniversary fund and has been conducted at IAS and the Institute for Future Studies. At the meeting, the overall research agenda of the research program, as well as new results regarding the causes and effects of housing and school segregation, are presented. Issues involved include: How has segregation evolved over the past decade? How are children's learning and grades affected by attending segregated schools? What is the significance of family ties and other social networks for the stability of segregation patterns over time?

Participants are Peter Hedström, professor and director of IAS, as well as Maria Brandén and Benjamin Jarvis, both lecturers at IAS. The seminar is held in Swedish.

The seminar is held 08: 00-10: 00 17/10 and is free but requires you to register. To signup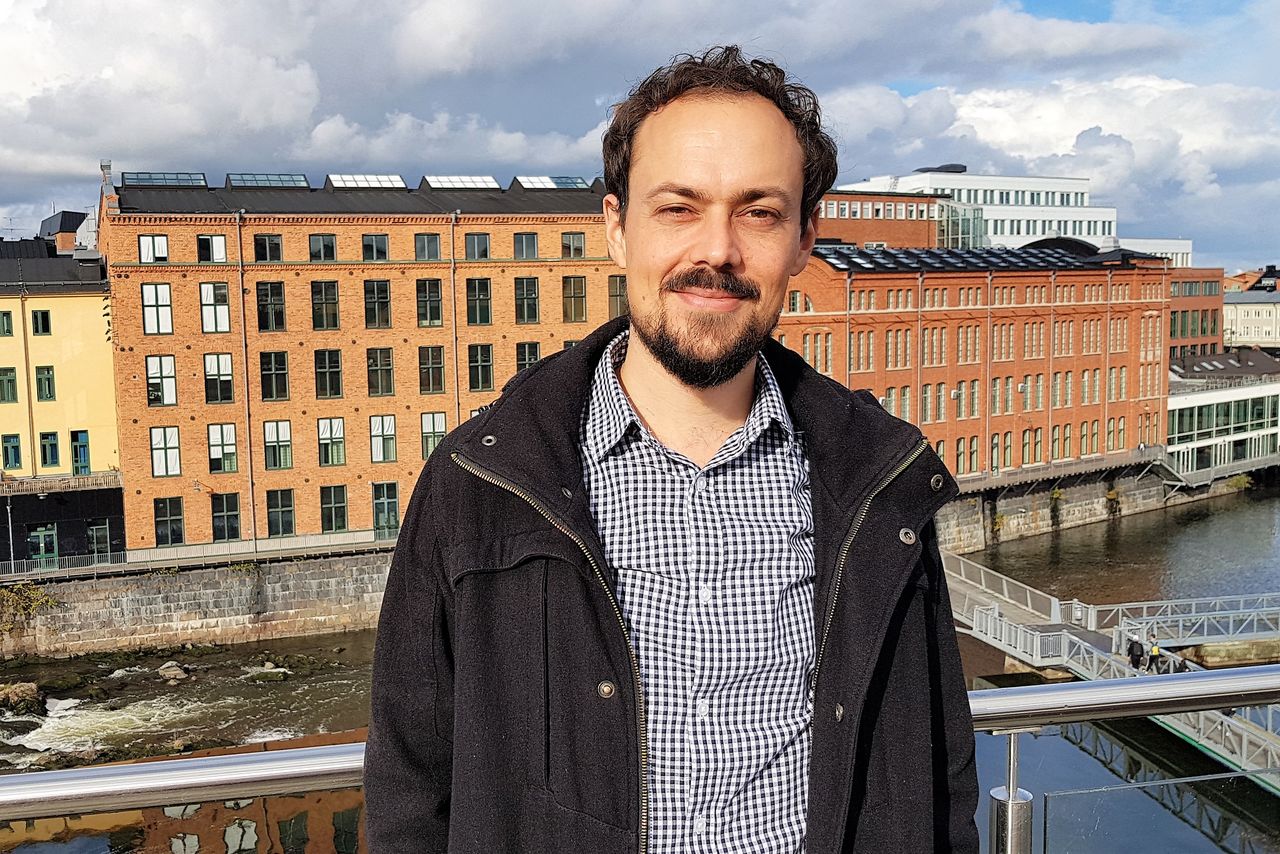 New Research Fellow Jacob Habinek
2018-10-16
We are delighted that the IAS-team is steadily growing. From October 1, we are happy to welcome our new Research Fellow Jacob Habinek.
Jacob got his PhD in sociology at the University of California, Berkeley, in 2016, and then spent two years in the Sociology of Markets research group at the Max Planck Institute for the Study of Societies in Cologne, Germany.
At IAS he will use computational text analysis and network analysis to explore how networks of social influence can explain the emergence and evolution of new organizations and markets. He has two ongoing research projects at the moment, one on the emergence of academic disciplines and the other on strategies of speculative investment in securities markets.
Grant for research of segregation
2018-10-08
We are proud to announce that Formas has awarded a new grant to Benjamin Jarvis and Sarah Valdez of IAS, along with their collaborators Guilherme Chihaya of Umeå University and Simone Scarpa.
Their project, "The Segregating Effects of Market and Non-Market Housing Allocation Mechanisms", will examine how public housing queues and policies which promote homeownership influence patterns of ethnic segregation. The project will run from 2019-2021.
Read more here.
New Research Fellow at IAS
2018-09-25
We are happy to welcome Lonni Besançon as a Research Fellow in the IAS-team.
Lonni got his Ph.D. in Human Computer Interaction in Paris with Inria Saclay, Limsi/CNRS, and Université Paris Sud. His main focus lies in the intersection between human-computer interaction and interactive scientific visualization. At IAS, he will work on proposing visual exploration tool of register data.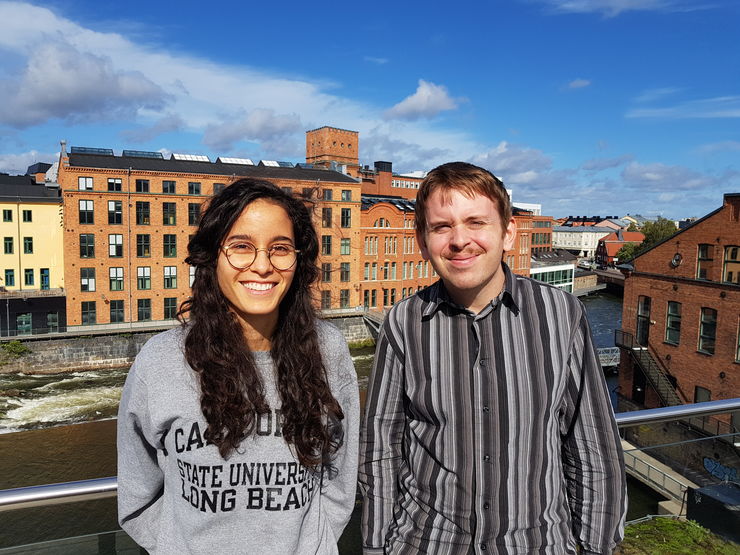 PhD students at IAS.
New PhD students at IAS
2018-09-12
We are happy to welcome our two new PhD students at IAS, Miriam Hurtado Bodell and Emanuel Wittberg.
Miriam got her master's degree in statistics at Linköping University in 2014 and has previously attained bachelor's degrees in both political sciences, majoring in economics, and statistics from Uppsala university. Her main interests are in using computational text analysis to understand political processes and discourse and causal inference. Prior to her current position, Miriam worked as a data analyst/research assistant at the Institute for International Economic Studies in Stockholm.
Emanuel's position is the result of a collaboration with Centre for Municipality studies at the Department for studies of Social Change and Culture. Emanuel will conduct research about corruption and corruption risks in developed welfare states, with special focus on the municipality level in Sweden. He will explore how an analytical approach with focus on mechanism-based explanations can be integrated into classical corruption research which traditionally is built on the rational choice theory. Prior to his current position, Emanuel has worked as research assistant in projects connected to the study of corruption risks related to New Public Management reforms in Sweden. Apart from this, he has a background in the field of economics in which he has a master's degree.
Opinion piece about voucher schools and segregation
2018-09-05
Maria Brandén and Magnus Bygren at the IAS have written an opinion piece about their new working paper, showing that increased opportunities for choosing voucher schools (fristående skolor) lead to increased school segregation. To article
Crowd wisdom among voters
2018-08-21
Marc's follow-up on crowd widsom has been published in Advances in Complex Systems. The authors, Christian Ganser (LMU Munich) and Marc Keuschnigg (IAS), demonstrate in agent-based simulations that under voting social influence contributes to information aggregation and thus strengthens collective judgment. This result stands in stark contrast to the effects of social influence on averaging---the highly researched yet infrequently used social decision rule---for which many have said that social influence narrows the variation in individual opinions and thus undermines crowd-wisdom effects. Understanding the consequences of social learning through these types of studies holds important ramifications for the design of collective decision-making in both public administration and private firms.
New study on

trailing spouse phenomenon
2018-04-13
IAS professor Magnus Bygren was interviewed in Dagens Nyheter on new study. The study investigates whether employer choices contribute to the so-called trailing spouse phenomenon, that couples tend to relocate for the sake of the man's career rather than the woman's. The study´s findings indicate that employers favor geographically distant men over geographically distant women, indicating that employer recruitment choices do contribute to the trailing spouse phenomenon by offering men a larger pool of geographically distant jobs. Read article here.
New study on wage dispersion and cross-firm mobility
2018-03-12
Chanchal Balachandran, Linköping University, Sweden and Aleksandra Kacperczyk, London Business School, United Kingdom recently published an article entitled "Vertical and Horizontal Wage Dispersion and Mobility Outcomes: Evidence from the Swedish Microdata." The article was published in Organisation Science, February 22, 2018.
The article highlights the relationship between wage dispersion and cross-firm mobility. The authors propose that the effect of wage dispersion depends on organizational rank and whether wages are dispersed vertically (between job levels) or horizontally (within the same job level).
The result shows that that vertical wage dispersion suppresses cross-firm mobility because it is associated with outcomes beneficial for employees, such as attractive advancement opportunities. By contrast, horizontal wage dispersion increases cross-firm mobility because it is associated with outcomes harmful for employees, such as inequity concerns.
Analytical sociology and computational social science
2017-11-27
In the new Journal of Computational Social Science, Marc Keuschnigg, Niclas Lovsjö, and Peter Hedström highlight the mutual benefits between Computational Social Science (CSS) and Analytical Sociology (AS): https://t.co/Irz1aEiswx. By providing relevant analytical tools to rigorously address sociology's core questions, CSS has the potential to advance sociology in a similar way that the introduction of econometrics advanced economics during the last half century. For the nascent field to reach its full potential, they outline how AS can help to move CSS forward from descriptions and predictions to the explanation of social phenomena.
Two IAS' researchers receive prestigious grants from the Swedish Research Council
2017-11-07
We are proud to announce that two of our researchers has received prestigious three-year grants from the Swedish Research Council.
The project titled "Understanding the dynamics of school choice to reduce segregation in education", by Eduardo Tapia, aims to contribute to the analysis of the causes of school segregation in Sweden. On the basis of the implementation of a large-scale empirically-calibrated ABM on school choice using Swedish population registers, the project pursues three main objectives: (a) the study of students' preferences on schools, (b) the analysis of the cumulative effect of students' choices on segregation, and, finally, (c) the impact assessment of the current and alternatives admission school procedures on segregation.
The other project, called "Grading Practices and Inequality of Opportunity", by Anders Hjorth-Trolle, studies the effects of school grading and grading practices on social stratification. In 1997, the Swedish education system changed their grading practice from relative grades (where teachers assess students' skills in relation to their peers) to absolute grades (where teachers base their grades on specific criteria for each course). This project will analyze how such a change in grading practice affects a student's grades differently depending on their ethnicity and their parents' socioeconomic status and how grades matter for later life outcomes such as earnings, education, and health. The project will compare its findings with data from Denmark, a comparable welfare state, which recently instituted similar reforms.
New evidence on the low-cost hypothesis
Marc Keuschnigg, assistant professor at IAS, shows in a natural experiment how normative change affects the relationship of attitudes and behavior.
This relationship has often been described in terms of the "low-cost hypothesis:" Attitudes and behaviors correspond in situations of little inconvenience, but diverge as choosing the "right" option requires greater effort. Through the example of household waste recycling, the authors demonstrate that the scope conditions of the "low-cost hypothesis" include only actions for which compliance-enforcing social norms are weak. This finding, now published in Environment and Behavior, reconciles prior results from the environmental social sciences.

Read the article: http://journals.sagepub.com/doi/full/10.1177/0013916517726569
New research fellow at IAS
2017-08-11
We are happy to welcome our new Research Fellow Satu Helske at IAS. Satu completed her PhD in statistics at the University of Jyväskylä in Finland in 2016, focusing on statistical analysis and visualization of complex life course data. After her PhD she worked as a postdoctoral researcher in multigenerational demography at the University of Oxford, contributing to research on intergenerational transmission of education. She is also one of the developers of the R package seqHMM for the analysis and visualization of complex sequence data with (mixture) hidden Markov models. At IAS, Satu will continue her work on the analysis of social sequences with a focus on developing methods for simulating complex life course data.
IAS published in ASR
2017-06-30
New IAS research on occupational mobility in the United States published in ASR by Benjamin F. Jarvis and Xi Song. The article presents evidence of an increasing trend in intragenerational occupational mobility in the United States from 1969 to 2011
New Research Fellow at IAS
2017-06-26
We welcome our new Research Fellow Carl Nordlund at IAS. Carl got his PhD (human ecology) at Lund university in 2010. Since 2011, he has been at Center for Network Science at Central European University, Budapest, focusing on network-analytical methods and their applications within the social sciences. At IAS, he will explore how role analysis and blockmodeling, a classical macro-level perspective on social structures, can be combined with analytical sociology's focus on micro-mechanisms, and to analyze patterns of marriages within and between ethnic groups in Sweden.
IAS researcher Christian Steglich receives prize for software rSiena
2017-06-19
This year, at the Beijing Sunbelt Conference, a committee of judges consisting of Vlado Batagelj, Alessandro Lomi, and Jim Moody, has awarded the Richards Prize to rSiena.
Together with Tom A.B. Snijders (University of Groningen and University of Oxford), Christian Steglich at the Institute for Analytical Sociology has been the main developer of the software. Our warmest congratulations!
The William D. Richards Software Award is a "lifetime achievement award" to honor individuals who have created publically available social network analysis software without which it would be impossible to study social networks. Named in honor of former INSNA President Bill Richards, the award is a biennial prize. The award has three purposes: it recognizes breakthrough thinking in developing social network analysis software that becomes highly valued by the scholarly community; it acknowledges the longevity of the software, as its functionality evolves in close correspondence with changes in the field of social network analysis; and, finally, it honors the dedication of the scholars in providing this service to the community.
IAS researcher Marc Keuschnigg receives prestigious price for best paper in Analytical Sociology
2017-06-16

Robert K. Merton was one of the most influential sociologists of the 20th Century. His writing on the principles and importance of middle-range theory as well as his own theories of self-fulfilling prophecies and Matthew effects have been important sources of inspiration for the emergence of analytical sociology. The Robert K. Merton Award for the best paper in analytical sociology is an annual award announced at the annual INAS conference. The award is based on a thorough selection process. Nominations are sought from the international scholarly community and the decision is made by a committee of leading scholars appointed at the INAS meeting. The 2017 Robert K. Merton Award was bestowed on the article "Disorder, social capital, and norm violation: Three field experiments on the broken windows thesis", written by Marc Keuschnigg and Tobias Wolbring. It was published in Rationality and Society, 2015.

Read more on analyticalsociology.com

Is Category Spanning Truly Disadvantageous?
IAS researcher Marc Keuschnigg and Thomas Wimmer present new evidence from primary and secondary movie markets in new article in Social Forces
2017-06-07
Genre assignments help audiences make sense of new releases. Studies from a wide range of market contexts have shown that generalists defying clear mapping to established categories suffer penalties in market legitimacy, perceived quality, or audience attention. The data used in the study on feature films released to US theaters and subsequently made available on DVD reveal that consequences of category spanning are subject to strong moderating influences. Negative effects are far from universal and the study provides ramifications as to the scope conditions of categorization effects and modifies some widely acknowledged truisms regarding boundary crossing in cultural markets.
IAS researchers show that impact of school segregation on performances is overstated
2017-05-16
Policy makers, school administrators and parents have drawn the conclusion that ethnic segregation impedes the education progress of both native born and immigrant studies. IAS researchers Maria Brandén and Gunn Birkelund and former IAS researcher Ryszard Szulkin studied data from students between 1998 and 2012 and the results show that the influence of the ethnic composition of classrooms on educational performance was close to zero.
Random allocation is better than proximity and queuing time in countering segregation.
2017-05-03
The free school choice has contributed to increased school segregation. Selection based on queuing time is probably one contributing explanation. Random allocation of pupils to schools will not automatically lead to more mixed schools, but the method offers better prospects of countering segregation than the alternatives. The method is simple, transparent and provides equal chances to all applicants, write 20 school researchers, among them Peter Hedström, professor and director of IAS.
Academy research fellow appointed by the Royal Swedish Academy of Letters, History and Antiquities
2017-03-02
Karl Wennberg, professor and associate director at IAS, has been appointed as academy research fellow at the Royal Swedish Academy of Letters, History and Antiquities. As academy research fellow, he will spend the next few years to build a research program how urbanization and migration affects organizational demography – the number and type of organizations in society.
Swedish Research Council financing research on Social Ties and Residential Segregation
2016-11-09
Benjamin Jarvis (IAS) and Guilherme Kenjy Chihaya (Umeå University) have won a three-year research grant from Vetenskapsrådet for their project "Social Ties and Residential Segregation," in collaboration with Urban Lindgren, Einar Holm, and Matthew Weldon.
Karl Polanyi Prize 2016
2016-10-10
Marc Keuschnigg, Research Fellow at IAS, has been awarded the Karl Polanyi Prize for his article "Product Success in Cultural Markets: The Mediating Role of Familiarity, Peers, and Experts" published in Poetics 2015, Vol. 51. The prize, donated by the Economic Sociology section of the German Sociological Association, honors top publications in Economic Sociology.
The Coleman Boat explained in 7 minutes
2016-09-05
A Professor and Senior Research Fellow at the Institute of Analytical Sociology Petri Ylikoski has created a video that presents the basic idea of the so-called Coleman Boat.
Graphics and design by Wasita Witchutraiphob. Voice by Susanna Snell.
Inspiration by The Institute for Analytical Sociology
IAS becomes a member of ECSR
2016-06-16
IAS has become a member of the European Consortium for Sociological Research (ECSR). For additional information on ECSR, please visit www.ecsrnet.eu
Member of the Young Academy of Sweden
2016-06-01
Karl Wennberg, Deputy Director at IAS and Visiting Professor in business administration at the Department of Management and Engineering, is one of eight outstanding young researchers selected as a member of the Young Academy of Sweden. The academy is an independent, cross-disciplinary forum for some of the most promising young researchers in Sweden and was formed in 2011 on the initiative of the Royal Swedish Academy of Sciences.
Article in Social Science Research
2016-05-02
In a recent publication in Social Science Research Marc Keuschnigg, together with colleagues from LMU Munich,Felix Bader and Johannes Bracher, shows how global crowdsourcing platforms such as Amazon's Mechanical Turk can be adapted to estimate effects of local context in behavioral games.
Marc KeuschniggBringing context back into social experiments is particularly relevant for sociological research which-unlike most experimental research in economics and psychology-fully acknowledges the importance of context effects in a multi-level explanation of individual action.
Link to the article: Using crowdsourced online experiments to study context-dependensy of behavior.
Research Grants
2016-04-27
Chanchal Balachandran (IAS) has received a two-year recent grant from Handelsbanken Research Foundations, together with Timurs Umans (Kristianstad University). The project aims to study segregation dynamics in new venture boards, its reasons, and consequences.
Article published in Management Sciences
2016-04-12
Marc Keuschnigg, The Institute for Analytical Sociology, together with Christian Ganser, University of Munich, published an article on crowd wisdom in Management Science. The paper investigates the role of competence and heterogeneity in group decisions. Whereas prior accounts celebrate the power of diversity when combining judgments, Marc and Christian show that, under voting, ability remains crucial for collective judgment.
Published article
2016-02- 01
Peter Hedström, Kim Jansson and Monica K Nordvik, The Institute of Analytical Sociology, has together with Viktoria Spaiser University of Leeds, Shyam Ranganthan and David J.T Sumpter Uppsala University recently had the article Identyfying Complex Dynamics in Social Systems: A New Methodological Approch Applied to Study School Segregation published in the journal Sociological Methods and Research.