The conference is aimed at professionals who interact with children, for instance in the education, police and healthcare sectors. The purpose is to spread research and knowledge about violence against and abuse of children.
Conference attendees included the Swedish Minister for Gender Equality Åsa Lindhagen, Ombudsman for Children Elisabeth Dahlin, and UNICEF Secretary General Pernilla Baralt. The moderator for the first session was 12-year-old Alicia Hult Otterud, together with Maria Schillaci, programme director at Barnafrid. Alicia Hult Otterud is very active on social media such as TikTok and Instagram, accompanied by her mother.
"Me and most of my friends have suffered sexual harassment on Instagram", said Alicia Hult Otterud, who asked a direct question to the minister:
How will you protect children online?

"We need to do much more", the minister responded. "We aren't protecting the children well enough; I think that's obvious. The Swedish Media Council has been ordered to develop guidelines for better protection of children on the internet. And the government is providing additional funding to Children's Welfare Foundation Sweden, for a study of sexual exploitation, exposure and abuse of children in digital media."
In her speech, the minister described the powerlessness felt by social workers when they cannot help certain children, if the parents are opposed to it.
"Last autumn the National Board of Health and Welfare was asked to submit a proposal for how the social services can support children when their parents are opposed to it. Now we're starting to make headway on this issue!", said Åsa Lindhagen.
Click here for The Hot Seat:
Questions in Barnafrid's live broadcast on Facebook
Click here for the interview with Alicia Hult Otterud (Swedish):
"It's never the kid's fault!"
After the opening speeches, there were presentations in parallel sessions. Below are summaries of some of them.


PTSD common among drug dependent
Markus Heilig, Director at the Center for Social and Affective Neuroscience (CSAN) at Linköping University, studies drug dependency. He spoke about the complexity of post-traumatic stress disorder (PTSD), and that these patients often end up in dependence.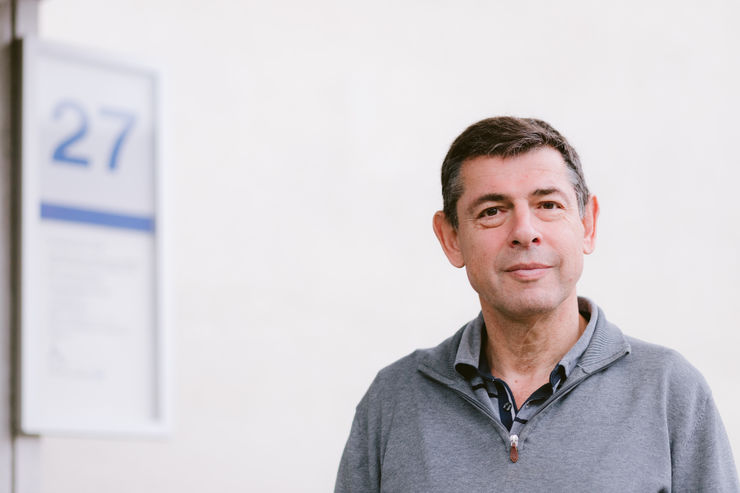 Professor Markus Heilig.
Photo credit

Anna Nilsen
PTSD symptoms can easily be mistaken for depressions. The sufferer re-lives the traumatic memory, and finds methods for avoiding it, and instead this becomes a handicap.
"It's so painful to be confronted with the memory, that you create an avoidant behaviour. You avoid things both in action and in thought. The fears spread and lead to you being inhibited in your daily life. It can progress from not being able to go to the location where, for example, the rape took place, to not being able to do ordinary things like shopping."
PTSD patients risk getting stuck in drug dependency as a way of shutting off and avoiding their fears. At the same time, there are endogenous substances in the brain that have a similar effect. Now the researchers are hoping for a drug that prevents the breakdown of the endogenous cannabis-like substance anandamide in order to increase the level of that substance in the brain
"You can use drugs to increase anandamide levels, but only when it is produced and where it is produced in the brain. It can lead to an improved ability to extinguish fear memories without addictive effects, cognitive deterioration etc."
Audience question:
What advice do you have for professionals who deal with people with PTSD?
"Dare to ask the difficult questions: Is there a history of violence or sexual abuse, which for many people are entrance points to PTSD? Screen actively for PTSD. Remain hopeful for a treatment. Unfortunately it is common that patients are passed around with the explanation 'You can get treatment because you drink and do drugs', and the dependency clinic says 'No, we can't treat your drug problems because you have PTSD'. Help us break that idiotic circle!" responded Markus Heilig.
See more on LiU's website about
Center for Social and Affective Neuroscience (CSAN)
Pdf link to the presentation:
PTSD – Markus Heilig – Barnafrid Conference
Important points to include in decision-making
Kerstin Evelius was formerly national coordinator for the development and coordination of initiatives in mental health. She spoke about the importance of basing decision-making on the viewpoints of young people.
Kerstin Evelius spoke at the Barnafrid Conference 2020. Photo. Ulrik Svedin
Kerstin Evelius referred to various studies on topics including family relations and financial vulnerability, e.g. the Life and Health Study by Region Uppsala. Her points of departure included the United Nations Convention on the Rights of the Child:
"That children can make themselves heard – that's what I think is most important. The free-text responses in the Life and Health Study point to a range of things, such as social media, in terms of the stress that they cause. We have to listen to children and adolescents, and help them manage what comes out of these displays – rather than taking the displays away from them."
Right to be involved
Kerstin Evelius also described how, as a coordinator, she took part in the work with a two-day committee with children and adolescents. The overarching question, somewhat simplified, was: What do children ask from society, for it to become better?
"The first thing you want is more young people as representatives in decision-making processes. The right to be involved and have an opinion on things that affect you. But also quality. If we get the users' assessments, it's easy for us to improve quality."
She also gave an example of a study into compulsory psychiatric treatment, where an expert group was appointed, encouraging young people, some with experience of psychiatric care. The group arrived at several different proposals, including that compulsory measures should only be used when they can save lives.
Mobile phones
"The young people agreed that mandatory measures might be required to save lives, with reassessment after no more than two hours. But they added that the confiscation of mobile phones should be reassessed every hour."
The phones are normally confiscated upon admission, at night, or in other situations.
"We forget that young people communicate with their phones. And if we had not included an expert group of children and adolescents, the matter of phones would never have come up. Children and adolescents are necessary in order to define the questions that we adults have to ask."
Making knowledge of mental and social health part of the curriculum was also part of what the young people requested from society.
"What the children are requesting is knowledge about their own health. What is mental health? How can I retain my mental health? What is mental ill-health? These are topics that could be added to the health instruction in the sports classes in school."
"Maintain my mental health"
In addition, the children are asking for school health services that are open, engaged and active.
"That's not how they experience school health services today, and perhaps we should listen to the pupils. They also ask for regular personal consultations with school health."
Kerstin Evelius summarised the situation as follows:
"They say 'This is what I want, to maintain my mental health'. But we adults focus on shortening queues to healthcare and on fantastic initiatives. So, we wait for the ill-health, and we're great at dealing with that. But we aren't very good at prevention."
Link to report (government website):
To start with something new, you have to stop something old (SOU 2018:90)
Study on the way about violence against children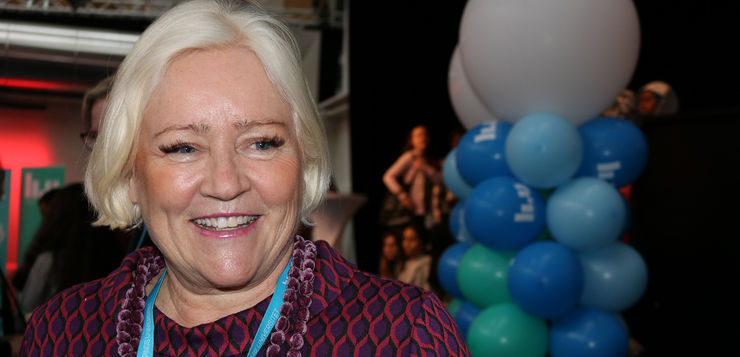 Ombudsman for Children Elisabeth Dahlin presented her organisation and what it is working on at the moment. This includes the compilation of a study about attitudes to violence against children, 40 years after the Swedish ban on corporal punishment of children.

To LiU interview with Ombudsman for Children Elisabeth Dahlin:
"Important that decision-makers listen to science"
"Viktigt att ta beslutsfattarna tar till sig forskning"
To the website of
Ombudsman for Children
Maria Fridh this year's recipient of Barnafrid Award.
Maria Fridh received the Barnafrid Award from Professor Carl Göran Svedin.
She is lauded for her doctoral thesis on topics including the correlation between online harassment, mental ill-health and self-harming behaviour. A single instance of online harassment can affect one's mental health.
Maria Fridh recieved the Barnafridspriset from Professor Carl Göran Svedin. Photo: Ulrik Svedin
"I'm delighted to receive the Barnafrid Award for my doctoral thesis. I'm proud and honoured", says Maria Fridh, who will soon complete her specialisation in social medicine.
Maria Fridh is affiliated with Lund University. Her award-winning doctoral thesis is titled "Bullying, violence and mental distress among young people. Cross-sectional population-based studies in Scania, Sweden". For a number of years, Region Skåne conducted extensive public health questionnaires, which included school pupils in years six, nine and eleven, in 2012 and 2016. In this material, Maria Fridh and her colleagues identified a correlation between online harassment and mental ill-health.
Click here for
Maria Fridh's doctoral thesis
(Lund University)
More children committing violent crimes
Regional Chief of Police Carin Götblad presented a preliminary study of the number of violent crimes committed by children under 15 years of age.
Carin Götblad reported a 35 per cent increase over the past five years, and that there are almost 7,000 suspects between the ages of 7 and 14. In 'Mitt', a region in central Sweden, the increase is 20 per cent. She also said that robbery has increased, and humiliation has grown more common.
"You take the victim aside, to an isolated location. Then the victim is kicked, hit, spat on, urinated on, forced to crawl, to bark like a dog, or to swallow spit. This is filmed and posted on social media. You also threaten the person. Victims speak of mortal fear. Their parents have to drive them to and from school – where the victims have to face the perpetrators.
Thousands of young people
In the 'Mitt' region, a criminologist was employed to read through the free-text comments in the reports. More than half of the crimes take place in school environments.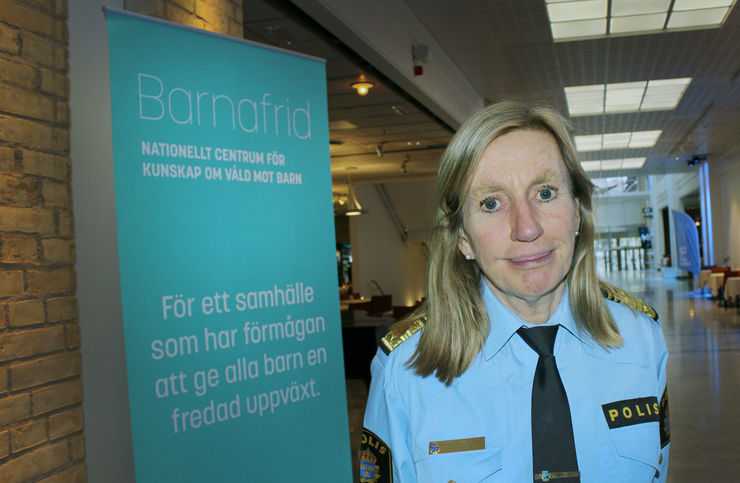 Carin Götblad, Regional Chief of Police for 'Mitt' region.
Photo: Ulrik Svedin
"This is today's reality for thousands of young people today. A large group are 14-year olds. 25 per cent are from 10 to 13, and 5 per cent between 7 and 10."
"My wish is that others take the baton, and study this further. The Police have a lot of knowledge, but we're not researchers or analysts. This is so serious that I implore you to take it onboard. Violent crime is increasing more than ever. It's dangerous to focus solely on all the violence that's taking place right now. We have to catch the problems earlier."
"We have to act"
But she also made clear that everyone who works at various government bodies, in education, the social services and the police, already know enough.
"We have to act. We shouldn't be afraid of taking action. It's important that we, who work with children and young people, ensure that the measures are balanced. It's our duty to make sure that there is change."
Carin Götblad referred to the government's 34-point programme on gang-related crime and organised crime, where several points concerned children and adolescents.
"The government is creating possibilities for us. I can hardly imagine anything more important. We're talking about children who must not become the criminals of the future."
Click here to see the
Swedish governments 34-point programme
Call it "manipulation" – not "grooming"
Chris Newlin, executive director of the National Children's Advocacy Center in Huntsville, Alabama, and professor emeritus Carl Göran Svedin, formerly at Barnafrid and currently affiliated with Ersta Sköndal Bräcke University College, gave a presentation on grooming.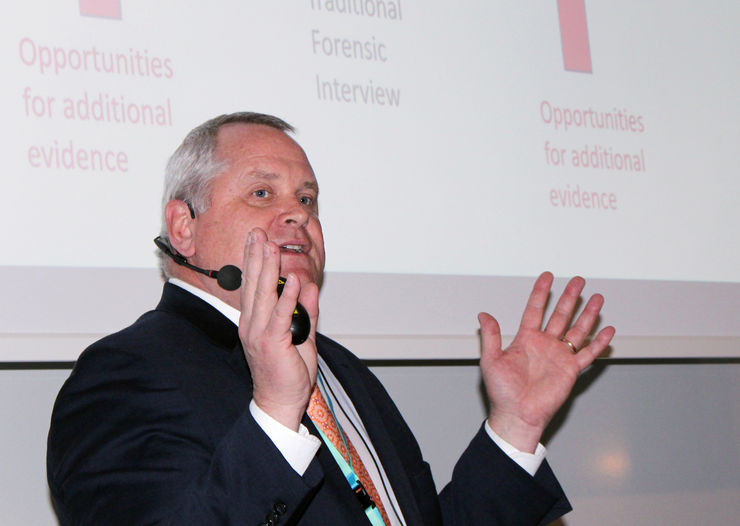 Chris Newlin gav a lecture at the Barnafrid Conference 2020.
They began by discussing the word 'grooming', which has become a common term to describe how a perpetrator gradually manipulates a child and others in the child's vicinity, in order to finally be able to commit sexual abuse.
"Most definitions of 'grooming' in English refer to good things. It's about preparing oneself for something social and positive. But in our profession, we use it for something anti-social. It would be much better if we professionals used the word 'manipulation' – everyone understands what that means", said Chris Newlin.
Stages of manipulation
Carl Göran Svedin criticised the term 'child pornography': "It would be much better if we used 'images of child abuse'."
They proceeded to review various stages of grooming, and that the perpetrator often has a very long timeline. This is 'self-grooming' – when he or she, over a period of many years, thinks about sex with minors, and as a result, removes various mental barriers. If the person subsequently takes action, he or she can manipulate the victim's surroundings – for instance the parents – in order to gain access to the child. And can then gradually manipulate the child.
"There's one example where a man with no children joined a forum for single mothers, where he found a suitable victim. At that stage he wasn't in contact with any children. He met the child's mother, and built a relationship. And finally got a chance to care for the child alone", said Chris Newlin.
Police interrogations
He explained that there is a problem with police interrogations when a case of abuse is reported.
"The interrogations don't always take into account the manipulation. Instead the police often focus on what has happened, and when and where it happened. And who was present. But the perpetrator often makes a long series of preparations before the abuse. For this reason it's important that the interrogation does not go straight to the abuse itself."
Audience question: How can we protect our children?

"It's important to understand this dynamic, and to take preventive action, such as providing parents with information. The problem is that an engaged step-father can be misinterpreted as grooming. This creates distrust. But good people with good intentions need not end up in trouble. It's just important to know that people who are looking for sexual contact with children are very manipulative."
Carl Göran Svedin observed that the perpetrators' behaviour is not new, and that they follow similar patterns online. He described his work with Swedish child porn rings on the internet, during the 1990s.
"The persistent grooming process is typical paedophile behaviour. It's what we in the future will call manipulation. The predator invests a huge amount of time in securing the contact with the victim. When we interviewed the children who were victims, we understood that the perpetrators were among the most important people in their lives. It's a sophisticated process, which has been transferred to the internet."
Hidden on the net
He described how the pathway towards the violation is much more hidden on the internet.
"It's considerably more difficult to discover online. But once the crime has been uncovered, there is often a huge amount of documentation and proof."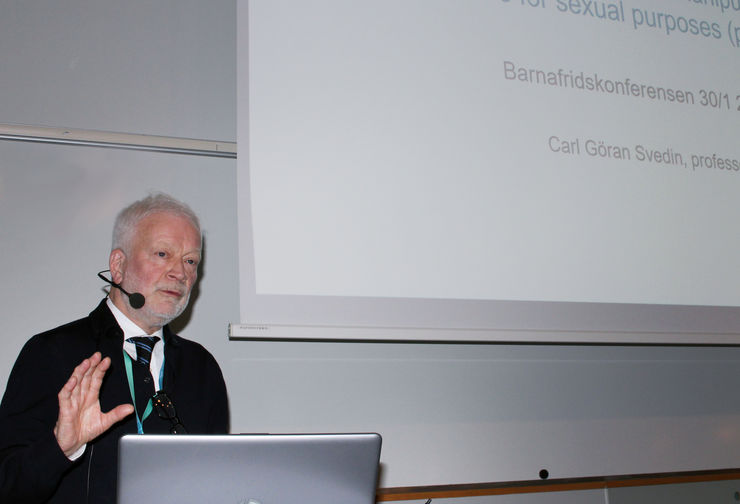 Carl Göran Svedin
Carl Göran Svedin also presented several studies into how the children feel. The images that are published online – and that might not ever be removed – are very painful.
"It's a matter of how the images affect how your mental well-being. You have to live with them for the rest of your life, and you have to learn to deal with this. According to our studies, the children who feel the worst are the ones who were filmed. We also see that many other things happen to the same children, such as physical and emotional abuse, bullying. Many children have very little experience of bad things, but there is also a group with experience of very many bad things. Society must ensure that these children get help. They are at a risk of a worse prognosis in adult life", said Carl Göran Svedin.
Click here for the
National Children's Advocacy Center Child Advocacy Center
Click here for Marie Cederschiöld University:
Marie Cederschiöld högskola
The presentation:
Chris Newlin's presentation, as PDF
Researchers advertise for paedophiles
Christoffer Rahm, psychiatry researcher at Karolinska institutet in Stockholm, is investigating the source of paedophiles' interest in sexual contact with children, and methods to reduce the risk of people committing child abuse.
His research concerns explanations and causes regarding paedophilia. But he also studies methods and drugs for reducing the risk of people who are sexually attracted to children committing abuse. In the project and they have interviewed paedophiles and conducted several medical examinations, including MRI scans of brains.
Advertising
The researchers are advertising for test participants from around the world on the darknet, which are encrypted parts of the internet, places not intended for public view, which means user activities are difficult to trace.
At first, people were very sceptical towards the researchers, when they appeared with advertising on forums where paedophiles talked to each other. But now they have gained more acceptance, and are in contact with people from various parts of the world.
"These are people who, for various reasons, want to stop. They understand that what they're doing is wrong, and they want help."
Including paedophiles
Christoffer Rahm said that we need a new approach to potential perpetrators if we are to reach them, and so that we can offer new treatment methods such as cognitive behavioural therapy, and possibly also drugs in the future. He also stressed the importance of including paedophiles in a reference group in order to learn more about the diagnosis which is very stigmatised. It's also important that they do not retreat even more, but that they choose to act responsibly and seek help.
To the research study:
Prevent it
To
Christoffer Rahm (Priotab) on Twitter
To the helpline for undesired sexuality:
Preventell.se

Hjelmström warns about silo mentality
The project 'Backa barnet' (Support the Child) should not be seen as a separate project, but as a long-term process aimed at changing the structures of the work with the target group, and at and shifting focus from separate areas of responsibility to a shared benefit for Ystad residents.
Dennis Hjelmström is the school head who became a whistleblower when he discovered that a family had kept its five children out of school for ten years. This eventually led to concrete changes and discussions regarding the monitoring of compulsory school attendance in Sweden.
Systemic fault
"What happened in Ystad was that they found five children who had been isolated in a house for their entire lives. The parents had said that the children were in school in the United States. It boils down to that we failed in the monitoring of compulsory school attendance, and the idea that if the parents attest to something, then it's true."
Parents are allowed to have their children attend school abroad. But sufficient checks were not done, to ensure that this was the case.
"Ystad Municipality went from being an unfortunate example of a systemic fault to being the experts. It was impossible to have total control of this. The problem is representative for all municipalities. And this is also why the Swedish National Audit Office subsequently criticised the government and demanded new legislation", explained Dennis Hjelmström.
Dennis Hjelmström is one of the people behind the project 'Backa barnet' (Support the Child), a more in-depth collaboration for previous coordinated initiatives, together with the Police and Region Skåne. The aim is to develop new working methods.
"We are going to work with this systematically and for a long time. Everything will be informed by what is best for the child. We will develop a method together with the parents and the children. We have worked a lot with joint assessments."
New methods
They are currently testing new methods for collecting all the information about the child in a 'child plan', so that every operation gets the same information. The plan will be owned by the child. And there will be a support coordinator who can coordinate the process for the parent, when there are problems with the parent.
Dennis Hjelmström also stressed that the child rarely benefits from the silo mentality – where every department does its own bit, but doesn't communicate with the others. In in-depth interviews with children and parents, this has been identified as a problem.
Hjelmström gave an illustrative example.
"You can't work as if you're in a drive-through queue – that you order your food, pick it up, and drive away. A team of surgeons can't enter the operating room one by one, and do their own thing. You have to approach the patient together. Municipalities and everyone who works with children should think more like teams of surgeons."
To the presentation on Barnafrid's
live broadcast on Facebook
To the presentation (pdf):
Dennis Hjelmström's presentation in pdf format