Success and frustration
Oh dear – she forgot to bring a notepad. LiU's departing vice-chancellor likes to take notes, but she's left her notepad in the office. On the table in a meeting room in the D Building are a water bottle, spectacles, and a sheet with a few keywords jotted down to prepare for the interview. A few minutes before, her colleagues in the vice-chancellor's office have been ribbing her a bit: "A resignation interview – very dramatic!". Well, maybe, but let's start.
Helen Dannetun made a splash immediately as new vice-chancellor in 2011. In an interview she pledged that LiU would offer the best bachelor's education in Sweden. She didn't say "an excellent" education, but "Sweden's best". It was both bold and unexpected – most vice-chancellors, including her predecessors at LiU, tended to place more emphasis on the importance of research.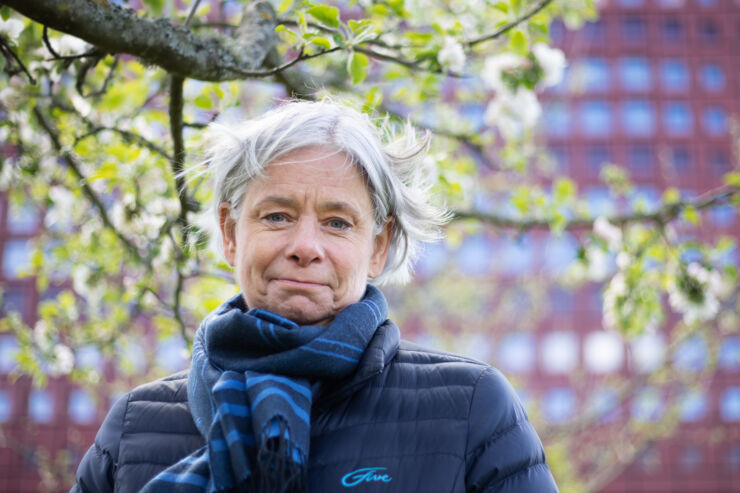 "A university can excel in many areas, but it can't do everything. Otherwise you're trying to spread resources too thinly", says Helen Dannetun. Photo credit Charlotte Perhammar
Helen Dannetun, in contrast, believed that without high-quality education, research in the long term could not survive. Well-educated graduates are an important part of society, and for LiU, which recruits from all over the country, high-quality education is a strategic necessity, a matter of survival.
So – how did it go? Did Helen Dannetun manage to fulfil the pledge she made nine years ago?
"No, not me alone, I would never express myself so presumptuously. But fantastic teamwork has brought LiU to a place where we offer very, very good education. Our graduates are highly attractive on the labour market and have the most success in Sweden at finding employment when they graduate. That's something I'm very proud about."
"This is one measure of quality. Another measure in which we achieve an extremely high position are the assessments carried out by the Swedish Higher Education Authority. Our educational programmes gain excellent reviews here. There are more examples."

Are there any areas in which you have failed?
"Well, of course there are some areas where I would have liked to come further. For example, the faculties still have different systems for ordering and financing education. I would have liked to have made this more uniform. But I now know that this work has started."
"One of the most frustrating things, and I'm sure that all vice-chancellors will agree with this, is that our grants are being continuously eroded by a productivity deduction. Quite simply, we receive smaller grants every year. I can accept that we must make many of our processes more efficient, but it is not sustainable in the long term to reduce our grants for research and education. And in particular not when we are at the same time expected to expand our operations and recruit more broadly."
Role model through the years
People who have followed Helen Dannetun through the years often mention education as her most important initiative. The priority she has given to LiU's students, as shown by the new Studenthuset on the Valla Campus, is one aspect of this. Another important element are her initiatives in cross-disciplinary work (not least between technology, the natural sciences and medicine) and the firm establishment of LiU as one of Sweden's major institutions of higher education. Her years as chairman of the Association of Swedish Higher Education Institutions (SUHF) are often mentioned as important evidence of the latter.
Many observers emphasise also her work for gender equality. Helen Dannetun is not only the first woman to hold the post of vice-chancellor at LiU: before that she was first woman to be dean of the Faculty of Science and Engineering, and head of department in the Department of Physics, Chemistry and Biology. And all this after becoming a professor within such a traditionally male-dominated field as physics. It is difficult to overestimate her position as role model and pioneer.
"The work for gender equality must continue", she maintains. "Men tend to choose from a menu of educational programmes considered to be 'manly', while women choose from a 'girly' menu. It must, of course, be our goal that everybody freely chooses from the wide range of all educational programmes. Things have improved, but we still have a long way to go."
WASP - a major success
When it comes to research, LiU's leading role in the WASP research programme is something to be proud of. Helen Dannetun also mentions that LiU researchers in many fields always achieve high positions in rankings of Sweden's most cited and published researchers. The degree of international research collaboration and its productivity have also increased during the past decade.
In collaboration, LiU has formalised some of its external collaboration to eight strategic partners, among them Saab, Ericsson and Region Östergötland. Collaboration is part of Linköping University's DNA and will remain so: contact with the society around us enriches research and makes our education more relevant and sought-after.
Helen Dannetun is proud and happy that LiU researchers are experts in seeking external funding, and that their degree of success is so high. But she would very much like to see an increase in the direct government grant to the university.
"I fear that we have reached a limit at which suboptimisation is occurring. Our researchers put huge amounts of time into writing applications, and it can be useful in many ways, not least as a method of bringing order to one's thoughts. However, when so many apply and the hit-rate is so low, many extremely good applications are rejected. It's a waste of time that so many are compelled to sit down and apply for research grants over and over again."
Flitting around Shanghai
People who know Helen Dannetun often describe her as thorough, well prepared and hard working. A person who is not only straightforward and modest but also ambitious, and one who genuinely cares about co-workers and their families. Unshakeable integrity. Maybe a bit difficult to get past her barriers, but warm, funny and considerate of others for those who manage to do so. A winning mentality, with a humble approach.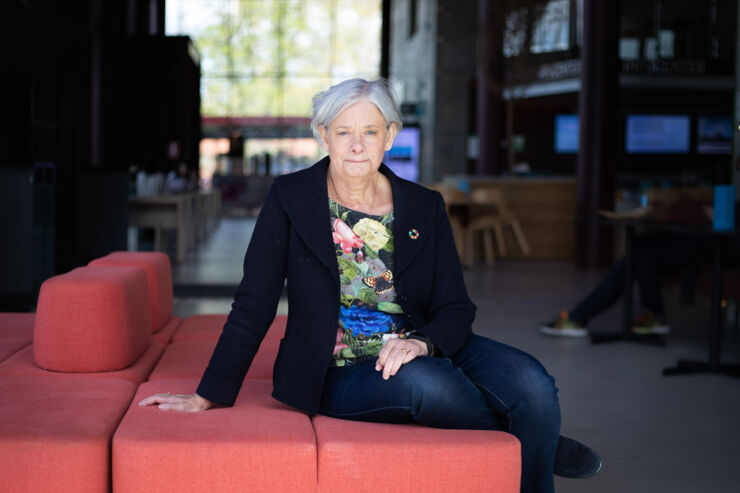 "Being vice-chancellor means a lot of hard work, but it's great fun. Now I'm hoping to have a bit more time to myself." Photo credit Charlotte Perhammar
Several people have also seen her somewhat mischievous side, which probably doesn't come to the fore so often in her role as vice-chancellor. And LiU's most senior executive is also – among many other things – a talented impersonator and storyteller. To get your attention, she can bring out an impressive wolf whistle. She has flittered around Shanghai hunting for fabric for a gown to wear at the Nobel Prize ceremony, ridden a veteran moped at a kick-off event for the management group, led games and been MC at a music quiz... Her co-workers have many fun memories of her.
But how is she as manager and leader? She takes care to listen to all parties, and is keen to achieve consensus and collaboration, with the ability to be assertive once she has made up her mind. Several revolutionary changes – construction of Studenthuset, the work with the LiU brand, and the project to increase efficiency, for example – have been questioned, and have had to overcome resistance at least some of the time.
Advice for her successor
Helen Dannetun herself is ready to admit that leading a university is a very special task. While a managing director in the business world can simply impose a decision, a decision made by a vice-chancellor can sometimes be considered to be something else.
"Sort of like an expression of an opinion..." (Laughter). "Yes, that's how it can be, but I like it. I want to listen, ask questions and throw ideas about with many people. And at a university, you really get help with examining a problem from all sides... I see it as part of a process, and it means that the task has taken a large step forwards when you finally reach a consensus and have taken a decision together.
This style of leadership also means that a decision does not depend on a single person. Helen Dannetun is sure that the ongoing process of renewal – such as work with the four high-priority choices – will continue, simply because the decision has the support of so many people. The situation would have been completely different if she had alone laid down the law: "This is what we'll do".
And if she wants to, she can keep tabs on her successor and remain in touch with what's happening at close quarters. Because even if she is leaving her post as vice-chancellor, she will remain at LiU and simply move from the D Building to Fysikhuset. She will there take up her previous post as professor in the Department of Physics, Chemistry and Biology and will undoubtedly be asked to undertake several inquiries. The nature of her work is not fully clear, but there's no risk of her retiring yet!
Have you any advice for your successor?
"Remember that the university is home to many, many sensible and intelligent co-workers. Collaborate, both within and outside of LiU."
And how does she view the future? At 63 with three children, she says that she hasn't really had time to contemplate her post-VC life.
"I've thoroughly enjoyed my work, but it will, of course, be nice to return to more normal working hours. Being able to say 'Yes' when someone suggests we travel to our holiday home in Hälsingland, or go to the theatre in Stockholm. Not having to sit and read inquiries all the time when travelling. I'm looking forward to that."
Translation: George Farrants
Short facts: Helen Dannetun
Family: husband and three adult children
Age: 63
Lives: detached house on Kaserngatan in Linköping
Background: master's degree in applied physics and electrical engineering (Y) in 1980, doctor's degree in 1987, research assistant, senior lecturer, professor, director of studies, head of department for the Department of Physics, Chemistry and Biology 2000-03 and dean of the Faculty of Science and Engineering 2003-11. Vice-chancellor 2011-20.
Interests: A vice-chancellor doesn't get much time over for anything outside of work, but Helen enjoys sewing, and has sewn her own gowns for parties at the Academic Ceremony. She also enjoys practical maintenance work of the family's ancestral farm in Hälsingland.
Reads: Reads huge numbers of inquiries and reports as part of her job. Has a pile of novels on the bedside table, but has quite simply not had the time to read them.
The best thing about the post of VC: That LiU is such an amazing place to work! All the committed and creative co-workers who work together to reach a common objective.