Seven scientists from international institutions of higher education will be promoted to honorary doctorates: Derek McKay, Bryan Byrne, Karen O'Brien, Richard Olson, George Malliaras, Cynthia H. McCollough and Jeannette M. Wing. During Thursday 19 May and Friday 20 May, they will each hold a lecture in their subject. Everybody is welcome to come and listen.
Gala concert with jubilee theme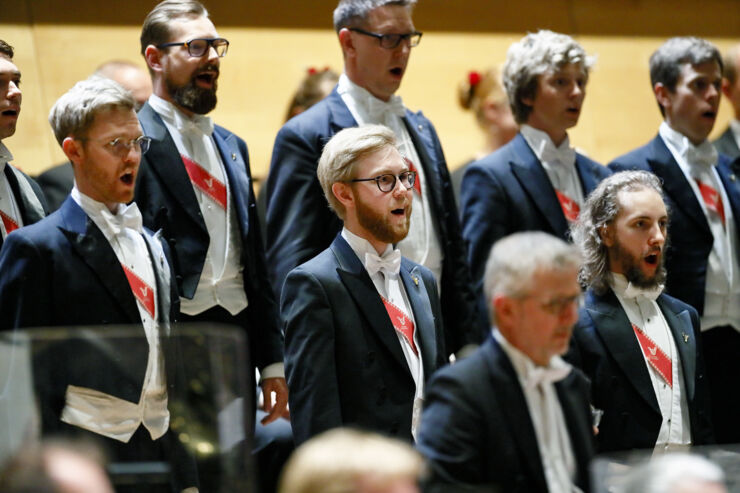 The Linköping University Male Voice Choir. Photo credit Peter Holgersson ABAnniversary is the theme on Friday evening, when the Linköping University Male Voice Choir meets Norrköping Symphony Orchestra. This is the year's first academic celebration concert, and will be directed by Director Musices Christina Hörnell. The Linköping University Male Voice Choir celebrates its 50-year anniversary, and the concert offers music by the composer and author of revues Povel Ramel, who would have turned 100 this year, and the composer Hugo Alfvén. The concert will take place at Louis de Geer Konsert & Kongress in Norrköping, and entry is free.
New doctors and professors
On Saturday 21 May, it is time for the conferment of doctors and inauguration of professors, also in Norrköping. The occasion is open to the public, and will start with the inauguration of 20 new professors. Of the 99 new doctors, 43 have presented their doctoral thesis within the Faculty of Medicine and Health Sciences, 41 within the Faculty of Science and Engineering, nine within the Faculty of Arts and Sciences, and six within the Faculty of Educational Sciences. The Onkel Adam prize for outstanding research in the Faculty of Medicine and Health Sciences is awarded to Professor Fredrik Elinder. The ceremony will be followed by dinner and entertainment.
The Academic Ceremony usually takes place once a year. But because it was hard to hold the ceremony during the COVID-19 pandemic, two Academic Ceremonies are being held during 2022 – one in the spring and one in the autumn.
Translation: Benjamin Davies