The Division for Environmental Technology and Management, which belongs to the Department of Management and Engineering, was established 40 years ago. It is a fast-growing, internationally renowned research unit.
More understanding
Today some 50 people work at the department, from various scientific backgrounds, cultures and countries. A total of 16 nationalities are represented, which the department head Olof Hjelm considers a huge asset.
Marianna Kambanou, assistant professor with a background in the UK and Greece, agrees.
"Sometimes you have to be a little bit more understanding, a little more laid back, with so many co-workers from different backgrounds and cultures. But there's also a lot more understanding than if there was only one person from another country."

She came to LiU as a doctoral student seven years ago – and stayed on.
At the Division for Environmental Technology and Management there are co-workers from as many as 16 countries. Photo credit Charlotte Perhammar "My interest is sustainability and environmental challenges, a field that's at the forefront here, which attracted me. It's exciting that we have so many people from different countries; we see things from different perspectives and can apply our research results in different contexts."
A good working climate
Eman Hegazy from Egypt, and Abhijna Neramballi from India, are both doctoral students with a strong interest in sustainability. From day one, they have been supported in their research.

"There is always a co-worker nearby who you can ask, which makes for a good working climate. It's really interesting being here; having co-workers from so many different cultures is teaching me a lot. It's huge advantage, I think", says Eman Hegazy.
Abhijna Neramballi decided at an early stage that when he was finished with his bachelor's degree in India, he would head for Sweden. And after completing a master's at Jönköping University, he ended up in Linköping.
"In conversation, Swedes are quite straightforward and open, which makes for a relaxed work environment. In many other countries, workplaces tend to be hierarchical; here the relationships between co-workers are more horizontal. It doesn't seem as if my supervisor and my older co-workers are my bosses. We have a very good and professional relationship where I quickly felt at ease", says Abhijna Neramballi.


The importance of the fika
When we arrive for our visit in the A Building on Campus Valla, there is a buzz around the table in the lunchroom. For Yang Liu, associate professor from China, having co-workers from 15 other countries is not a big deal:
"At my previous job, at the University of Vaasa in Finland, there were people from 20 countries." Yang Liu's move to Linköping meant a shift from IT and computer sciences to research in smart sustainable production.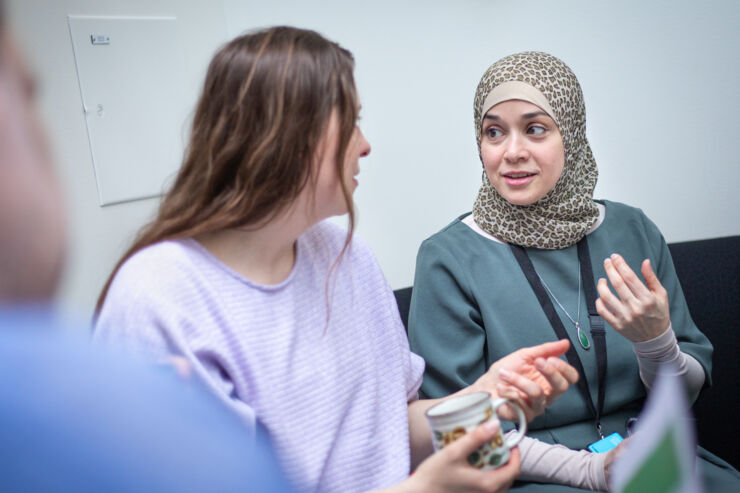 Jelena Kurilova from Lithuania and Eman Hegazy from Egypt get on well. Photo credit Charlotte Perhammar
When the people from the division are physically present at work, fika breaks are an important opportunity to talk about everything from work to hobbies and the global situation. – something Yang Liu wasn't really used to.
"In Finland, at coffee breaks everyone sat by themselves, reading a newspaper. Here it's completely different. It's really nice when we meet outside the office, and when so many people are from almost the whole world, we have more to talk about. People have different perspectives. Things have different meanings in different cultures, and even the same joke can be interpreted differently, depending on where you come from", he says.
But isn't there anything negative about being at such an international division?
"Sometimes it takes longer to do things, of course. And integrating new people and getting the communication to work might take a little extra time", says Marianna Kambanou.She laughs and thinks of one more thing:
"When Swedes give negative criticism, they often package a lot of different things together. If you don't mentally peel away all the layers, it can be difficult to understand where the criticism actually is."


SHORT FACTS
The Division for Environmental Technology and Management is a research unit that has existed for 40 years. Its aim is to achieve a more resource efficient society where new environmental solutions become reality, by way of research, education and collaboration with society.

The division is divided into four units: Sustainable Development and Strategies, Industrial and Urban Symbiosis, Products Services and Innovation, and Sustainable Materials Management.

At the division there are co-workers from 16 countries: Brazil, China, Ecuador, Egypt, Germany, Ghana, Greece, India, Indonesia, Iran, Japan, Lithuania, the Philippines, Sweden, Turkey and the United Kingdom.