The world after Corona
The ECIU Creathon is an open event in which students from LiU and eleven other European universities work together with professionals to solve challenges in several fields. The overall theme is viable communities of a post-covid world, with subthemes such as future cities, digital inclusion, green logistics and energy transition.
The tasks are to be carried out during 48 hours over the weekend 13-14 November. The preceding week will see inspirational talks, and the various cases will be presented to the participants.
"Creathon is a creative marathon to produce interesting and inspiring ideas in several important fields", says LiU's director of collaboration Jan Axelsson, a member of the organising group.
Different background
LiU is host university for the event, which is intended for all students at master's level at universities within ECIU, the European Consortium of Innovative Universities. The mixing of different participants is a key characteristic of the event – future doctors, engineers and social scientists can work together and contribute their different perspectives, knowledge and experience.
In practice, it will be possible to work either physically on site, or remotely using digital methods.
"The event will be an exciting experience in itself. And it's also an excellent way to create networks, both with LiU students from other disciplines and with students from other universities", says Jan Axelsson. He adds that the participants will receive a certificate as evidence of their participation.
Important contacts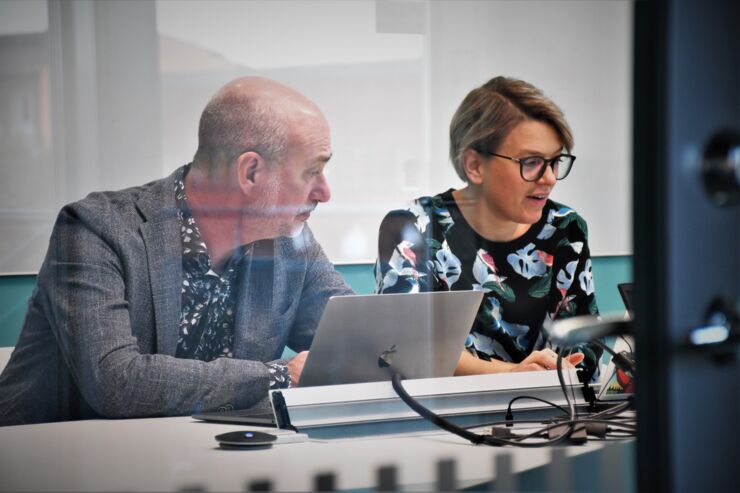 Jan Axelsson and Anna Broeders.
Linköping Science Park is co-organiser for the Creathon. Anna Broeders, who works with expertise supply at the science park, says that the event is also a good way to demonstrate skills to possible future employers. The ECIU partner companies that have formulated the various challenges include, for example, Tekniska verken and Toyota Material Handling.
"The companies are here because it's important to show themselves as attractive employers. And it's a good opportunity for the students to make contacts in preparation for their future professional life", says Anna Broeders.
Closing date for registration is 3 November. One hundred places are available, which includes professionals from the various partner companies.
Translated by George Farrants
More information about the event and registration forms are available here.
More information about the ECIU is available here.