"It's just great to be awarded the scholarship, in particular from such an important player in the biogas field as ABB. It's confirmation that I'm on the right track," says Giacomo Carraro.
Sweden – an international leader
Giacomo Carraro was born and raised in Italy. His academic career took him to Hamburg where he took double master's degrees, followed by several years' work with biogas in Germany. He has always held the goal of pursuing a research career, and his interest in Sweden was awakened at a conference. In contrast to most other countries in Europe, Sweden uses different types of waste as a basis for biogas production. Biogas is used as vehicle fuel, and the nutrients are returned to agricultural land.
"How can it be that Sweden has for a long time been doing something that other countries in Europe are only now starting to look at? It made me curious – what are the reasons for this?", says Giacomo Carraro.
He started to use Google to explore biogas in Sweden, and discovered many interesting hits for material from Linköping University. These came mainly from two sources: the Department of Thematic Studies – Environmental Change (Tema M), and the Biogas Solutions Research Centre (BSRC), run by LiU.
"They were very active and published often, and I like the interdisciplinary structure on which the BRSC is based, with close connections between the academic world, research and industry."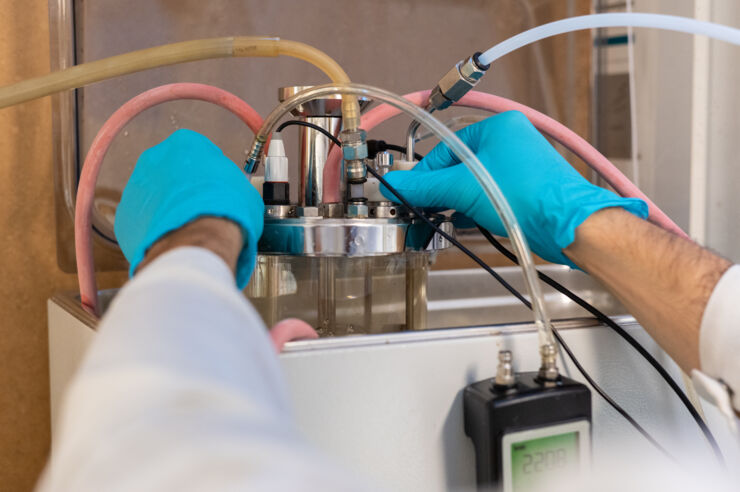 "The scholarship will help Giacomo Carraro to scale up and improve the prototype he has developed." Photo credit Magnus Johansson
A reward
He started his doctoral studies at Tema M in the spring of 2020, only to experience the university being reconfigured to work in distance mode after a few weeks. Now, just over 2 years later, he has been awarded the ABB Gunnar Engström Scholarship in recognition of his research.
"It's a great feeling, and I see this as a reward after two tough years. The COVID pandemic made life difficult for everyone, but it was a special challenge for me to start doctoral studies and move to a new country during this period."
The scholarship will help Giacomo Carraro to scale up and improve the prototype he has developed. This prototype will make it possible for biogas facilities to extract more biogas from protein-rich waste, while the residue product will be better suited for use as biofertiliser. In addition, ammonia can be captured and used to produce useful materials such as biofertiliser.
"Large volumes of ammonia are formed when protein-rich substances are used, and this can inhibit the digestion. This means that there is a limit to the amount of protein-rich material that can be used in the digesters. Too much, and the biogas process fails."
"To put it simply, you could say that my digester prototype means more efficient biogas production and produces high-quality residue," says Giacomo Carraro.
Commercial aspirations
He is convinced that his idea will work, and is hoping that the prototype will make the transition to life outside the laboratory.
"I have two years' research left, and in the short-term I plan to continue testing the prototype and looking at the effects of large-scale biogas processes. In the long-term, I would like to commercialise the idea, and I'm already open to finding partners to collaborate with."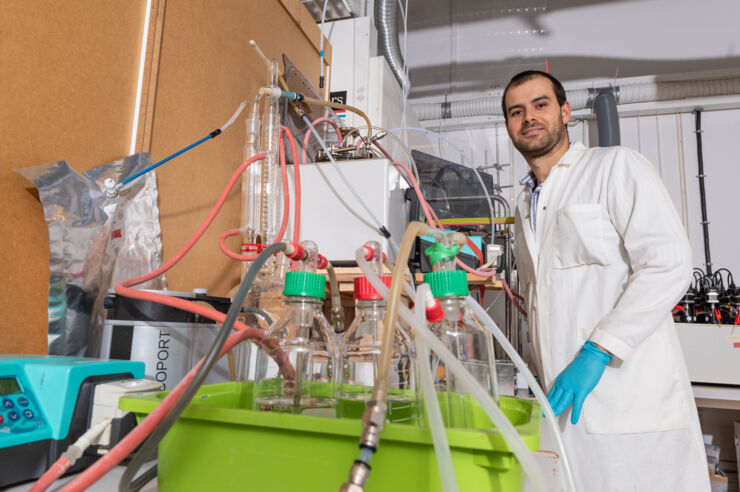 Giacomo Carraro, doctoral student at LiU, has been awarded the ABB Gunnar Engström Scholarship for his research into improving the production of biogas. Photo credit Magnus Johansson
Brief facts: The Gunnar Engström Scholarship
The Gunnar Engström ABB Foundation, named in honour of Gunnar Engström who was for many years director of ABB, was formed in 1983. Its objective is to recognise and reward young successful researchers for their initiatives in Swedish energy technology research. ABB is a strategic partner of LiU, and the scholarship was presented to Giacomo Carraro at a meeting of the partners' management at LiU on 10 November.