Tomas Ahlström Photo credit Christian Ekstrand"When we started nine years ago, there were a lot of raised eyebrows, and people wondered why we were setting up a game conference. We have now reached a position where we command respect, and the conference has become an amazing complement to the entrepreneurship in the region", says Tomas Ahlström, manager of the LiU Game Conference and adviser at LiU Innovation.

What started as a purely student event nine years ago has become a major event with participants from industry, gaming and the research world. This year's event will be held on 28 November.

"The conference is not just about computer games: it's also about digital experiences. What we discuss and demonstrate at the conference doesn't have to be connected to entertainment games: we are trying to capture all actors who are working in this field of technology."

LiU Game Conference is an initiative intended to help establish more companies in the industry, and to encourage more students in the region to work with games.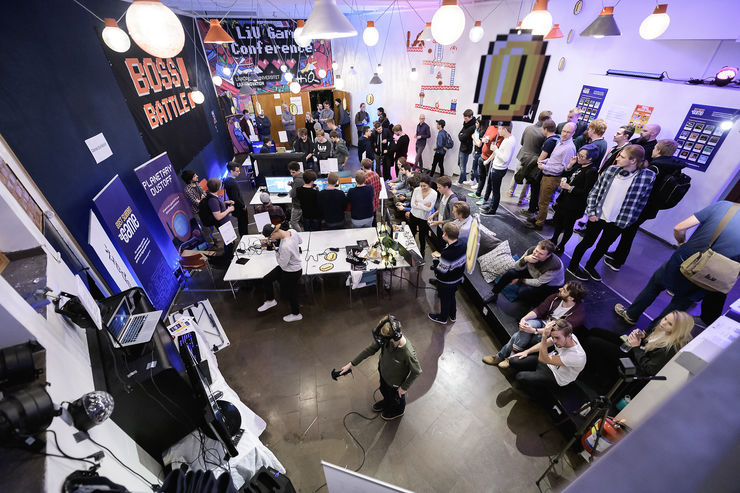 Photo credit Christian Ekstrand"The computer game industry is one of the fastest growing in the world. This is an industry with a future. It has many employment opportunities, and drives technological development in many other industries. The technology developed within the game industry benefits, for example, medical visualisation and flight simulation, and the game industry has much expertise that other industries lack", says Tomas Ahlström.

During the conference, the participants will be able to participate in a game track, with inspiring lecturers from all over the world, and where, for example, representatives from companies such as Blizzard, Epic, Unity and Jagex will be present. Parallel to this is a science track that focusses on academic research, not necessarily related to computer games. One event here is a talk by Emil Axelsson, research engineer at LiU, entitled "Open Space – how to visualise the universe in real-time". Visitors will also have the opportunity to watch a round-table discussion on how to inspire young gamers to start developing games, test prototypes of games developed by students at Linköping University, and meet and chat to different companies demonstrating their work.


Photo credit Christian Ekstrand"We want to strengthen the field both in Sweden and abroad, and encourage more students to get involved with game development. We are collaborating closely with East Sweden Game, which offers consultation and workplaces for games developers in Linköping."

The conference is also the forum in which the winners of the LiU Game Awards are crowned. This is a competition for students studying games programming at Linköping University.

"The contributions are improving as each year passes, and this is because the conference is becoming larger, and more prestigious names are members of the jury."

The winner will receive SEK 20,000 to use in completing the game, and can also receive coaching from LiU Innovation, which is arranging the conference together with the HiQ consultancy company and East Sweden Game.


Click here for the LiU Game Conference programme, 2018
Photo: Christian Ekstrand
Translation: George Farrants