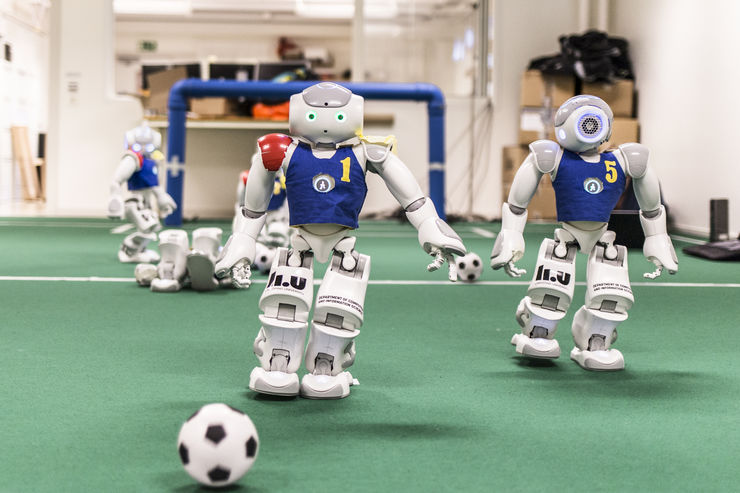 Photo credit Charlotte Perhammar
LiU has offered courses in artificial intelligence since the 1980s, but they are designed specifically for students who already study at LiU. The Finnish collaboration marks the start of a broader bid in the field, aimed at interested members of the public.
"AI affects everyone, not just specialists. So it's important that more people understand what artificial intelligence means, and how the technology can be used. We want to increase people's understanding and knowledge, as a matter of popular education", says Fredrik Heintz, AI researcher at LiU.
Elements of AI is a free online course that is open to everyone. It has been developed by Helsinki University in collaboration with a Finnish consultancy, and it gives two university credits. To date, 130,000 people in Finland have begun the course, and Vinnova (Sweden's Innovation Agency) is funding the translation into Swedish.
"We hope to get even more people in Sweden to take the course, than in Finland", says Fredrik Heintz.
Those who complete the online course can apply for an advanced single-subject course at LiU, to get credits for it.
In addition to Elements of AI, in the spring of 2019 the Commissioned Education Office at LiU is offering a survey course on AI and digitisation. The autumn of 2019 will see the start of more commissioned courses, intended for the business and public sectors.
So, what is artificial intelligence? A Swedish encyclopaedia describes it as follows: "Artificial intelligence, AI, is intelligence ascribed to a computer system, as well as a research field focussed on the design of computer systems that exhibit intelligent behaviour. The purpose of artificial intelligence is to, by artificial means, emulate the human brain's ability to plan, solve problems, reach conclusions, gather new knowledge, understand human language and so on".
"There is a lot of fear and uncertainty concerning AI, for instance that jobs will disappear. I don't think the number of jobs will drop dramatically, but most jobs will probably change. Professions won't be automated; only particular tasks will be. But there are a number of ethical and philosophical issues to consider when it comes to AI, for instance regarding our fundamental values. It's important to include these in all our programmes", says Fredrik Heintz.
Link to commissioned course, offered this spring
Translation: Martin Mirko