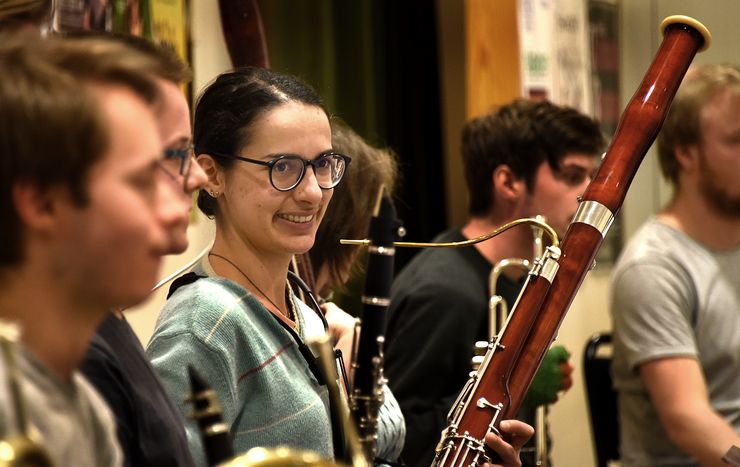 Photo credit Göran BillesonIt's Saturday morning and the Linköping University Symphony Orchestra, LAO, has an all-day rehearsal in the Musicum facility on Campus Valla. The music stands support Tchaikovsky's 5th symphony, and everyone is fully focussed in preparation for an upcoming concert.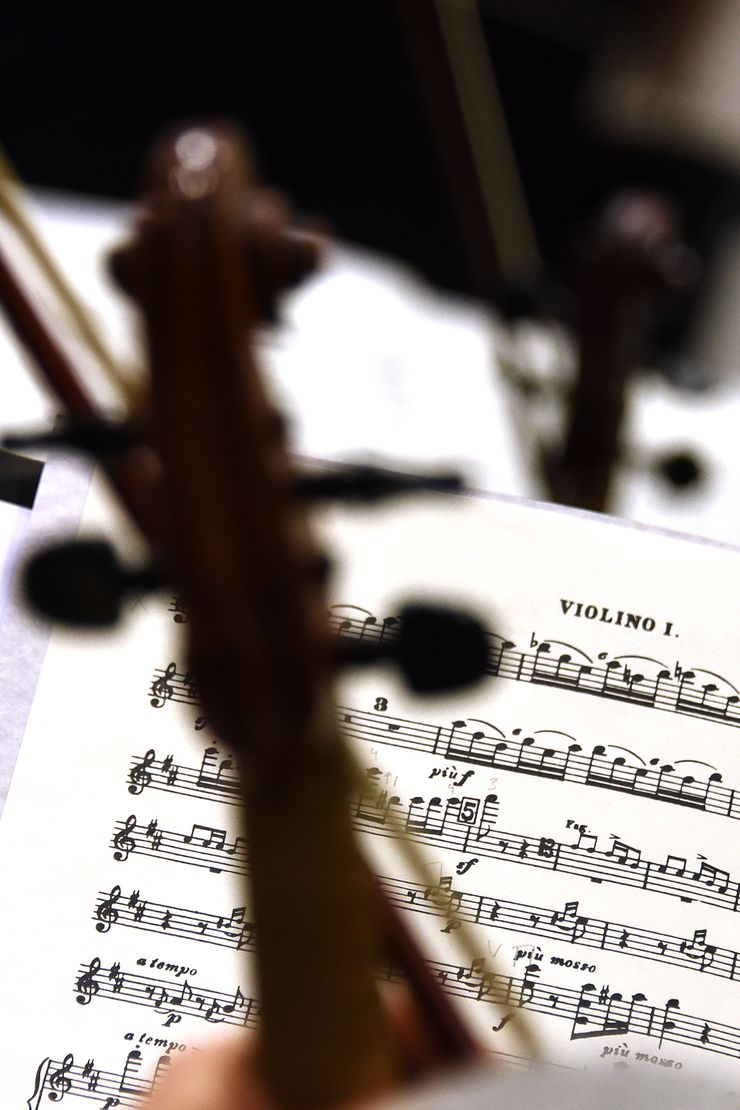 Photo credit Göran BillesonThe symphony orchestra is one of the music-based activities associated with Music at LiU. The major part of these activities is constituted by high-quality choral performances, while the opportunity for a short academic course for orchestral musicians is another.
Music-based activities at LiU give students and staff, not least visiting students and staff, the opportunity to sing in several choirs, from small choirs arranged by the students themselves to massed-voice choirs run by the university director musices.
The Linköping University Male Voice Choir has around 60 members and performs a wide range of music, from items in the classical male voice choir repertoire to newly written pieces.
The choir tours at regular intervals and has won several prizes in international competitions.
The male voice choir has a sister, the Linköping University Women's Choir – Linnea, with around 40 members and a broad repertoire. Chorus Lin is a mixed choir, but has high ambitions for its musical achievements, just as the other, larger choirs.
Linköping University Chamber Choir Photo credit Peter SyvénThe Linköping University Chamber Choir has around 40 members and is the only one of its kind. It puts on concerts and performs at the university's ceremonial occasions.
The Linköping University Chamber Choir is on a par with the most prominent choirs in Sweden, and its members come from a wide range of backgrounds. Many of them have professional musical training, while others are students or staff at Linköping University.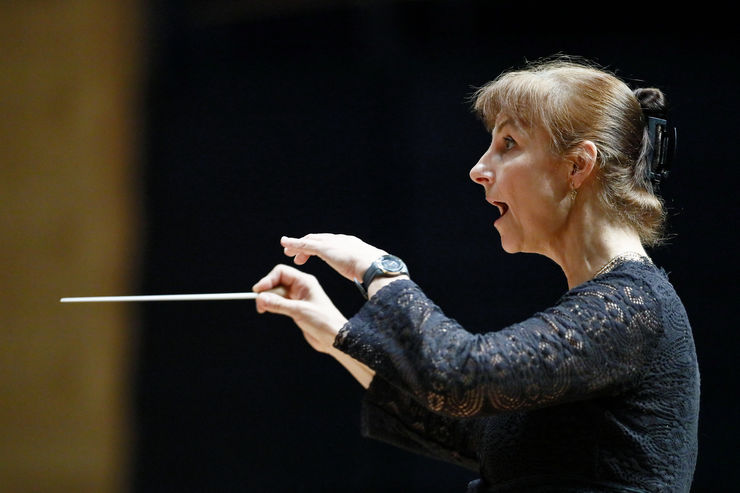 Christina Hörnell Photo credit Peter Holgersson AB"We are part of the current age, and we want this to be reflected in the university music activities. If you wanted to describe Music at LiU in a single phrase, it would be 'tradition and innovation in harmony'. The choirs often perform music by contemporary composers; they shine a light onto female composers; and move with confidence across a wide range of genres", says Christina Hörnell, director musices at Linköping University.
The music-based activities at the university are a fantastic resource for visiting students and researchers. The social life that thrives around the music gives friends for life, and provides an opportunity to get a glimpse of Swedish society. It is also a chance to learn the language.
The choirs work together at many concerts, and the experiences are the type that last for a lifetime.
Englishman Benjamin Everett,violonist in the orchestra. Photo credit Göran Billeson"It is a magnificent feeling to sit in an orchestra with more than 120 song artists behind you", says Benjamin Everett from Birmingham. He is one of the second violins in LAO, and is happy to devote his Saturday to rehearsals. Benjamin Everett finds that it is more fun to play in the LAO than it was in the academic orchestra that he played in at the University of Liverpool.
"We give more concerts. Our conductor Merete Ellegaard has the courage required to try new things, and helps us stretch the limits of what we can achieve. Sometimes we receive support from professional orchestral musicians, and this is a great advantage", he says.
When Benjamin Everett graduated with a master's degree in aeronautical engineering from Linköping University, he was immediately offered a job at SAAB, but he is not considering leaving the orchestra, and is planning to stay in Sweden. And the fact that he found true love among the music stands has, of course, influenced that decision.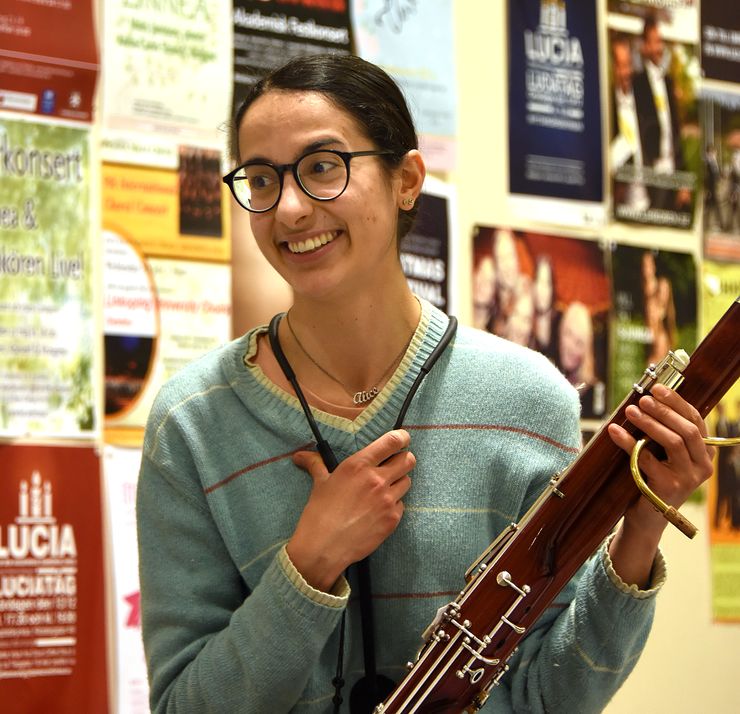 Alice Framba stayed in Linköping for longer than planned - partly because of the music! Photo credit Göran BillesonAlice Framba came to Linköping University as an Erasmus student from the University of Trento, Italy, bringing her bassoon and a passion for music with her. She originally planned to spend one term here, studying international relationships with a specialisation in European relationships. But it didn't turn out like that. LAO made itself felt.
"I became part of the community immediately, and found Swedish friends with the same burning interest in music that I have. If it wasn't for the orchestra, I would probably have spent most of my time with other students from the course", says Alice Framba, who has not only graduated in international relationships at the University of Trento but also studied at the conservatory there.
"But what's important for me is not really what we play, but the fact that we play together." She also made sure that her studies during the Erasmus visit included a music aspect. She examined the relationship between the Italian 19th century opera "Christina, Queen of Sweden" and Swedish nationalism, seen from a European perspective.
Alice Framba enjoyed living and studying at LiU so much that she decided to work towards a master's degree here. And partly for the same reason that Benjamin Everett stayed. It seems that music truly is the food of love!
LiU Magazine 2/2019