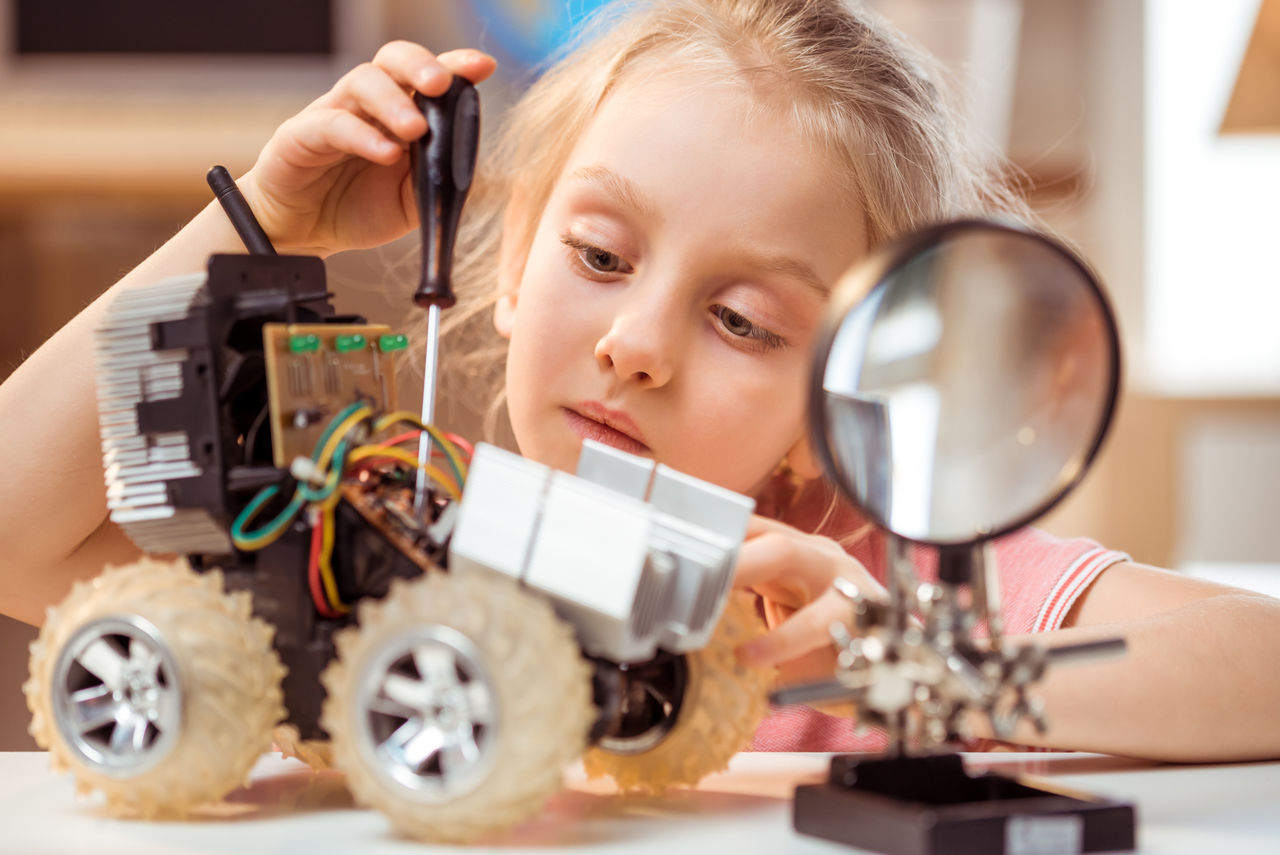 Little girl making electric car
Photo credit

D-Keine
"We want to help teachers to teach technology in a way that also benefits girls."
Ulrika Sultan has a background as a teacher of technology in compulsory school (grades 1-9). She has seen the girls with a burning wish to learn, and girls with a genuine interest in technology. She has encouraged them. But then she discovered that research results show something completely different: girls are not interested in technology.
This is what inspired Ulrika Sultan to start research into the topic. She wanted to discover the true picture, and has thus worked as doctoral student in the educational science of technology teaching, with a special interest in girls' interest in technology and how schools deal with it.
Technology companies concerned
Ulrika Sultan
Photo credit

Daniela Gyllensten
Statistics from the Swedish Schools Inspectorate show that 86% of girls in grade 5 are interested in technology. The figure has fallen to 37% by grade 9.
"This is a dramatic fall, and it causes headaches not only for our institutions of higher education but also for technology companies. But it affects the girls – always being told that they are not interested in technology", says Ulrika Sultan.
She is convinced that research has arrived at an unjustified myth: girls are not interested in technology.
"I can't find any evidence for this in any studies. It's a lot to do with how the questions are asked and how we researchers interpret the replies."
"Give them appropriate tasks"
One study that Ulrika looked at, for example, described a test that the pupils took relating to a toothed wheel. The girls' results were poor, and the conclusion drawn in the study was that they were not interested in technology. Another study invited girls to a university to investigate lithium batteries for autonomous cars. Again, the girls showed little interest.
"But this depends on the material and topics that the girls are given. Obviously, they must be given tasks that are appropriate", Ulrika Sultan points out.
A larger societal perspective
Schools are unable to teach technology in a way that girls find interesting. Ulrika Sultan believes that schools are unable to capture their interests. These may be anything from designing jewellery in 3D, using a lathe to create fences for rabbit-jumping shows, or using computer control to cause clothes to change colour. Schools can also show how technology is coupled to overall societal issues.
"Girls often have a larger societal perspective on technology. They think in terms of larger systems. Boys will build a pump. But girls with think: 'How can we secure the water supply?'"
Piecemeal education
Ulrika Sultan describes how schools in other countries, including Russia and Botswana, deal with the issue. Russia nurtures the interest of girls in technology better, and technology teachers are often women there. In Botswana, it is expected that girls participate to shape the future of the country.
Ulrika describes technology teaching in Swedish schools as piecemeal. The teachers would benefit by considering the subject more in its entirety.
Technology, people and the environment
"Rather than giving the pupils isolated tasks, such as building a simple car, the teacher can put vehicle construction into a broader context. What will cars be like in the future? What about the choice of materials? Who are cars for? Where do the components come from, and how does this fit into an environmental and global perspective? This type of question arouses girls' interest, who tend to question things more deeply than boys. Furthermore, such questions are highly relevant for teaching technology, where we don't want to study a particular gadget in isolation; we want to include the complete width of perspective around technology, people and the environment."
Practical advice to teachers
Practical advice about how teachers can work with technology is presented in a book recently published by Teknikföretagen (the Association of Swedish Engineering Industries), edited by Ulrika Sultan. The book, Teknik – 10 lektioner i att förändra världen ("Technology – 10 lesson plans to change the world"), is intended for use by teachers of technology in grades 1-9. It takes its starting point in contemporary societal problems such as the environment, transport, medical care and water shortage.
"We want to support teachers such that they can teach technology in a manner that benefits both girls and boys."
Uncertified to teach technology
The book has stimulated intense debate both in the media and in schools. Two ministers – the Minister for Enterprise and Innovation and the Minister for Higher Education and Research – have tweeted about it.
"I didn't think it would get much attention, but it turned out to be quite the opposite." It's really great that educational material can arouse so much attention."
Ulrika Sultan is hoping that teachers of technology in grades 7-9 will start using the concrete advice in the book straight away.
"More than half of those currently teaching technology in our schools are uncertified to teach the subject. We must do something about their teaching skills and certification."
As a doctoral student, Ulrika teaches undergraduates who intend to become technology teachers.
"At the moment we have five students at Linköping University studying to become teachers in technology for grades 7-9 and upper secondary level. Five – just five at one of Sweden's largest teacher-training institutions. It's incredible!"
The book has been published by Teknikföretagen and can be downloaded
here
.


Translated by George Farrants