Minister for business, industry and innovation Ibrahim Baylan was one of several keynote speakers at Treesearch Progress, 2019. The Treesearch collaboration platform is one component of a government initiative in a future biobased economy.
"I'm optimistic: in Sweden we're good at solving problems, and I'm sure we will succeed. We have managed to take major structural steps previously, such as reducing our overall dependence on oil for heating. Now, between two and three percent of heating is oil-fired. Have we lost any jobs? Has the economy suffered? No – on the contrary, we have created employment opportunities and stimulated the economy", he said.
He predicts that collaboration between the academic world, industry and organisations will enable us to benefit from the bioeconomy in a sustainable manner.
"We live in a small country, far away from everything else, and we must be able to use air transport. But maybe we don't need to fly as much as we do today. This is another area that will require broad collaboration to reach our goal of fossil-free domestic flights by 2030, and completely fossil-free air travel by 2045."
Separate innovation from production
In order to reach all of these objectives and continue as a successful research-based country, innovation is needed, and this is an important part of Treesearch.
Sara Mazur, previously director of research at Ericsson and now director of strategic research in the Knut and Alice Wallenberg Foundation, presented much useful advice,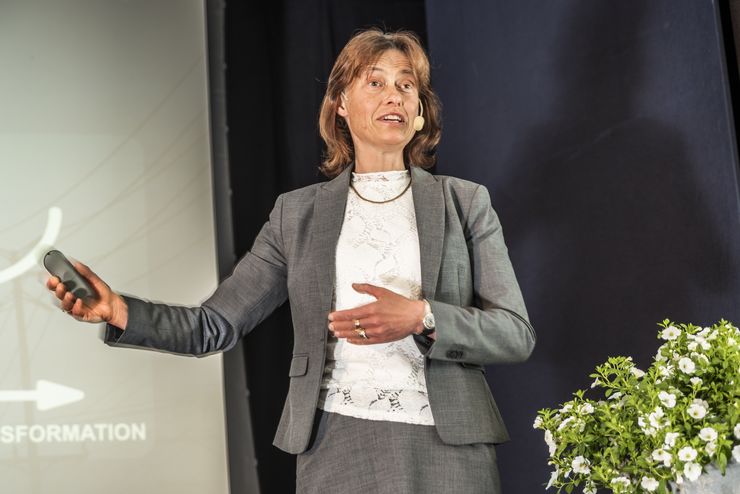 Sara Mazur, director of strategic research in the Knut and Alice Wallenberg Foundation
Photo credit

THOR BALKHED
mainly to companies working in forestry. The most important advice she gave was to separate innovation and the development of new ideas from routine commercial operation.
"An idea, now matter how good it is, can never compete with what is actually making money at the moment. Keep them separate until you have an innovation that is sufficiently strong to offer to routine production. Engineers are innovative, and you should let them be like that. But make sure that you create a separate ecosystem for innovation that is independent of the daily operative management in your company", she advised the listeners.
If you don't keep up, you'll become history.
The reason that development is now progressing so rapidly, she believes, is that much technology has been developed during a relatively long period that is now ripe for commercialisation. She gave examples from her own area of expertise: 5G, artificial intelligence and machine learning, cloud-based applications, and the internet of things.
She advised companies to collaborate with universities, if they want to know which areas of technology are important to invest in from a long-term perspective.
"It takes at least ten years to develop new technology. That's why it's necessary to be out there early and listen, in order to be among the front-runners."
Treesearch – open for all
Treesearch is a research and collaboration platform intended to develop new materials from forest raw materials. It was set up in the summer of 2017 and is now in full operation. Just over 200 researchers, research students and senior researchers, from the academic world and industry, met at the Kolmården Wildlife Park to spend two days exchanging ideas, knowledge and experience.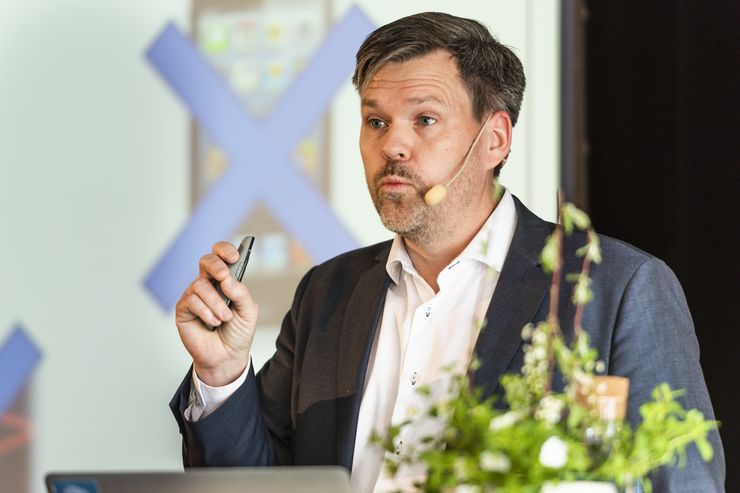 Daniel Söderberg, from the Royal Institute of Technology and director of Treesearch, was proud to present ForMAX, the new beamline constructed solely for research into forest-based materials. "An amazing tool, open for us all to use." Photo credit THOR BALKHED"Many of us realised that something had to be done: that an effective collaboration between academia and the forestry industry was needed for research into new forest raw materials. It's just great that we are meeting here to discuss exciting results and how to increase collaboration", was how Daniel Söderberg, director of Treesearch, welcomed the participants.

"Treesearch is a collaboration platform open to all who are working in any one of the four fields that are incorporated. And those who participate in the collaboration are expected to share results", he said.

Research projects into new materials from the forest can join the Treesearch platform. The largest project in Treesearch is the Wallenberg Wood Science Center, WWSC, which is financed by the Knut and Alice Wallenberg Foundation, the universities involved, and the forestry industry (through Treesearch), until 2028. Treesearch is in turn financed by Vinnova, participating universities and industrial partners.
The initiative includes also investment in research infrastructure. The Wallenberg Foundation is providing the investment required to establish a beamline, ForMAX, at the Max IV synchrotron in Lund, dedicated to research into new materials from the forest, while Treesearch will be responsible for its subsequent operation.

"An amazing tool, open for us all to use," as Daniel Söderberg put it.

The day included further lectures, some of them given by Treesearch participants who had gone from academia to industry, from academia to research institutes, and from the business world to academia.
Lignin is cool
Patrik Isacsson is a qualified forester employed by speciality paper manufacturer Ahlstrom-Munksjö, and an industry-based doctoral student at the Laboratory of Organic Electronics, LiU.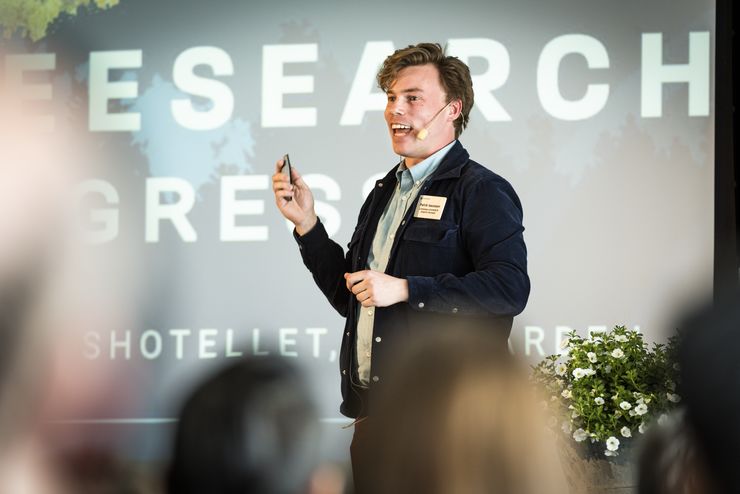 Patrik Isacsson, employed by Ahlstrom-Munksjö and doctoral student at the Laboratory of Organic Electronics, described his journey from industry to academia. Photo credit THOR BALKHED"Ever since I was a student, I've been interested in how we can use forest raw material to create a better society. I found out about the opportunity to work as a doctoral student when my company became involved with the Digital Cellulose Center, developing paper-based batteries", he told the conference.

The Digital Cellulose Center is a centre of expertise based at Campus Norrköping, with participants from RISE, LiU and the Royal Institute of Technology, financed by Vinnova since 2017.

"Working as an industry-based doctoral student means adding to knowledge that can subsequently be used in the industry. To put it simplify, you can say that industry describes the problems and the university formulates the research questions", he said.

In Patrik Isacsson's case, the work focusses on stabilising wood-based electrodes for energy storage. Electrodes manufactured from several forest raw materials such as lignin, cellulose and hemicellulose are involved. "Lignin is a really interesting material", according to Patrik.

"This is a truly exciting conference: it's just great to walk around and talk to people, exchanging experiences with those who work in similar fields."
The first day of the meeting was spent in plenum sessions, a poster exhibition, socialising and a mini trade fair, while the second day offered many scientific presentations in several parallel tracks. Patrik Isacsson gave one of the presentations together with a colleague from RISE, describing a paper type that has been given conducting properties using nanographite.

Translated by George Farrants