At the beginning of last autumn, Robin Mannberg, Joel Nilsson, Martin Andersson and Gabriel Suihko were looking forward to living and studying in different corners of the world for a year. They are all third-year master's students of applied physics and electrical engineering, with an international specialisation. But the similarities end there.
Dramatic start
The cherry trees had come into blossom before the pandemic hit Japan at full strength. Robin Mannberg is an exchange student at Kobe University, and the autumn term brought not only one of the worst hurricanes in Kobe's history but also an earthquake. But Robin Mannberg was as well-prepared as you can be, having taken courses in the Japanese language and Asian studies. From his upbringing in the northern town of Jokkmokk, he brought a composure typical of this region of Sweden.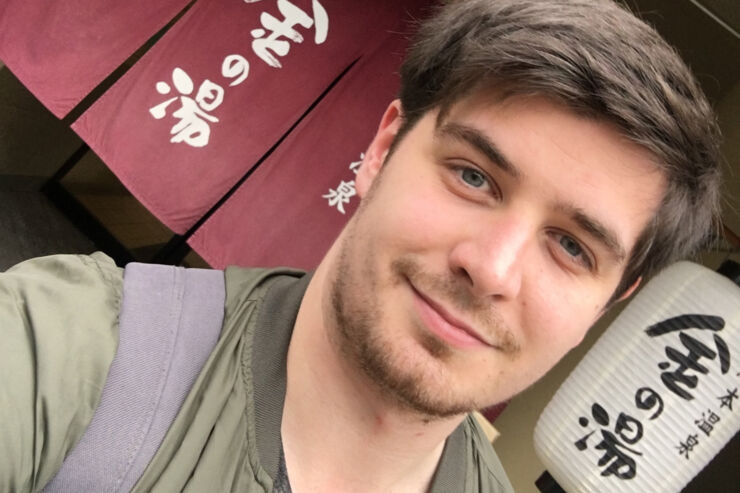 Robin Mannberg Photo credit Privat"I think everyone should take a year abroad: it brings invaluable experience. I have really developed as a person", he says.
Things were pretty much normal in Kobe until April, although the university's leisure activities, such as rambling, canoeing and karate, were cancelled. The situation became acute after the Easter break, and Kobe closed down: shop opening hours were restricted; restaurants provided only take-away meals; and the university transitioned to remote teaching using Zoom.
Robin Mannberg is the only exchange student on his courses, which are all given in Japanese.
"I have to concentrate if I'm to understand. I listen for certain keywords, and we also have the course literature that accompanies the lectures, which I can follow at the same time."
Teaching normally takes place in the form of classroom lessons with a teacher and whiteboard.
"Since I'm the only exchange student, people see me as an exotic creature, and they are both kind and helpful", he says.
And he has gained Japanese friends.
"They are shy, but are keen to chat, and as soon as I add them on Line, which is the Japanese equivalent to Facebook, we're friends."
From Beijing to Linköping
Joel Nilsson has had a bit of luck – when the bad news came that the Beijing Institute of Technology was closing, he was at home in Linköping on a winter break with his girlfriend. His visa was withdrawn, as it was for all other non-Chinese people.
"I registered for a course with distance teaching for this spring term, but it turned out to be a PowerPoint file with a voice track in which the teacher read what the PowerPoint slide said. Not quite what I was
Joel Nilsson Photo credit Privatexpecting."
He withdrew from the international component of the programme, and instead registered for several courses at Linköping University – all of them taught remotely, of course.
"Everything has worked out really well!"
But it was disappointing to have to withdraw from study in China, after having battled his way through all the administration required.
"Most exchange students take courses in English, but I wanted to take them in Chinese. It took some time before I could access the course lists."
Joel was in Beijing from September to January, and has visited China before.
"It was sometimes a bit difficult to keep up with the Chinese, particularly when they spoke quickly, but you have to study on your own was well. On one of the courses, the teacher told us during the final lecture before the exam what we had to know and what wasn't going to come up. So we knew which equations we had to memorise."
Joel Nilsson did well on the exams, and he's happy.
On leave from Aachen
Martin Andersson, exchange student at RWTH Aachen University, also got stuck at home in Katrineholm, where he was visiting on a half-term break.
"It's a shame not to have been there, but I spent most of my time with other exchange students, and they wouldn't have been there either."
Martin Andersson is taking courses in German, and everything has worked out well so far, although distance teaching hadn't started when we talked to him.
"Otherwise, the teaching is pretty similar to what we have at LiU, just rather more theoretical. They use a lot of lectures with PowerPoint slides here, and not so many examples and laboratory exercises" he says.
Closed in Graz
Gabriel Suihko, in contrast, got stuck in Graz in Austria, and couldn't travel home for Easter as planned. Now he's trying to study, eat, sleep and relax in his apartment.
"It's working out OK, but it's difficult to feel motivated to study as much as I should", he says.
Graz is closed down, so there's not much opportunity for socialising.
"I got to know some other exchange students during the autumn, but some of them were only here for the one term and others have withdrawn. Unfortunately, it's difficult to make contact with Austrian students."
"Maybe it sounds as if I'm painting a depressing picture, but most things have worked out well. I went skiing in the Tyrol in February, and I can strongly recommend that others take a year abroad. It's a great benefit in many ways – even in a corona crisis."
Four snapshots from four countries, but they all agree on one thing: A year abroad is an experience that no one should miss out on.

The students' blog (in Swedish): https://yivarlden.com/

The article is also published in LiU Magazine, issue two, 2020.

Translated by George Farrants