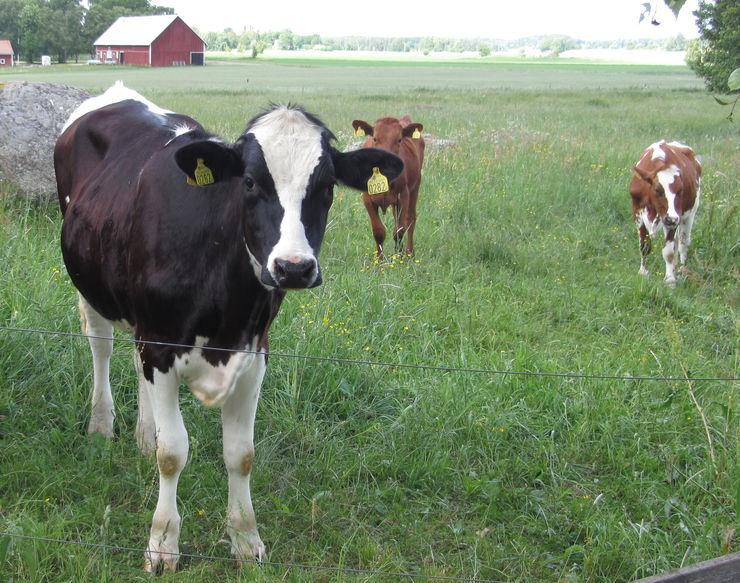 Photo credit Monica WestmanFoot-and-mouth is an extremely infectious disease that infects cattle, sheep and pigs. The United States has not had a major outbreak for 85 years, but the threat is always present. With animals being transported such long distances the risk of infection is high, and computer simulations indicate that in the event of a widespread epidemic, some 120,000 farms would be affected.
"We were surprised that animals are often shipped right across the continent. This enables the disease to make huge jumps to other parts of the country", says Tom Lindström, postdoctoral researcher in theoretical biology at Linköping University.
He is co-author of a recently published article in the scientific journal PLoS ONE, where the results were presented.
Dr Lindström's and Professor Uno Wennergren's part of the work was to build a statistical model of how cattle are transported across the United States.
"We take into consideration several factors that affect how the animals are moved. The geographical distribution of farms varies greatly across the continent, and there are many different types of production. California and New York produce a lot of milk, while farms in the central part of the country mainly consist of feedlots – where animals are sent for fattening before they go to slaughter," Dr Lindström says.
One challenge was to source data for the model. Unlike Europe, the United States has no central database of animal transports.
"The country is so big, and we had very little knowledge of where the cattle are moved to," says Assoc Prof Colleen Webb from Colorado State University, who coordinated the project.
To solve this problem, they collected the veterinarian's certificates that are issued when animal transports cross state borders. However as these are not stored digitally, all the data had to be entered manually.
The researchers' computer model will be an important tool for local and national decision-makers, in the event of an outbreak in the United States.
Picture right: In the UK, 580,000 cattle were slaughtered during the outbreak of 2001. Photo: Pam Hullinger
Article: The Impact of Movements and Animal Density on Continental Scale Cattle Disease Outbreaks in the United States. PLoS ONE, 26 March 2014. DOI: 10.1371/journal.pone.0091724