Our organisation
Linköping University is a public authority led by the government, and is governed by laws, regulations and decisions taken by the Swedish parliament and government.
University Board
The University Board is the highest decision-making body at the university. It is responsible to the government for ensuring that Linköping University meets its objectives. The board takes decisions regarding budget, annual report, LiU's organisation, etc.
Lena Sommestad, former Governor of Halland County in Sweden
, is chair of the board, which also includes
representatives of the general public (companies, organisations, etc.) and operations (academic staff and students).
Vice-chancellor and University Management
The vice-chancellor is Linköping University's top executive official, appointed by the government to lead operations at LiU. From July 1, 2020 Jan-Ingvar Jönsson, professor of medical cell biology, is vice-chancellor of Linköping University. The University Management also includes three deputy vice-chancellors. Their role is to act on behalf of the vice-chancellor on various occasions. The university director, whose responsibilities include staff and administration, is also part of the management group.
Internal Audit
The Internal Audit reports directly to the University Board. Its role is to review the university's governance and accounts and suggest improvements.
Faculties
Linköping University has four faculties: the Faculty of Arts and Sciences, the Faculty of Educational Sciences, the Faculty of Medicine and Health Sciences and the Faculty of Science and Engineering (sometimes known as the Institute of Technology). Formally, Educational Sciences is an "area", but in most cases it functions as a faculty. In some ceremonial contexts, LiU is considered to have three faculties, with Educational Sciences falling under Arts and Sciences.
The faculty is responsible for education and research within its area and at LiU it commissions services from the departments. It is run by a faculty board led by a dean.
Departments
The actual education and research is conducted at the departments. LiU's organisation differs from the typical organisational model used at most European universities. LiU has large multidisciplinary departments that incorporate several adjacent disciplines, with the aim of facilitating contact across disciplinary boundaries. From January 1, 2020 there are 12 multidisciplinary departments at Linköping University.

The departments report directly to the vice-chancellor, not to the faculties which is the case at many other universities. A department can be commissioned to conduct education and research by different faculties.

Thematic studies, institutes and centres
Some research at LiU is not organised within the framework of traditional disciplines, but in thematic studies units, institutes and centres. Thematic studies units are formed around a multidisciplinary field, such as child studies or environmental change, and gather researchers from several disciplines.
An institute is also built around a field of research, but the area studied in an institute is significantly narrower than that studied in a thematic studies unit. A centre is established for a shorter period than an institute or thematic studies unit. A major part of the financing for a centre often comes from other sources than LiU.
University Library and University Services
The University Library and University Services support LiU's core business: education and research. The library offers extensive collections and information services via four libraries, one on each campus. University Services is headed by the university director and handles central services within finance, IT, human resources, press contacts, educational information, etc.
LiU Holding
Linköpings universitet Holding AB, LiU Holding, is owned by the Swedish government, but managed locally by the university. It helps to make new research accessible by bringing it to market. LiU Holding runs the enterprises LiU Innovation, LiU Invest, LiU Relation, Spetsa, Unitalent and Lead.
Organisation map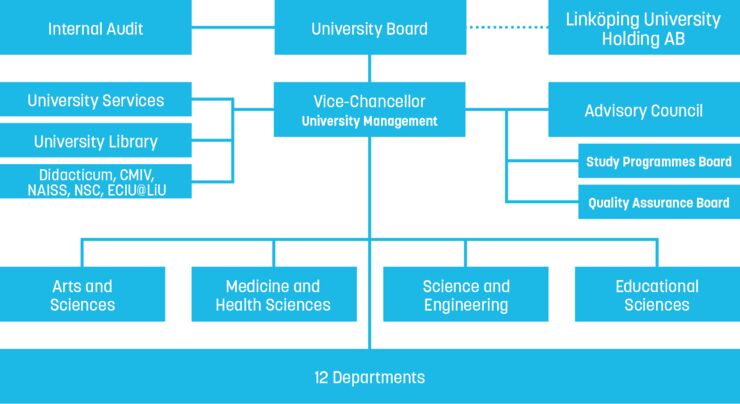 * Examples of other organisational units are the Center for Medical Image Science and Visualization (CMIV), the National Supercomputer Centre (NSC), ECIU@LiU and NAISS. These are operated according to instructions laid down by the vice-chancellor.