County governor
Vice chair
Representatives for the office of rector
Colleagues, students and honoured guests!

Soon it will be a hundred days since I was appointed vice-chancellor, and I must admit that it is just as exciting and challenging as I was hoping and expecting. It may indeed be even better – because I cannot imagine a job that's more fun than leading Linköping University.

I am, of course, extremely honoured to be entrusted with the task of leading our university into the future. I hope that I can work, in consensus with the students and co-workers at the university, for a positive spirit characterised by open consultation and constructive dialogue, and a vice-chancellor who can be found where the university's activities take place, listening and learning.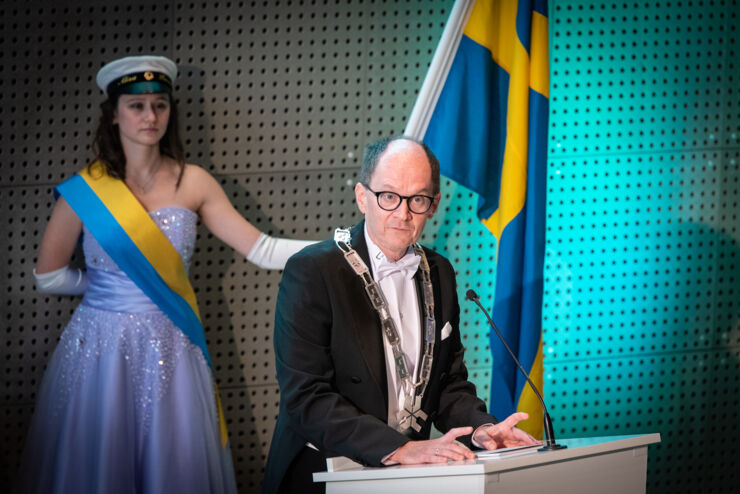 Jan-Ingvar Jönsson Photo credit Magnus JohanssonWe are facing many challenges: competition for both students and young researchers is becoming stiffer, and I believe that it is necessary to formulate a new common vision with clear goals of where we want our university to be in 2030. One important question will be how to inspire to high quality in research and strengthen our ability to attract external funding for research. I am convinced that interdisciplinary collaboration will drive our university in a positive direction and that we in this way can compete more strongly, both in Sweden and internationally.

Equally challenging is to secure our power of attraction for new students applying to higher education. It must be a goal for Linköping University that our students thrive during their education and that they are well prepared for their future professional life, with a high attractive power on the labour market. High-quality education, modern teaching methods, digital tools and student influence have long been our trademarks, but we must unceasingly improve these aspects and identify how we can continue to lead the field.
There is an important role for our student unions – Consensus, LinTek and StuFF – here, and I have already been impressed by the enthusiasm and expertise, richness of ideas and ability to take action that have been shown at our meetings. I have seldom met so many wise young people at the same time – it has been wonderful, and you give me new perspectives on my role as vice-chancellor. Let us continue the excellent collaboration we have established, and work with questions that concern student influence and student health, while not forgetting, of course, other questions that I know you have on your wishlist. I am truly grateful for your commitment and the way in which you make my task as vice-chancellor easy.

The day on which I was appointed vice-chancellor by the government, Linköping University celebrated its 45th birthday as university. We have been on an amazing journey. From being a rather small college of technology, we have become a multifaculty university with more than 30,000 students, many successful research environments, and several ground-breaking educational programmes. We have opened several campuses, and have become a university with operations in two metropolitan areas, uniting a complete region.

When I first came to LiU and started negotiations for my employment at what was then Hälsouniversitetet, I was struck by the spirit of innovation that I had not experienced at previous institutions of higher education where I had worked – it was clear that this was a place governed by "We want, we can, we will"! And it is exactly that spirit that I see as inspiring me as vice-chancellor of LiU, and what I want to achieve during my period as vice-chancellor. Not, of course, for myself, but that all co-workers and students on our campuses, in our research and in our teaching are to feel this inspiration. Innovation is our only tradition – which is a marvellous and challenging characteristic.

We must, however, unceasingly pose the question to ourselves – how innovative are we today? We can be sure that we are innovative with respect to new exciting research fields, such as in the borderland between technology and medicine, and in many other fields. We have started several new educational programmes that were initially met with scepticism from the world around us, but today are perfectly accepted and given at several other universities. These programmes contribute to educating students with special expertise, in demand from the business world and other spheres.

This is exactly something that we must give priority and dare to take on – finding the professions of the future, to weave together different scientific fields in an exciting mix of knowledge that the business world and public actors will require. Such innovative hybrid fields will also ensure that university education and research do not stagnate. It places high demands on us for our ability to collaborate – with society around us and with students (current, future and those who have completed their education here). What do they regard as future challenges for expertise, around which we can build new educational programmes?

A university must collaborate with the world around it. This is already one of our greatest strengths, and has become an integral part of the research and education at our university. The vice-chancellor plays a central role in this work, and it is my intention to build on and increase the collaboration agreements that our university has already entered into. I see this as an important strategic question for our university, for several reasons. It constitutes a base for the recruitment of future students and doctoral students, and creates attractive career pathways for our students when they have completed their education. It constitutes a broad base from which completely new research questions and collaboration can be awakened, and provides better conditions for our researchers to take their research results towards further development and innovations. It reinforces our position and power of attraction as a university, and increases our contribution to greater knowledge, culture and sustainable growth in society. I have already had the opportunity to meet representatives for both the region and the municipalities, and I am convinced that we together can promote growth in the region.

I will soon take the decision to establish an external advisory group consisting of people from the region and the two municipalities, Linköping and Norrköping. This group will include members from the commercial world and will support the vice-chancellor and the university with good advice about our future directions and what we should give priority.

I have, of course, a personal vision of what I want to achieve as vice-chancellor, and now that I have the opportunity, allow me to present some thoughts that I hope will be central at LiU in the future.

We are, as you are aware, a university whose activities are soundly campus-based, and we have a strong focus on educational programmes. What we have learnt during the corona pandemic is that things will be different, and when the virus eventually releases its grip we will not go back to what we thought of as normality. "The new normal" has become a catchphrase, and it may reflect the fact that new opportunities are open to us. We have transitioned rapidly to a larger amount of digital teaching and examinations, which places demands on us if we are to retain the quality of our education. For several years, LiU has had an ambition that digitalisation is to be one of our high-priority choices. The pandemic has shown that this is not really a choice - we must take this as a challenge and something that will bring our university to new heights. Let us make sure that it is our teachers who develop the digital teaching methods and forms of education of the future, who develop hybrid teaching, who develop the new digital tools – if we do, we can place Linköping and Sweden on the global map of digitalisation.

It also makes it possible for Linköping University to take the lead in the transition to the digital society, the digital life. We need, however, do this in a responsible manner: digitalisation concerns not only technical solutions – it is much more than that. Increased digitalisation needs research into ethics and integrity, an area that covers many different aspects and in which we must focus intensely in our operations. Let me briefly mention that I intend to re-establish the ethical advisory group that was previously established by vice-chancellor Mille Millnert, but has lately lived a rather anonymous life. I know that the faculties are working actively with these questions, but I believe it is important that the vice-chancellor also works with these issues, in order to emphasise their significance.

Extensive digital education in which LiU maintains its good reputation as a university with high-quality quality education, not just as a campus-focussed university, is one way to go to recruit students. Another way is to offer an "Open Lifetime university", which represents the full potential of lifelong learning in reality, and makes it possible for those in work to take new steps and increase their skills and expertise. Such education will require a new way of thinking – to offer short courses to a greater extent, possibly courses with fewer credits that, even so, can be selected from a wider range on offer, and built on the use of digital tools.

For the world around us the university can probably sometimes be regarded as living in a rather abstract world. Not least when we publish text on a very specific topic that we find fascinating, while others find it rather abstruse. I believe, however, that the university has a particularly important role to play as independent societal actor and guarantor of free debate. It is within the university world that widely accepted truths are to be questioned, and new knowledge grow from a scientific base. We must nurture academic freedom, and I am a firm believer in the idea that the researchers can best identify visionary research that can lead to breakthroughs and innovations that benefit society. It is not the task of the university to decide what is to be the topic of research, but I am aware that it is important to work with thematic questions that relate to societal challenges. Linköping University must not simply stand by and watch: we must contribute to development and change in society.
One of our advantages and strengths is the broadness of subjects studied in our faculties, which makes it possible to carry out cross-disciplinary research and education. Even though resources are limited, we must ensure not only width but also excellence in our research, and the faculties, through their deans, should be given great freedom in promoting their own special character. It will be necessary to set priorities wisely, in order to stimulate high quality within our research. The deans have an obvious place in the university leadership. I hope that together we can create excellent conditions for more research groups to form networks that can increase international participation, make it possible for new powerful research environments to come forward, and act together to drive research in a positive direction. In this way, we will become nationally and internationally more competitive. We should set ambitious objectives – and make sure that our researchers increase their share of national and EU research funds. We must also consider how we can make our university more attractive, not least for young scientists with exciting research ideas who can contribute to making the link between research and our education stronger than ever.

A major challenge is how we can ensure that our researchers and students gain access to advanced equipment and infrastructure. The needs of the faculties differ, but I intend to work towards cooperation across faculty boundaries in ensuring the long term access for infrastructure. This is necessary for several reasons, one of which is the need for LiU to be competitive when carrying out strategic recruitments. Another is to stimulate creative research.
Another important aspect is how we can make it possible for skilled personnel who are already working here to stay at our university and become linked to various operational units in order to retain their expertise and experience. This is the case for both technical experts and those working in the administration, where I believe that an increase in the recruitement of personnel with an academic degree and qualifications will contribute to better understanding of the university landscape, and emphasise core activities for the development of our university. It is important to continuously deepen the dialogue between the university management, the administration and those carrying out core activities in order to promote high efficiency and availability of the administrative support.

We will, of course, continue to work with LiU's fundamental values – all co-workers should feel comfortable with our strategic objectives and recognise how these relate to themselves. We will nurture the creative ability, richness of ideas, innovative thinking and concrete suggestions of our co-workers. A creative work environment requires that all involved have an influence and are free to express opinions: everyone must be able to make their voice heard and their ideas acknowledged. This requires not only well-functioning collegial leadership, but also good leaders who can listen, create confidence, be constructive, and take a stand for the benefit of the operational unit. We need to develop a clear policy for leadership development, ethics in education and research, a scientific basis and approach, good research practice, integrity and respect for each other, gender equality and equal opportunities.

I am taking over a university that is functioning very well, and I am extremely grateful for that – I would like to express my sincere gratitude to my predecessor Helen Dannetun. Helen, you have meant a great deal to me during the spring, and in our personal meetings you have generously shared your experience. As you know, a vice-chancellor is compelled to live with not being able to keep track of everything, and not having the time required to tackle every question in depth. This is why teamwork is so important, with the expertise and knowledge of others within the leadership. Let me therefore take the opportunity to direct a huge thank-you for the commitment that the members of the university management, and not least the deputy vice-chancellors, have shown since I was appointed vice-chancellor. I hope that we can continue to work for positive development at LiU.

In addition to your support, I have a very well-functioning and professional university services cadre who provides an atmosphere of control, and I am extremely grateful for this – and something to rely on. I am, however, aware that there are high expectations on the vice-chancellor, and that the final responsibility rests with me. I hope to be able to take responsibility for all choices that are needed of our future directions, and what needs to be excluded. The choices must, of course, be made together with the university management, the deans, and not least, the University Board, to which I am subject, and also through an open and constructive dialogue with those working in the university activities: the departments, heads of department and students, to whom I will seek to listen and give the opportunity to exert influence. I can already feel solid support, and that you share your commitment with me.

I will conclude by expressing my hope that the same feeling of consensus that I experience today will still be in place on the day that I end my period as vice-chancellor of Linköping University.

And that's a bridge that I'll cross when I come to it. What we must do now is get down to business.
Thank you!