The field of design is approaching a time in which boundaries between disciplines dissolve. Designers and researchers often work in the borderland between visual communication, industrial design and service design. Campus Norrköping now offers a special meeting place for design and visualisation.
Education and research in design require special spaces. The day-to-day work is carried out in a studio. Other studios and workshops are used to build models and prototypes, take photographs and work with various techniques. If experiments are required, these will be conducted in a laboratory.

Different design disciplines have their own particular requirements. But they also have a lot in common with respect to two and three-dimensional creativity.

The Department of Science and Technology offers two programmes in design: a bachelor's programme in Graphic Design and Communication, and a master's programme in Design with a focus on visual media. In addition, the master's programme in Media Technology and Engineering contains elements of design education.

Design research at the department mainly concerns the interaction with complex, high-information systems. Visualisation research at LiU is particularly renowned, and has created, among other things, Visualization Center C on Kungsgatan, with its dome for showing films and giving interactive demonstrations.

In the neighbouring building Kopparhammaren 2, we now have for the first time the possibility to collect all design education and research in the department. The new premises house workshops for graphic production, a studio with space for photography and the construction of physical and interactive models, a research lab with simulators for studies within transport management, and a computer room for graphic design. The master's students have a studio for their education within visual media, with personal, permanent study places.

It will be easier for students from different courses and programmes to meet here. They will also be able to meet researchers – such meetings inspire the education and research within design and visualisation at LiU, and the students become better equipped for the future.
NB: "Grafisk Design och Kommunikation" is mainly taught in Swedish, while the "Master's programme in Design" is taught entirely in English. Both programmes are offered in Norrköping, as described above.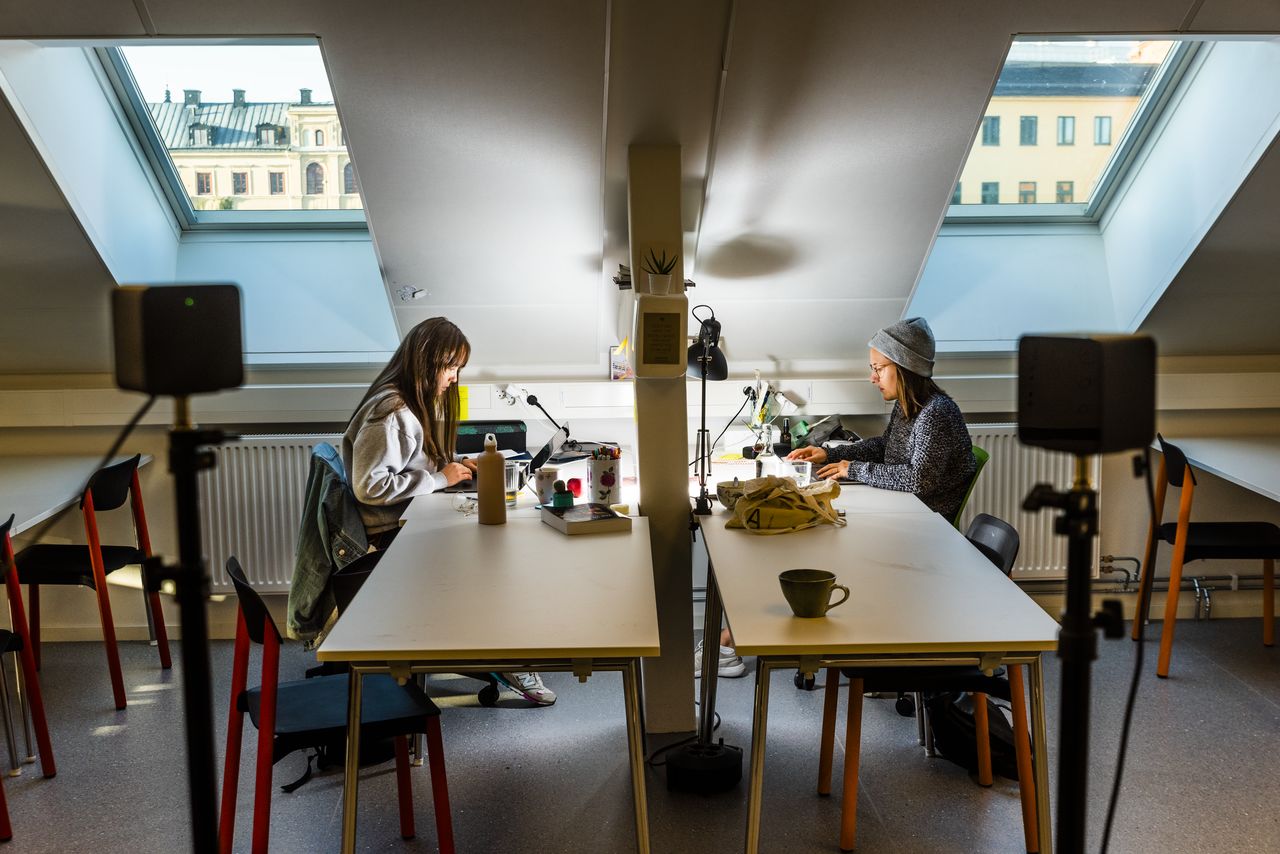 Master's students in their studio for visual media.