"When I started doing my bachelor's back home, there was no proper Biomedical Engineering programme available, and although I did work in the field for a couple of years, I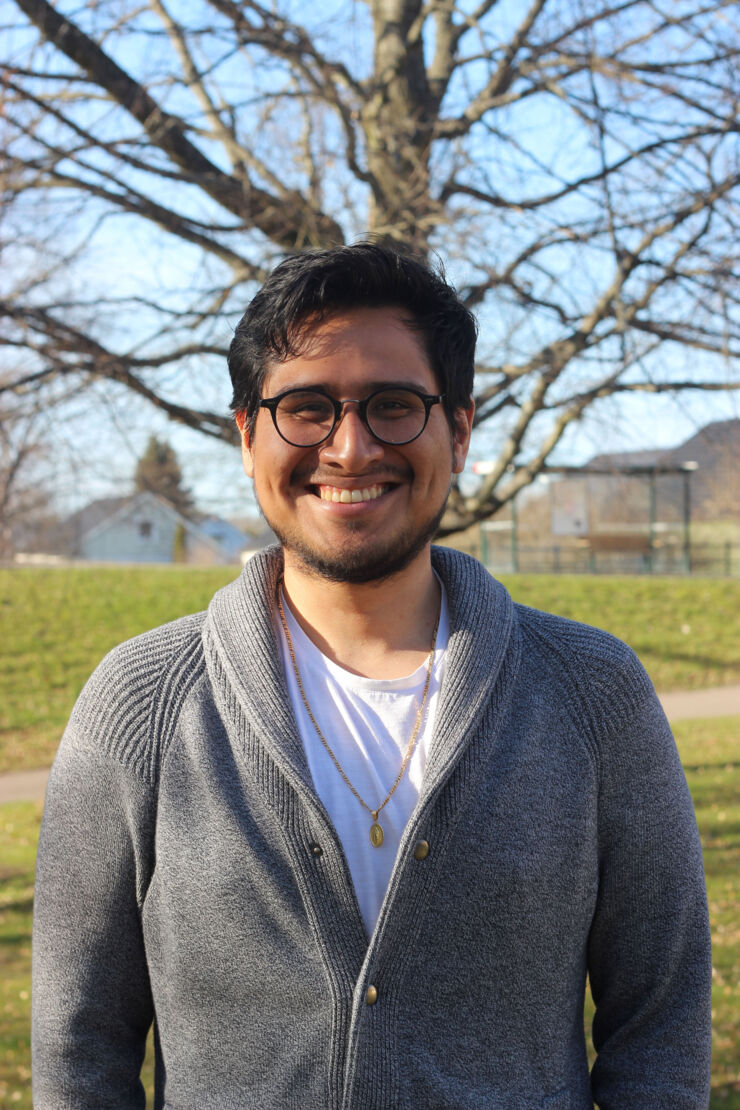 never got the chance to properly study it prior to this master's programme. The possibility of aiding medical staff in any way possible to consequently aid the general public's healthcare is just really rewarding to me, and it is what this programme is all about."
Name: Alfredo Miguel Ordinola Santisteban
From: Peru
Why did you choose Linköping University?
"Once I decided on Sweden as the country, I started checking the student plans of Biomedical Engineering in different universities. LiU stood out from the rest not only because of the docent staff and study plan, but for the department's research aimed to be used in practical applications. For me that was the main reason I chose to study here, I always aimed to develop and do research in something that could be used for the public good, and this seemed to align very well with the direction of the department and university. The city itself played a role in my decision as well, from what I could gather, Linköping had a small city vibe filled with forests and open spaces nearby, which I am accustomed to, and truly enjoy."
What are your opinions about the education?
"I find the education very accessible and problem solving centered, which is great in my opinion. I believe the independence given to students during their education is a great way of teaching and learning. I was not used to this type of education, but I ended up enjoying wholeheartedly. Additionally, education at LiU is tailored to be more interactive and requires critical thinking from students, which is excellent. A clear example of this are problem-based learning sessions, which are my personal favorite type of classes. This type of sessions put the students in semi-real situations, and discussion that arise are always interesting and useful."
In addition to expertise, what tools and skills do you get at LiU?
"Teamwork has been a tool that I learned to further develop and experienced from the beginning at the university. LiU has given me the opportunity to flesh out the skills needed to contribute to a team and lead it in different scenarios. Furthermore, the different backgrounds of the students I have interacted with throughout the programme has given me different perspectives in the ways to tackle a problem or subject. This is really important nowadays when it is necessary to adapt accordingly to a situation whenever it is needed."
What is the most exciting research within LiU right now, within your area?
"I am particularly working in the field of medical imaging science, specifically in image acquisition and quantitative analysis using Magnetic Resonance. I believe an extremely interesting and yet to be fully developed area of research on this field is the different quantitative studies possible to do with MRI, and particularly using diffusion MR. From microstructure measurements to tissue characterization, it is very exciting to think about all the possible processes happening at a molecular level which can be measured/modelled using this imaging method. It may be even possible to obtain information previously only obtainable through major medical interventions with a simple scan one day!"
What would you like to do after your graduation?
"My main interest has always been in academia and research, and that is what I intend to continue doing after my graduation, if possible, in the same area in which I am doing my thesis project on. The main accomplishment I would like to fulfill is to develop MR acquisition sequences and models which are able to aid medical and research staff in a health center, for diagnostics and characterization for example. I believe the type and quality of information which can be obtained from this type of imaging acquisition method can help further understand the complex structures and processes of human beings. This is a very exciting field of research with so many possibilities of improvement that I would love to continue exploring."
In what way does Linköping University support you in this ambition?
"The department and research group in which I have been studying and working on my thesis with have been extremely helpful providing tools and equipment to perform an assortment of experiments in the field of MR. Furthermore, the support of the different docent staff, from PhD students to professors, whenever it was needed, sharing ideas, discussing different subjects has been extremely helpful."
Would you recommend more international students to study in Linköping? Explain why.
I would definitely recommend it, starting from the city itself. I have really enjoyed my time here; I feel the small city with countryside and forest all around suits me perfectly. In terms of the university itself, I feel the way of education of this programme, which is heavily relies on problem-based learning, is the best way to obtain not only theoretical but practical knowledge. The contact with students, professors and medical staff at different fields is also a great opportunity to obtain knowledge from different perspectives and apply it with a more complete point of view. The experience I have gained during my time here is invaluable!"