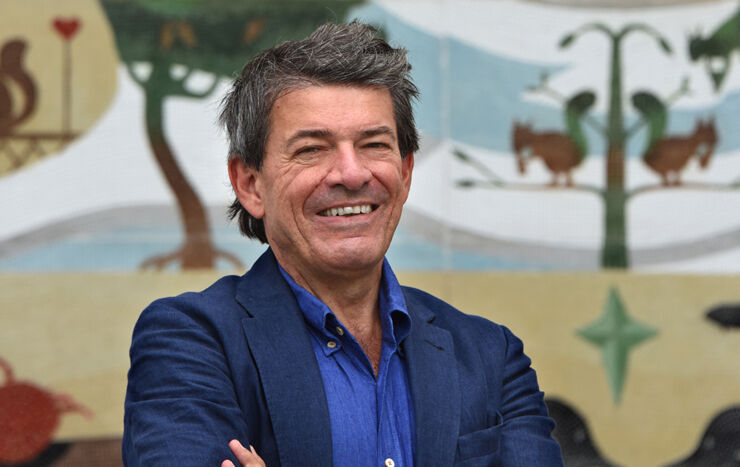 Michael Cocozza, donor to LiU Photo credit GORAN BILLESON
Michael Cocozza, 61, is one of the benefactors who have donated money to research at Linköping University. On the anniversary of his daughter's death, he and his wife Catharina set up the "Joanna Cocozza Foundation for Children's Medical Research". He is fundamentally a businessman working in construction and the property sector, where he has worked since 1984.
"I am hard-working, demanding, and focussed on what I do, and I've managed to build up a company with 400 employees. Further, I've been lucky, and I've been able to time things right. This has made it possible for me to donate a large amount", says Michael.

In addition to his personal connection to the field, Michael considers it important to donate to research, since it drives progress in society.
"Paediatric research is one of the most important fields to invest in. The results can cure diseases and give longer life. The ability for people to live longer is a strong evidence that development is positive. I chose to donate to LiU in particular not only due to my strong connection to the university, having studied here. It's also because LiU is one of the leading universities in Sweden, and I'm convinced that it will manage the donation well."
It is, however, not only Michael's focus and belief in research that have led to him donating. His ability to appreciate the situation of another person is also one of the factors that led to him creating the foundation.
"Generosity is a family tradition. My father always said that if you donate, you get something back in return. It's a case of being able to see yourself in other people, experiencing being part of a larger context, and thus wanting to do something to benefit all humanity."

Michael believes that more people should donate money, and points out that a donation can be an investment that benefits family unity in the future.
"If you want to secure the future of your family, it may be a good idea to place part of your wealth in a foundation. This has two advantages: not only is it tax-free, but it also, more importantly, prevents a fortune from being dispersed. And I believe that too large an inheritance causes more harm than good. Not to mention the ever-present risk that a beneficiary will sell the shares. By creating the foundation, I instead contribute to preserving the feeling of community within the family."
People who have owned the companies, real estate or shares during the past thirty years have experience, furthermore, some very good years. Michael believes that companies have a responsibility to share the money that has accumulated during this period.
"It's a reasonable idea – giving a part of one's fortune away, since economic growth has been so strong, mainly due to substantial societal development during the period. About a year ago, I felt that it was time to start to finance research. I had included this in my will, but I thought it would be better to do something while I was still alive. I think that more people should do the same."
"My father always said that if you donate, you get something back in return."
Michael Cocozza, benefactor