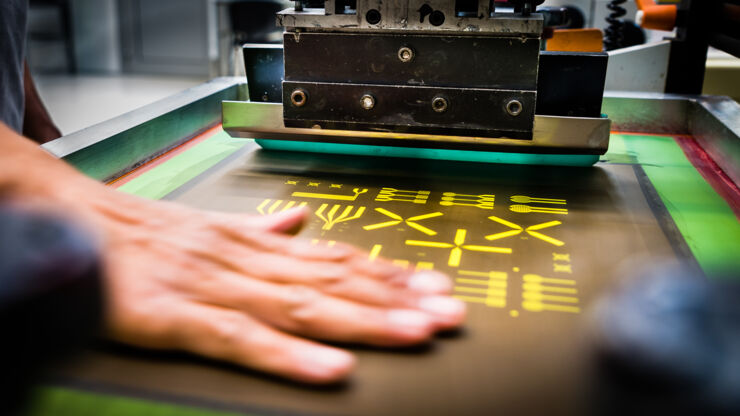 Photo credit Thor Balkhed
At PEA we develop and apply printing materials and processes to create electronic components and circuits using printing equipment (such as screen-printing, ink jet printing, flexography or rotogravure printing). Printed electronics components include for instance transistors, conductors, resistors, displays, sensors, buttons/actuators, batteries and antennas. These components may be integrated in intelligent packaging, medtech devices, automotive applications, in buildings – in almost any field.
PEA facilitates a wide range of research – from fundamental research in polymers (materials science) to applied printed electronics research with confidential applications in a multitude of market segments. In short, PEA is an arena where expertise from universities, research institutes and industrial players intersect and flourish.
Key features
Novel form factors
Inexpensive mass production
Electronics on flexible substrates
Rapid prototyping in small series
Lower investment costs
Eco-friendly production
Equipment for printed electronic development, manufacture and testing/characterization
Equipment & Resources
Industrial printing
Screen-printing (four printing lines)


ATMA Line: Fully automated ATMA MF66-F screen printing (UV, IR, heat curing), InJet 388-CRRD (frame cleaning)
DEK Line 1: Semi-automated Dek Horizon 03iX screen printing, Natgraph conveyer belt curing (UV, IR, heat curing), InJet 388-CRRD (frame cleaning)
DEK Line 2: Dek Horizon 03iX screen printer, SPS Technoscreen conveyer belt curing (UV curing); separate oven (heat curing)
Ekra line: EKRA screen printer; SPS Technoscreen conveyer belt curing (UV curing); separate oven (heat curing)

Ink-jet and aerosol printing (Ceradrop InkJet, Ceradrop Optomech Aerosol controller & Novacentrix pulsforge control module; Dimatix Inkjet)
Slot die coater (nTact)
Flexo/gravure printing (Norbert Schläfli Labratester & Testacolor 171; IGT printability tester F1)
3D printing (Formlabs Form 3; FDM Creality and Prusa; 3Devo filament maker and print shredder)
Pick-and-place device mounting (Besi Datacon 2200 evo & manual pick and place station)
Laser cutter (Trotec)
Graphtec cutter
Ink development and characterization
Ink preparation and mixing (Disolver DisperMill, Moeller, speed mixer (Hauschild), vortex mixer (VWR), ultrasonic bath (Branson 2210), weighing stations and fume hoods)
Ink pilot scale production (equipment available for <10kg production)
Rheometer (Anton Paar MCR 102)
Ball mill (Retsch PM100)
Sieve shaker (Retsch AS200)
Characterization of prototypes and demonstrators
Electrical characterization:

Advanced electrical characterization equipment in ESD protected area: HP 4155B semiconductor parameter analysator; HP 4155B Semiconductor Parameter Analyzer; Keithley 4200A-SCS Parameter Analyzer; Keithley 2600B Series SourceMeters (2602B, 2612B); Radiant Ferroelectric Tester; HP 4285A Precision LCR Meter (75 kHz – 30 MHz); Hameg HM8118 Programmable LCR Bridge; HP E4407B ESA-E Spectrum Analyzer (9 kHz – 26.5 GHz); Oscilloscopes; Multimeters; Waveform generators; DC power supplies; Manual probe stations (Wentworth Laboratories, etc.); Probe manipulators/micropositioners (Picoprobe, Cascade Microtech DPP-105);
4-point probe and electrochemistry set up and tools available in material lab

Organic electrochromic display characterization:

X-probe (Inventables); stepper motor for semi-automated characterization; power supplies; functional generators; oscilloscopes; parameter analyzers; DAQ cards; spectrophotometer; optical microscopes.

Environmental characterization

Climate chambers (Vötsch VCL 4006 and Vötsch LabEvent C/64/40/3)

Mechanical characterization