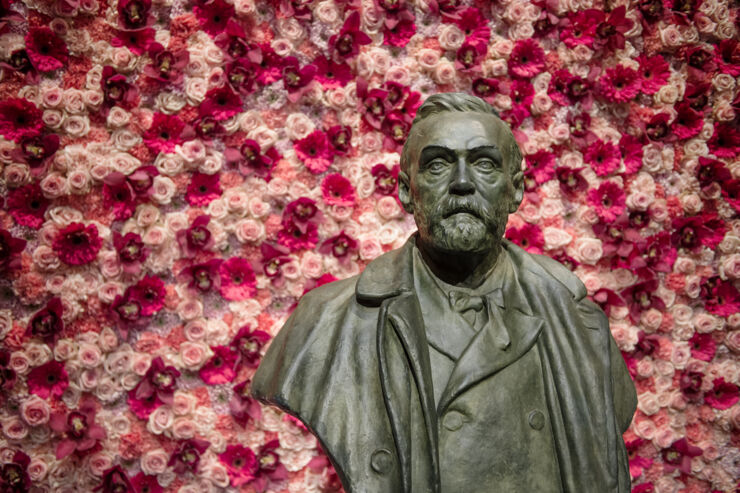 Bust of Alfred Nobel Photo credit Pi Frisk. Copyright © Nobel Media AB 2016.
All presentations are between 12:15 – 13:00 in Lövverket, at the entrance of Studenthuset, Campus Valla, and online via Zoom (contact stefan.welin.klintstrom@liu.se for participation via Zoom). The presentations are arranged by the graduate schools and networks Agora Materiae and Forum Scientium together with the Faculty of Medicine and Health Sciences, Department for Physics, Chemistry and Biology and Akademiska föreningen at LiU.
The presentations are given, in english, at a popular science level for persons with an interest in the subjects.
Friday 2 December: Literature
"for the courage and clinical acuity with which she uncovers the roots, estrangements and collective restraints of personal memory"
Presented by Ann-Sofie Persson (IKOS)
Monday 5 December: Chemistry
"for the development of click chemistry and bioorthogonal chemistry"
presented by
Zhangjun Hu
(IFM)
Tuesday 6 December: Peace
"to human rights advocate Ales Bialiatski from Belarus, the Russian human rights organisation Memorial and the Ukrainian human rights organisation Center for Civil Liberties"
presented by
Mariana S Gustafsson
(IEI)
Wednesday 7 December: Medicine
"for his discoveries concerning the genomes of extinct hominins and human evolution"
presented by
Mattis Karlsson
(IKOS) and
Claudio Cantù
(BKV)
Thursday 8 December: Physics
"for experiments with entangled photons, establishing the violation of Bell inequalities and pioneering quantum information science"
presented by
Jan-Åke Larsson
(ISY)
Friday 9 December: Economy
"for research on banks and financial crises"
presented by Bo Sjö (IEI)
Friday 9 December: Chemistry (Delayed)
This lecture will be held at a later date.
"for the development of click chemistry and bioorthogonal chemistry"
presented by Johannes Bintinger (ITN)
at 14:15 in lecture hall K1 in Kåkenhus at Campus Norrköping