Currently, 80 percent of Tina-Simone's time is devoted to research and the remaining 20 to teaching. Her research could briefly be divided into two areas: visualization of climate change and environmental issues and sustainable resource management. Tina-Simone is responsible for the course 'visualizing climate change' in the programme. Enthusiastically she continues:
"Last year we opened the Norrköping Decision Arena where teachers and students can come together to discuss different environmental issues. A 360-degree projection wall allows students to simultaneously share their computer screens in order to aid their communication and interaction with one another."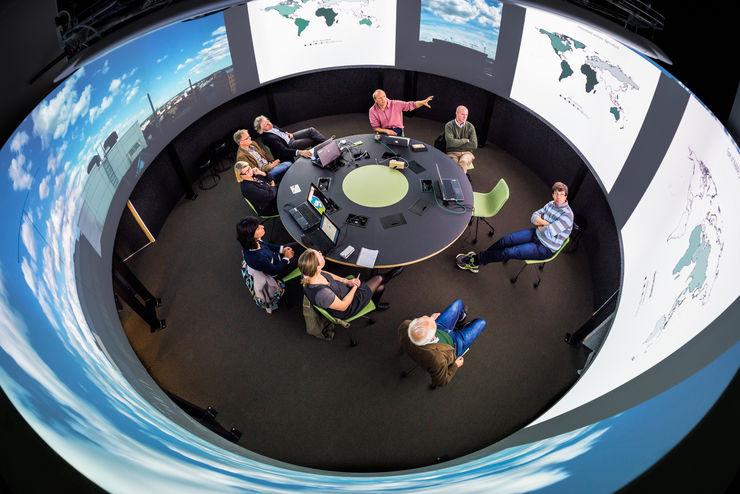 Photo credit Thor Balkhed
Tina-Simone continues to points out that this technology is exceptionally useful to initiate dialogues between people from various organisations or sectors with perhaps even different perspectives and support decision-making; large datasets, maps and timelines are very common in our field and the arena helps make them more accessible and comprehensible. The innovative arena is not the only asset to the program.
Lecturers contribute with their professional- and academic skills as well as networks; therefore, the connection between research and practice is very close. Likewise students choose projects, casework and thesis topics that reflect current environmental problems and analyse them with the help of the latest research.
"What do I think about LiU? It's definitely inspiring! I love the open and creative environment on the campus. We as a programme continually look for new and novel ways to teach and learn. We get inspired by our own research and try to convey this enthusiasm to our students and implement this in our teaching methods."
Tina-Simone says that the very gifted master´s students probably are at least as resourceful as the teachers. Within the program, they encourage open dialogue and both students and lecturers are very flexible in finding new ways to exchange knowledge and encourage learning.