Our routine analyses involve the identification of proteins, characterization of protein complexes, characterization of post-translational modifications, chemical proteomics and quantification of peptides and proteins from a wide range of samples. The Core facility can assist users with development of experimental designs, sample preparation, analytical method development and interpretation of results.
Analyses
New/prospective users must consult with the Core Facility staff concerning facility-operating policies and discuss the specifics of their experiments prior to using the facility. We are available to advise users regarding proper sample preparation for various applications and can provide relevant experimental protocols. Established users sign up for instrument time via booking calendar on the Core Facility website. Users prepare their samples and Core personnel can assist with acquisition setup and provide troubleshooting assistance.
Development of new applications is encouraged and research collaboration is feasible. After your experiment has been completed, the Facility Core personnel can assist you with the analysis of the results, manuscript preparations and grant applications if requested. Training sessions are available for large-scale projects.
Publication Acknowledgement
It is of importance for the existence of a well-functioning MS Core facility to show that the provided services generate research outputs and research funding. Hence, proper acknowledgement of the service is vital. Therefore, for all publications (scholarly reports, presentations, posters, or papers) that include data generated in the Mass spectrometry Core facility at the faculty of Medicine and Health Sciences, we kindly request that you acknowledge this support:
"Mass spectrometry analysis was carried out at the Mass Spectrometry Core Facility of Faculty of Medicine and Health Sciences, Linköping University."
Acknowledging the input of Core facility staff
The Mass Spectrometry laboratory at Core Facility provides not only state-of-the-art instrumentation, but also research expertise. MS Core facility personnel are scientists and are to be acknowledged just as any other co-author when making a substantial intellectual and/or experimental contribution to a research study. We suggest that the guidelines published by The Association of Biomolecular Resource Facilities (ABRF) should be followed.
In short, if the MS personnel made a substantial contribution to the work and fulfil any of the following criteria, they should be included as authors.
Intellectual contribution, concept, design of project, critical input, or original ideas
Data analysis and interpretation, preparation of figures, tables and graphs for publications.
Write a portion of the paper, draft the article or revise it critically for intellectual content
Authorship is preferably established at the beginning of the project so that both the user (e.g. the PI) and the Core researcher are aware of each other's criteria.
Charges
Funding from Faculty of Medicine and Health Sciences of Linköping University and County Council of Östergötland allows Core facility to provide scientists with access to the latest mass spectrometry and proteomics technologies and expertise. Please, note that mass spectrometers are expensive to run and maintain: annual maintenance service and support contracts are vital; mass spectrometers consume high quality gases and a lot of mass spec consumables (columns/vials/reagents) are needed. Moreover, our facility has to pay annual software license renewals fees for many of the analytical programs. All these costs we have to charge. The facility is striving to keep user fee as low as possible. Please, note that charging for MS Core services does not preclude authorship on manuscripts provided the Core facility staff has contributed to the research in a substantial way.
Please, contact us to get more information about current charges.
Instrumentation
UltrafleXtreme MALDI system (Bruker Daltonics)
This high performance MALDI TOF/TOF Mass Spectrometer is used for a broad variety of applications: classical proteomics, intact proteins analysis, glycoproteomics, lipidomics and tissue imaging. ImagePrep Matrix Deposition Device (Bruker Daltonics) and other equipment are available for tissue sections preparations. Statistical data analysis and evaluation with SCiLS Lab 2D and ClinProTools is possible. This MALDI mass spectrometer allows also the direct analysis of lipids on thin-layer chromatography plate (TLC-MALDI).
Please find more information here:
High Resolution Trapped Ion Mobility timsTOF HT
The new timsTOF HT mass spectrometer is equipped with the 4th generation high capacity TIMS-XR analyzer and advanced digitizer technology (ADT). It offers higher dynamic range for unmatched analytical depth and quantitation in high-throughput proteomics experiments. Trapped ion mobility spectrometry (TIMS) unlocks an additional dimension of separation and delivers revolutionary improvements in enhanced specificity and high sensitivity.
The timsTOF HT with PASEF® technology enables fast scanning speeds, unlocking MS-based proteomics for the identification and quantification of thousands of proteins. Operated in dia-PASEF acquisition mode and using PaSER for data processing allows for in-depth, high throughput and sensitive proteomics and phosphoproteomics.
Please find more information here:
Q Exactive HF Hybrid Quadrupole-Orbitrap Mass Spectrometer (Thermo Scientific)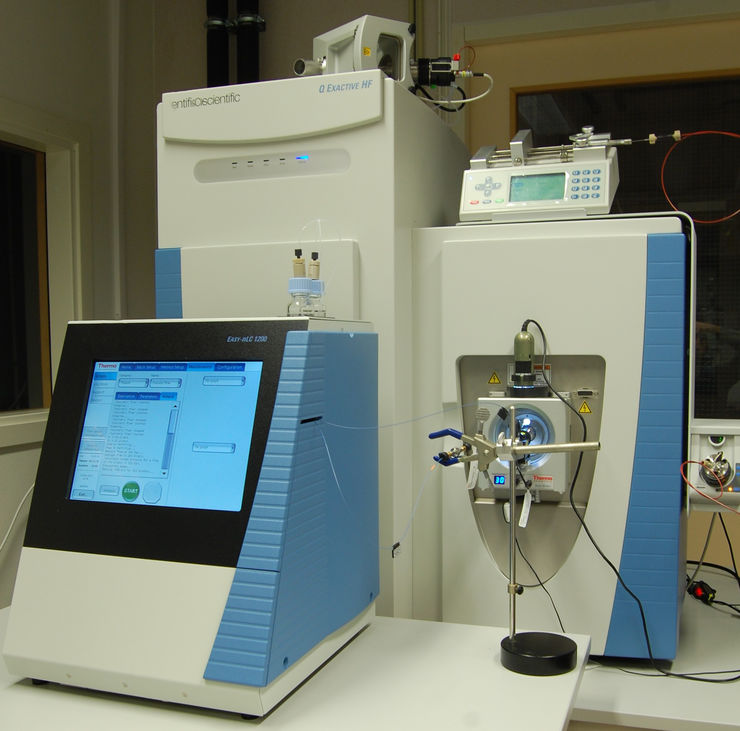 Accurate identification and quantification of more proteins and peptides in less time. The instrument can be used for analysis of very complex samples, characterization of post-translational modifications, quantitative proteomics, PRM and DIA applications. This mass spectrometer is coupled to Easy nanoLC (Thermo).
Please find more information here:
Other Equipment and Software
3100 OFFGEL Fractionator (Agilent) and fraction collector Proteineer fcll (Bruker Daltonics) are available for fractionation of proteins and peptides prior to MS analysis.
Applications - Agilent Technologies. Software for all of our mass spectrometers and for different applications is available on the unit's computers. Users have access to a variety of automated database searching software.