Please check all your travel plans, your insurance and make sure to read through our page FAQ for incoming students.
Travelling to Sweden via plane
Linköping City Airport (LPI) is a small airport located close to the city centre (only five minutes away by taxi). LPI offers daily connections to Schiphol Amsterdam. There are usually taxis waiting outside the terminal building to take you either to the Central Station (Resecentrum) where you can catch a local bus or all the way to your destination. There are no bus stops close to the airport so we recommend you to take a taxi.
Norrköping Airport (NRK) is a small airport that is easy to reach and has good connections to both Norrköping city centre and Linköping. NRK is mainly for charter flights. There is a nearby bus stop where you can catch a bus to the Central Station (Resecentrum). It is also possible to take a taxi all the way to Linköping if needed.
Arlanda Airport (ARN), Stockholm is the major airport in Sweden. The easiest way to travel from Arlanda to Linköping or Norrköping is by train or express bus. It takes about two to three hours by train and there are several direct trains every day. You can also take the Arlanda Express to Stockholm Central Station and connect from there (perhaps arriving early and visiting the capital of Sweden on your way to LiU).
Skavsta Airport (NYO), is located in Nyköping, a town between Stockholm and Norrköping. If you fly to Skavsta you can catch an airport bus (Flygbuss) that will take you to Norrköping or Linköping in about 60-90 minutes. You can buy your ticket at the airport or online in advance.
Bromma Airport (BMA), is a smaller airport in Stockholm. If you arrive there you can take the airport bus to Stockholm City Terminal from where it is easy to catch a bus or a train onwards.
Think outside the box!
Copenhagen Kastrup Airport (CPH), Denmark. Yes, Denmark! As the largest airport in Scandinavia, there are often good deals on flights to CPH. If you arrive at CPH, you can take a direct train to Linköping or Norrköping on Sweden's national train carrier SJ. It is also possible to take the frequent commuter train to Malmö train station and catch a train or express bus from there. The train ride from CPH takes about 3-4 hours to Linköping and 4-4,5 hours to Norrköping.
Oslo Airport (OSL), Norway. Another possibility. You can catch an airport train or bus to Oslo Central Station and take a train with SJ to East Sweden in around 6 hours.
Border crossings from Europe
Students moving from within Europe, or those who have utilised the European summer to travel before their studies start may be interested in driving, training, busing or taking a ferry to Sweden. If you are driving, the easiest route is via Öresund Bridge from Copenhagen to Malmö, or by ferry from Denmark or Germany. Linköping and Norrköping are located adjacent to the E4 Highway. Buses, trains and ferries are available from Denmark, Germany, Finland and the Baltic states, for example.
Travelling to Linköping and Norrköping within Sweden
Our two campus cities are sister cities and are situated southwest of Stockholm; Norrköping is about one hour and Linköping two hours from Stockholm by train. The distance from Arlanda, Bromma or Nyköping to the local airports in Linköping and Norrköping is not viable for air travel.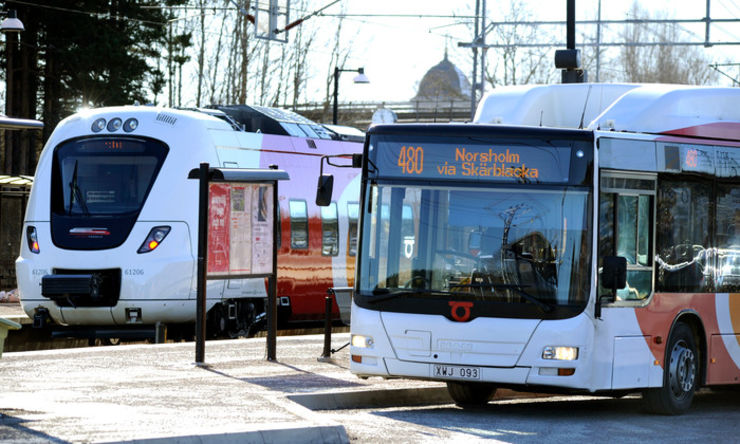 Trains
Sweden has an extensive railway network and travelling by train can often be the fastest option, depending on your destination. It is recommended that you buy your ticket online in advance, as you will get the lowest price and not have to worry about the train being fully booked. You can have your ticket delivered by email or SMS or print it at vending machines at train stations in Sweden using your booking reference. You can also ask a local convenience store (e.g. Pressbyrån, 7-eleven) to print your ticket in exchange for a small fee.
If you want to buy your train ticket when you have arrived in Sweden, there are vending machines at all train stations where you can buy and print your ticket. Major train stations may also have service centres with employees to help you with your purchase, however, the ticket price may be higher than online. Note that you cannot buy tickets on board the train.
If you are under the age of 26, you are eligible for a youth discount on SJ trains. You can check timetables and other travel information on SJ's website.
Express buses
If you arrive by plane, an express bus is a cheap option to travel to LiU. Express buses from Stockholm are available to both Linköping and Norrköping with a few departures daily. Timetables and tickets are available on the bus companies' websites (find the largest ones among the useful links below)
Travel tips: It can save a lot of stress to book re-bookable tickets in case you are not covered for delays or miss a connecting leg on your travel plan. Keep your valuable items with you at all times (like your passport or your diploma).