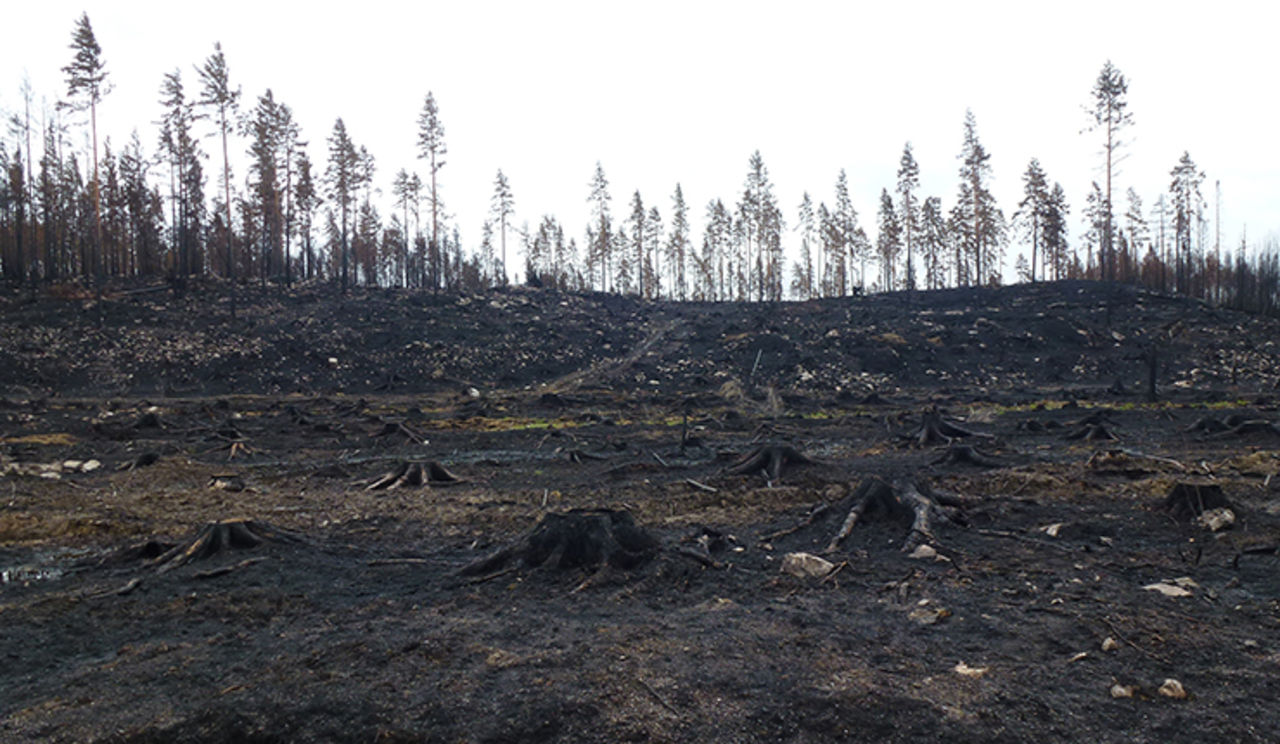 "We have realised that anything can happen. We've carried out exercises, drawn up emergency plans and gone on training courses. But we would never have imagined that the whole municipality would burn," says Åsa Eriksson, a councillor in Norberg Municipality, in her introduction to the conference Hela samhällets kris (Crisis for the whole of society), organised by the Center for Advanced Research in Emergency Response, CARER, and the LiU Innovation Office.
Ms Eriksson was one of the local government leaders in Västmanland County who saw the black clouds looming up in the summer heat, coming nearer and nearer. A forest the size of 13,800 hectares was in flames, and nothing seemed to be able to halt the ravages of the fire. There were four municipalities in the path of the danger: Norberg as well as Sala, Surahammar and Fagersta.
Lars-Göran Uddholm, senior firefighter "The land was extremely dry; burning embers the size of a human palm were flying 1.5 kilometres and setting fire to everything dry in their path," recounts senior firefighter Lars-Göran Uddholm, called in from the Södertörn Fire Protection Association when the crisis was already a fact.
What had begun on the last day of July as a normal forest fire – one of many forest fires in Sweden – had developed into a civil emergency in just a few days. And the flames were getting close to central Norberg. In this situation, the whole civil infrastructure was put to the test. Plans of action that had only been drills in the past had to work, telephone directories had to be updated, communications channels needed to be open and the division of tasks had to be clear and understood.
Åsa ErikssonMs Eriksson talks about a few dramatic days in Norberg town hall when out-of-date telephone directories, misunderstandings when old people had to be evacuated but the police had blocked off the roads, and disinformation by the media all made the task more difficult. But she also spoke of the clear thinking, compassion and generosity in the area. For Ms Eriksson herself, it was a matter of dealing with issues such as what should come out of a town hall that might burn, as well as Åke the pensioner who refused to let himself be evacuated without his cat.
"We are a small, flexible municipality, used to buckling down and sorting out problems where they appear."
The best communications channels turned out to be county radio station and Ms Eriksson's private Facebook page.
"A municipality or a local authority is not permitted to use social media under current laws and regulations, but I realised that quick and accurate information was needed," Ms Eriksson says.
People who did not have a Facebook account quickly found out information from those who did.
But is it possible to be completely prepared for an emergency such as this? And what lessons can be drawn from it?
"There is an inbuilt paradox in all crisis management. Each event is completely unique and has unique consequences, even if there are a few main variations. But as researchers we still see patterns and a few problems that arise each time," says Sofie Pilemalm, associate professor of information technology and head of CARER.
Some examples are technology not working, leadership failing and no one having an overall view of things.
"In the case of Västmanland County there were obviously random factors; it was extremely dry, the winds blew in the wrong direction and were strong, but the security services raised the alarm too late. They kept thinking for a little too long that they would get the fire under control. The decision to go over to an emergency organisation must of course be weighed against the fear and chaos you then create, but the authorities have to take responsibility and deal with the consequences," she says.
And then there was the technology. Rakel, the specially developed blue-light system, did not hold up during the forest fire. The fire fighters called in from Skåne County had no coverage in Västmanland County, for one example.
Sofie Pilemalm"The same thing happened a few years ago when there was a forest fire in Boden Municipality. They called in fire fighters from the district Södertörn who did not have coverage in Boden," Ms Pilemalm explains.
It is MSB, the Swedish Civil Contingencies Agency, that is tasked with developing the country's ability to prevent and manage accidents and emergencies.
"They finance a lot of our research. Both we and MSB know what problems and knowledge shortages there are and how there needs to be large-scale sharing of knowledge and experiences in training, drills and crisis planning. But to make this happen we need money and other resources that MSB, emergency services and society in general do not appear to have at present," Ms Pilemalm states.
She is calling for a better, clearer division of tasks, as well as new procedures for taking advantage of all the voluntary forces available. Now that there no longer is compulsory military service, much is based on calling in voluntary organisations and volunteers during emergencies.
In this particular case, the sick and elderly, horses, and over a thousand dairy cattle in various groupings needed to be moved out of the risk zone.
"We could use a system where people can come forward and, for example, indicate where they live, if they have a driving licence and what they can provide, such as stables, small trucks, or places for people to stay overnight. This time the County Administrative Board had a list with loads of names and occasionally this kind of information, but in certain cases only a phone number. This is not enough when the emergency is a fact. No one has time to ring round and talk to people who might be on the other side of the country," she says.
Something academia can do is to contribute with research and education.
"Those in charge of safety and security in the municipalities must be competent and reliable. There is a need, for example, for sound knowledge of how society functions in its entirety – which authorities and organisations are in charge of what. In CARER we have discussed starting a master's course in crisis readiness and security here at LiU," Ms Pilemalm says.
The wind dropped and Norberg Municipality was all right this time. A timber lorry driver was killed in the fire and one person sustained serious burn injuries. The final financial toll of the fire is anyone's guess, though a figure of SEK 1,000 million has been mentioned.
"But what is it that will make me invest 30 million at an early stage to avoid the risk of losing 1,000 million later?" senior fire officer Lars-Göran Uddholm wonders.
This is a question which still does not have an answer.
"In emergency after emergency, evaluations show that one of the issues we need to know more about is how no one dares to press 'the big red button', as one person interviewed after the Utøya massacre in Norway put it," Ms Pilemalm says.
One thing is certain: there will be new emergencies, we just don't know where or when.
Published 2015-03-09