Linköping University uses four different grading systems, depending on the course or programme. Full-time studies usually require 40 hours of study per week. Lectures and seminars are most often held during the day, which is important to remember if you plan, for example, to have a job alongside your studies.
Academic culture
In the Swedish academic environment, the student-teacher relationship is quite informal and students are free to approach and question their teachers. It is also customary that you address your lecturers or teachers by their first name. As a student here you are expected to be independent in your work and take responsibility for the quality of your learning.
Academic system
Higher education in Sweden is divided into first, second and third cycle, which corresponds to the European standard. This includes bachelor's, master's and doctoral programmes. In Sweden you can take single-subject courses or full study programmes. If you choose to study a single subject course, you are awarded credits on completion of these courses. Degrees are usually awarded after completing a study programme. Study programmes are made up of courses, some of which are compulsory (required) and some of which are optional. Single-subject courses taught in English at bachelor level cannot be combined into a master's degree. The degrees awarded at Linköping University are:
Bachelor's degree, three years, 180 credits
Master's degree one/two years, 60/120 credits
Several professional diplomas are offered as well.
Academic year
The academic year consists of two semesters. The autumn semester usually runs from the middle or end of August to mid-January and the spring semester from mid-January to the beginning or middle of June. There is usually a study break for one or two weeks around Christmas. The lengths of other breaks, such as the Easter break, differ between different courses and programmes. Semester dates for each faculty are available here: Semester periods
Credits and grading
One semester of full-time studies equals 30 credits, and one academic year equals 60 credits. The exact number of credits you receive at the end of your studies, however, may differ. The grades received reflect not only your marks in the final examination, but also your participation in the course. Linköping University uses four grading systems, depending on the course or programme. The chart below explains the grading systems.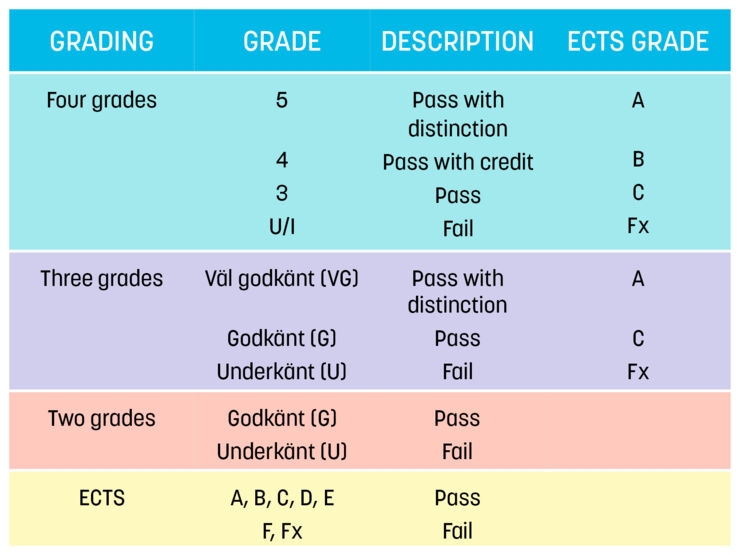 Equal opportunities
LiU welcomes all students, regardless of gender, age, sexual orientation, ethnicity, religion or philosophy of life, disability, transgender identity or expression, or social background. Read more about LiU and equal opportunities
Examinations
All courses are subject to continuous assessment, written and/or oral, individually or in groups. Individually written exams are the most common form of assessment. However oral presentations, take-home exams, certain assignments and active participation in seminars and projects are also used to measure your performance in the course. For information on do's and dont's for exams, read the examination guide, which is found on the student pages.
Language of instruction
While the majority of teaching in most courses at LiU is conducted in Swedish, there is a growing number of single subject courses and master's programmes taught entirely in English that appeal to both Swedish and international students.
Registration
You need to register on the Student Portal (study administrative service) for each course you plan to take. The registration is possible on the first day of the semester at the earliest and must be completed within the first two weeks from the start. If you study for more than one semester, you need to register for your courses at the start of each semester, even if you are registered in a programme. In some programmes, your name will be taken during the roll call and then forwarded to the Info Centre for registration. If not, you will need to register yourself. The following offices can help you with your first registration:
Campus Valla: Info Centre in Studenthuset
Campus Norrköping: Info Centre in Kåkenhus
University Hospital Campus: Info Centre in Växthuset
Special needs
LiU supports students with special needs by providing: help with note-taking, audiobooks, student mentors, sign language interpreters, extra supervision, technical aid etc.
Swedish language courses
Swedish language courses at different levels are available to international students. The application procedure might differ depending on your faculty. Find out more from the International Office or from your faculty's exchange coordinator.
Swedish for Foreign Students - level A1. Distance course, 7.5 credits
Swedish for Foreign Students - Level A2, Distance course, 7.5 credits
Qualifying Course in Swedish, 67.5 credits
Workload and instruction
Full-time studies usually require 40 hours of study per week, split between work in class and individual study. Classes and lectures are usually held during the day. You may find that several courses are given in parallel or they may be consecutive, depending on the faculty. Subjects may also be integrated into themes or blocks.
The extent and method of instruction differs between faculties, courses and programmes. Technical courses tend to have more scheduled hours, while courses within the social sciences and arts are more flexible.
Courses may include lectures with a large number of students, and smaller seminars in which you are expected to be active in discussions and express your own views on the subject. Laboratory work, excursions, study visits and independent project work are also a part of most courses.
Digital classrooms are used widely both for on-campus and distance programmes.