Atherosclerotic plaques

Atherosclerosis is caused by accumulation of fat, primarily cholesterol in the wall of arteries. When the fat builds up in the arterial wall it causes thickening of the vessel wall and the thickened area bulges out into the vessel. These thickened areas are called atherosclerotic plaques.
Strokes resulting from blood clots that migrate to the brain from plaque in the carotids cause 2.5% of all deaths. Today, plaque that cause more than 70 % constriction of the carotid in stroke patients are removed surgically to avoid future strokes. The hypothesis is that the blood clots are formed when the plaque surface rupture.

Professor Ebo de Muink is a cardiologist with experience from combining clinical work with cardiovascular research and one of the project leaders behind the project.

-The composition of the plaque is affecting the rupture risk. Plaque with a large amount of fat and blood are more prone to rupture, Ebo explains.

However, studies show that only half of the removed plaques have ruptured. Also, removing the plaque is far from a complete safe guard against future stroke.

-We believe that the blood flow around the plaque also is an important factor for the development of blood clots. If there is a turbulent flow, blood clots could form despite an intact plaque surface.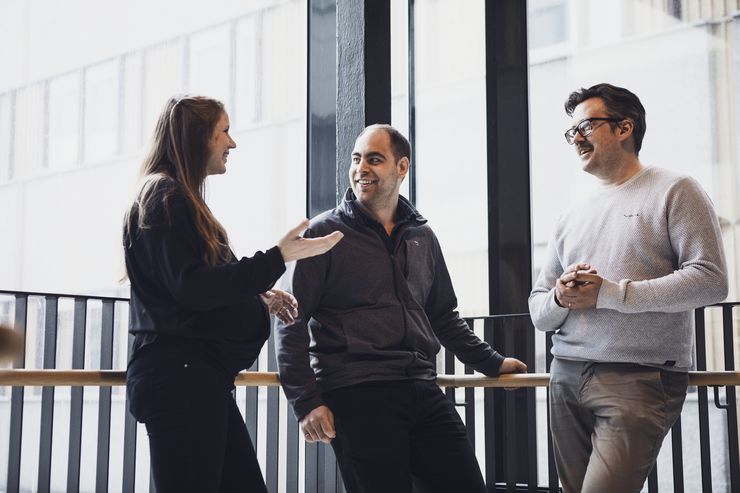 Photo credit John Sandlund www.johnsandlund.se
Improved carotid plaque risk assessment
Unfortunately, current clinical tools are insensitive to these effects. Consequently, there is a clear and urgent need to improve carotid plaque assessment in order to more accurately assess risk of progression and rupture in patients as well as to improve risk management in patients with carotid plaques.

-In this project we aim to improve carotid plaque risk assessment both for better assessment of overall cardiovascular risk and for better decision support in which patients will benefit from surgery, Ebo continues.

The project will develop tools for automated visualization and quantification of carotid plaque composition and hemodynamic effects on the vessel wall. This will be achieved by combining advanced quantitative magnetic resonance imaging methods with novel image analysis.

-In this way, we will automatically identify plaque severity based on the extent of fat and blood within the plaque. Similarly, we will provide assessment of impact of turbulent flow on the vessel wall.
Optimize and establish the reliability
The methods will be evaluated in patients with carotid atherosclerotic plaques to optimize and establish the reliability of the technical developments in a clinical setting.

-We have two study groups, one smaller patient group with high risk carotid plaque and one larger group with volunteers from the Scapis population, not previously treated for cardiovascular symptoms.

The different approaches to cardiovascular risk management will be explored in patients with carotid plaques and serial imaging with the new imaging methods will be used to assess the effect of these different interventions on key risk factors.

Successful implementation of the project will enable new approaches for risk stratifying carotid plaques clinically and improved cardiovascular risk management. This will not only improve the selection of patients for preventive care and surgery, but also, through improved management, reduce healthcare costs.

Ebo started off as a cardiologist and researcher with interest in imaging methods in the Netherlands and after eight years at Dartmouth Medical School in New Hampshire as a researcher he came back to Europe. CMIV was a contributing factor in choosing Linköping.

-I think that multi-disciplinary research is the only way to achieve real progress in medical research. As a clinician you have to be humble and admit that there are things, as MRI physics for example, that you don't know enough about. If we work together we can learn a lot from each other and that will in the end benefit the patients.