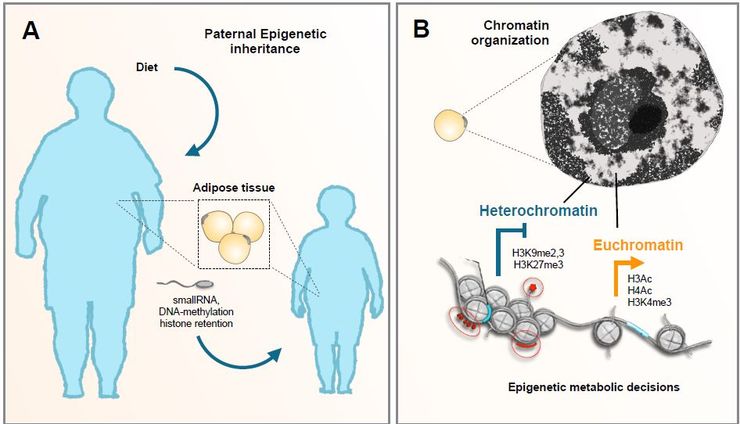 Graph, obesity and epigenetics.Metabolic memories, set by the parents, might affect eating behavior and obesity in future generations. The concept of us inheriting more than the genes from our parents', and that this inheritance is dependent on environmental cues, touches on the theories of "use-and-disuse" and "pangenesis" suggested by Lamarck and Darwin. Using Drosophila, paralleled with translational studies in humans, our team investigates the fundamentals of such epigenetic inheritance.

• In humans we have found a direct link between what we eat and the sncRNA-code in sperm (Plos Biology, 2019). Changing the diet for just one week resulted in specific changes in tsRNA as well as mitochondrial sncRNA. A bit surprisingly, we found a correlation between sperm motility and the sncRNA-code, suggesting a shared etiology between male fertility and intergenerational metabolic responses.

• The rapid responsiveness of human sperm is in line with earlier findings where, me and colleagues, found that both low and high-sugar diets for just two days in Drosophila adult males elicit obesity in the next generation (Cell, 2014). Capitalizing on the large number of genetic tools available in Drosophila we showed that this is a Su(var)3-9/Su(var)4-20/SetDB1 dependent process that results in select reprogramming of chromatin in the offspring.