Eleni Stavrinidou received her Bachelor's degree in Physics in 2008 from Aristotle University of Thessaloniki (Greece) and then her Master's degree in Nanotechnology from the same university, in 2010. She then joined the group of George Malliaras at the Department of Bioelectronics of Ecole Nationale Supérieure des Mines de Saint-Étienne (France) where she completed her PhD on Microelectronics in 2014. Her work there focused on understanding and engineering ion transport in conducting polymers.

Stavrinidou then joined the Laboratory of Organic Electronics (LOE) at Linköping University as a Postdoctoral Scholar working with Magnus Berggren and Daniel Simon. During her post-doc she developed organic electronic devices integrated within living plants, introducing the concept of Electronic Plants. In 2016 she received a Marie Skłodowska-Curie Fellowship.

In 2017 Stavrinidou became Assistant Professor of Organic Electronics at Linköping University and established the Electronic Plants group. She received several grants including a Swedish Research Council Starting Grant and an EU FET-OPEN grant which she was the coordinator. In 2020 she became Associate Professor and Docent in Applied Physics. The same year she was awarded the Future Research Leaders grant of the Swedish Foundation for Strategic Research. In 2021 Eleni Stavrinidou became Associated Group Leader at the Umeå Plant Science Center. The same year she was awarded the ERC-Staring Grant. Stavrinidou is recipient of the L'ORÉAL-UNESCO For Women in Science prize in Sweden (2019) and the Tage Erlander Prize for Natural Sciences and Technology from the Royal Swedish Academy of Sciences (2023). In 2023 Stavrinidou became Senior Associate Professor of Bioengineering.

Stavrinidou's research is driven both by societal needs and scientific curiosity. From one side her vision is to develop technologies that will enable new discoveries in plant science that can lead to more sustainable food production and to plants that can thrive in the changing climate. From the other side she envisions the development of a next generation technology that is based on the amalgamation of living and artificial components, enabling new technological concepts but also increasing the sophistication of our communication with the biological world.
Short CV (pdf)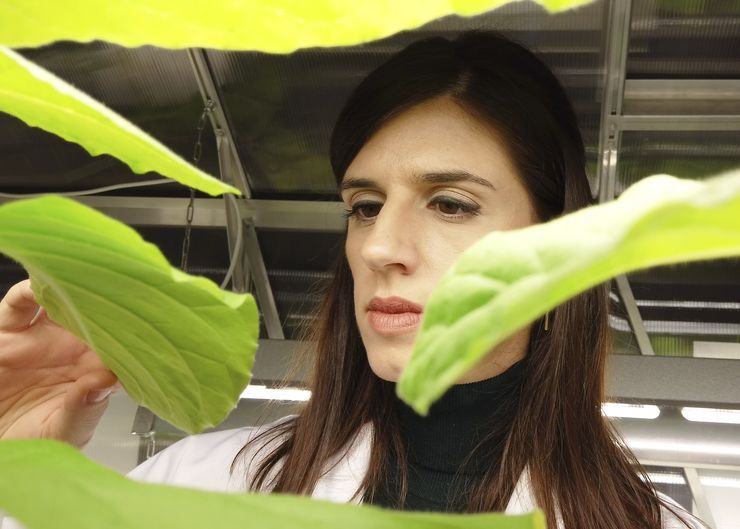 Eleni Stavrinidou Photo credit Thor Balkhed