Today, it is well known that the metabolic risk related to body-fat accumulation is strongly dependent on fat distribution. Central obesity and, in particular, ectopic fat accumulation, are important metabolic risk factors. Large amounts of visceral adipose tissue is associated with increased risk of cardiovascular disease, type-2 diabetes, liver disease, and cancer. But more importantly, it has been shown that disease risks tend to be related to specific patterns of fat accumulation.
The only way to directly assess body-fat distribution is to use tomographic imaging techniques. Magnetic resonance imaging (MRI) can also measure muscle volumes, muscle fat infiltration and other ectopic fat accumulation, which makes it a powerful tool for advanced body composition assessment.
Professor Magnus Borga is one of the researchers behind the body composition project. He is an engineer with roots in image processing and robot vision that moved on to medical image processing. His co-worker is senior lecturer Olof Dahlqvist Leinhard with a background in MR physics.
Two Experts Meet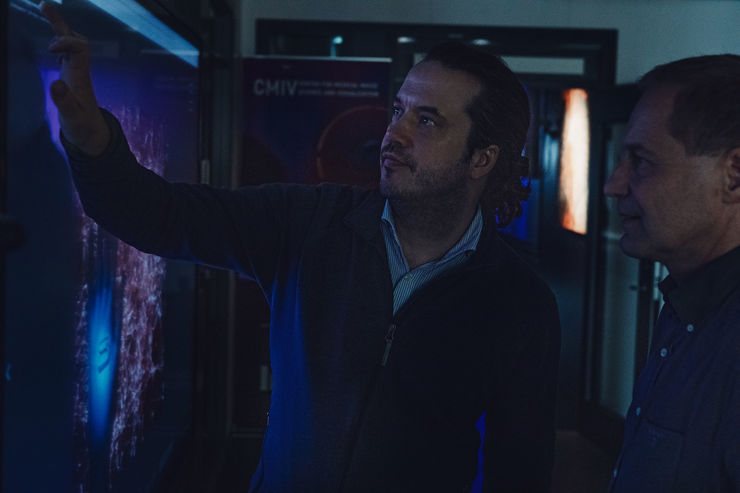 -I met Olof at CMIV. He was working with liver fat measurements and his focus was not to produce images for the radiologists to interpret but rather to use the MR camera as a measuring instrument. We started discussing how we could combine our specialties in MRI instead of seeing them as two separate problems. Olof was focused on how to prepare the camera to get the images you want while I was specializing in the postprocessing of the images, Magnus explains.
The two researchers started discussing how they could make the whole process more effective when data optimal for computer analysis is the primary goal instead of the image.
-We wanted to think freely, without limitations by the traditional boarder between image generation and postprocessing. This was where it all began, says Magnus.
They started out with a project where they wanted to measure fat accumulation in individuals after a fast food intervention.
-To be able to measure fat accumulation in other parts of the abdomen than the liver we needed to know where we were measuring. This was a combined MR physics and image analysis problem and the result was the basis of our methodology.
Since then they have refined the measurement technique and can now measure in more detail and larger parts of the body, fat infiltration in the muscles as well as muscle volume.
-With the muscle and fat measurements, we can now provide a more complete picture of the body composition from a metabolic perspective. We have studied the reproducibility of the method and because no one has done this before we spent a lot of time and resources on exploring how to classify a normal body composition, Magnus continues.
AMRA is Born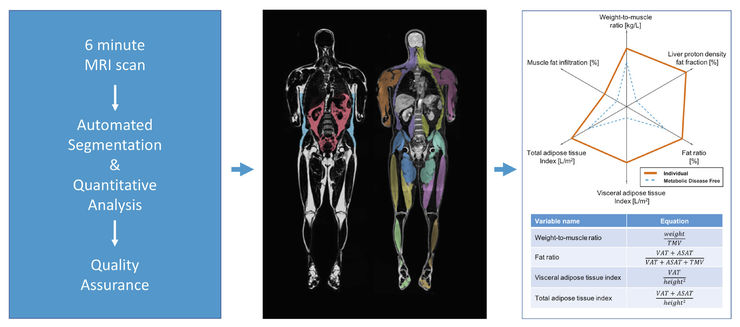 MRI is not in itself a quantitative method. Magnus and Olof came up with a postprocessing technique that calibrated the images against the fat signal to produce a quantitative result. This technique was patented and placed in a spin-off company that they called AMRA. The company has grown in parallel with the research.
-There is a symbiotic relationship between our research and AMRA. The research is providing knowledge and credibility to AMRA and the company allows the use of an industrial production process that would otherwise not be possible in a research environment. We are now in the process of analyzing 100 000 whole body scans.
The large study population allows the research group to use big data components to find correlations between body composition and other health aspects as heart disease prevalence. With follow up data it might be possible to predict disease outcome by looking at the body composition.
The identification of specific fat distributions associated with different diseases enables the development of more targeted and effective treatments. One example of how this research can be used is as a tool in clinical trials. As MRI-based body composition analysis greatly individualizes the description of the patient, it provides information that can identify and define the populations in clinical trials, bringing them one step closer to precision medicine.