24 February 2022, a date that is etched in people's minds. Russia invaded Ukraine.
In early March 2022, Anna Ekström, the Swedish Education Minister at the time, urged Swedish higher education institutions to cease all contact and cooperation agreements with public institutions in Russia and Belarus. Linköping University (LiU) identified four EU projects involving cooperation with public institutions in Russia that were subsequently suspended.

Although Ukraine is not an EU member, the European Commission's mobility programme, Erasmus+, provided a special scholarship opportunity to support Ukrainian students in continuing their education abroad at participating universities. LiU welcomed eight Ukrainian students, with the first two students commencing their studies in the Autumn semester of 2022. The remaining six students joined in the Spring semester of 2023.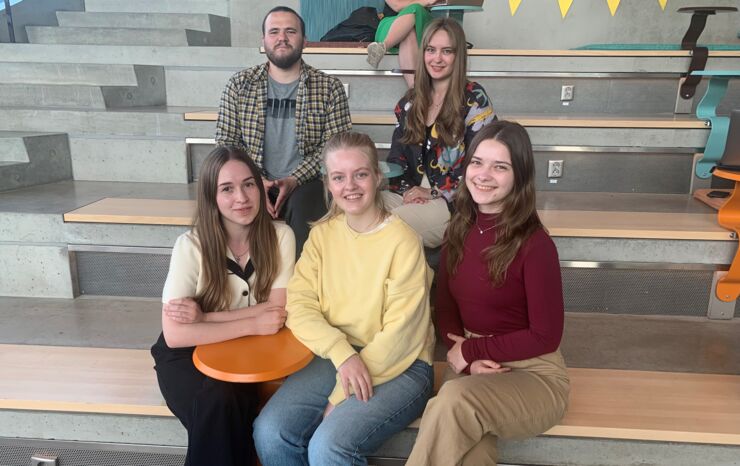 Five of eight Ukrainian students that LiU welcomed.
Pleasantly surprised about the student environment
These students represented three different higher education institutions and were pursuing various fields and degrees ranging from bachelor's to PhD levels. The universities they came from were Sumy State University, Dnipro University of Technology, and the National University of Kyiv-Mohyla Academy.

One of these students is Valentyna Rebenok, originally studying at Sumy State University. She learned about the Erasmus+ scholarship from a staff member at her home university and decided to apply.
- I didn't know anything about LiU before I arrived, so I had no idea what to expect. However, I have been pleasantly surprised by LiU, and everyone has been incredibly supportive. It's such a proactive student environment.

She goes on to discuss the differences between the Swedish and Ukrainian education systems. According to her, the Swedish system offers more freedom, encourages students to elaborate and argue their points, and emphasises group work as a means of problem-solving and decision-making. In Ukraine, the education system is structured differently, with mandatory and elective courses. She hopes to bring the Swedish way of learning back to Ukraine.
- By studying this way, it prepares you for the real-life environment when you are ready to enter the workforce. I've also had the opportunity to meet students from different countries, and I've learned a great deal about other cultures, which has changed my way of thinking.

PhD student Andrii Holovatyi spent most of his exchange semester in the lab at the Biogas Solutions Research Center, part of the Department of Thematic Studies. This mobility enabled him to continue his research and advance it.
- During my time at LiU, I have acquired unique skills in my field. Right now, I am seeking a position as a research assistant. Ideally, I would like to stay at LiU, but if that is not possible, I will explore other options throughout Europe.
Some will go back to Ukraine
So, what will these students do next? Some will return to Ukraine to be with their families and friends. Others will seek employment or internships, and one will embark on another Erasmus+ mobility opportunity in Latvia. Nevertheless, all of them agree that their time at LiU and the Erasmus+ experience has been memorable.
- LiU has it all: a vibrant student life, friendly and supportive teachers, and a modern and innovative learning environment. We will miss everything about LiU.