Welcome to Linköping University and the course: Sustainable e-Government for Resilient and Innovative Democratic Public Administration (SeGRID). The course is organized twice during 2020, in June for young professionals from the Western Balkan, and in August for young professionals from the Baltic Region and the Eastern partnership.
Digitalization of society opens opportunities, but also challenges
Digitalization is characterizing our time in many different ways and challenging all parts of society with new practices. Public administration is indeed influenced by the digitalization. Both by new demands from citizens and other actors who use the technology and form new social practices, and internally by demands from professionals and policy makers who aim at improving public efficiency, transparency, accessibility and other public values by smart use of digital technologies. e-Government has to search for new ways to be sustainable, legitimate and effective and gain the confidence of citizens. There is also a challenge to design e-government to reach everyone and manage public organizations at local as well as global levels. This use of digital technologies in public administration and democratic processes is grasped by the concept e-government.
The pedagogical approach and the work process
The entire module is characterized by a pedagogical approach of interactivity, knowledge building, sharing and application. The module is preceded by minor preparatory studies in the participating countries and two webinar discussions about the goals, expectations and the work methods in the module. The thematic module is based on several key interactive lectures, workshops and so-called gallery walks – led by researchers and practitioners from Sweden, on e-government, public organization and administration, with focus on challenges, lessons and best practices. The discussions from the lectures are used in work in smaller groups where reflections and questions that connect to the realities in the respective countries are in focus.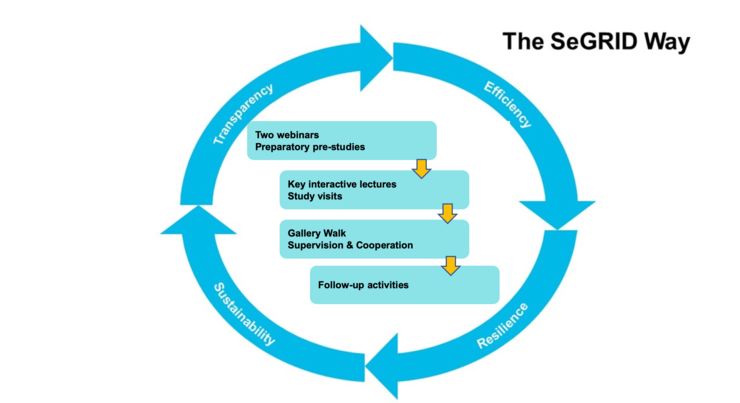 The participants will deepen their knowledge by working in groups with the pedagogical method gallery walks, where they will collaborate with each other to identify salient, common or hidden challenges and solutions. A number of study visits make up the module, where we meet regional and national key actors of e-government. Networking and informal discussions on the topic are central, as well as social events inspired by Swedish history, food and nature. A final and important element in the module are the opportunities for supervision and cooperation to further develop the analyses produced during the module in form of conference papers or workshops to be submitted to international fora that brings together policy makers, experts, practitioners and researchers in the fields of e-government, e-democracy and innovation in public administration.
All participants become members of the SI Alumni Network, a vast professional and global contact network meant to keep building good practices and mutual learning processes for a sustainable future.