The Biobank Facility is home to hundreds of test tubes of biomaterial that form the basis of nearly 100 projects in medical research. It was established in Linköping in 2013, as a collaboration between Linköping University and Region Östergötland, against the background of the Biobanks in Medical Care Act, which came into force in 2003. The act makes it possible to make human biological material available for research, development, care and treatment – without encroaching on the integrity of individuals.
The legal requirements, cutting-edge research, and committed personnel have united to make the Biobank Facility something special.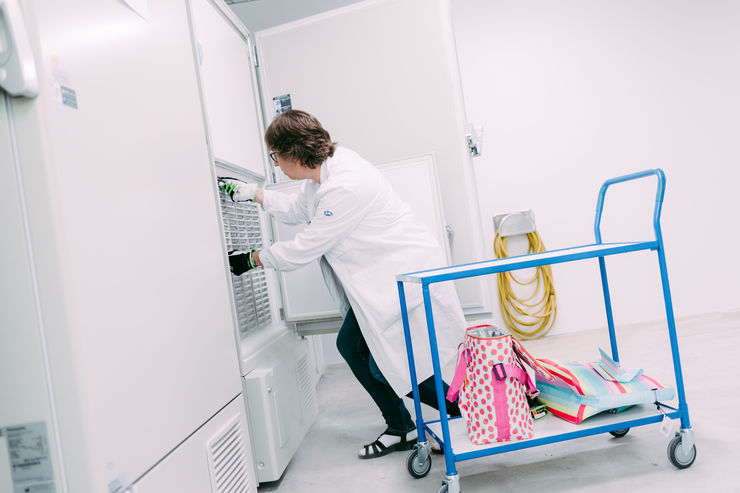 Photo credit Anna Nilsen
"We can answer most questions about specimen management and freeze storage, and we can also provide recommendations", says Director Lena Thunell.
Competences
Her own background is in research, and the expertise of the personnel at the Biobank Facility is a great help for those who come to collect specimens. Together with the researchers, clinics and the Division of Clinical Chemistry, they have built up a specimen management chain that deals with and centrifuges specimens with the aid of a robot. The centrifugation step separates, for example, plasma from blood cells. The test tubes are labelled with barcodes or QR codes. Every detail must be carefully documented, and the timing of each operation must be accurately recorded.
"When the blood sample leaves the patient's arm, when it arrives at the clinchem lab, and when it is put into the freezer. Every minute is decisive for the quality of the sample."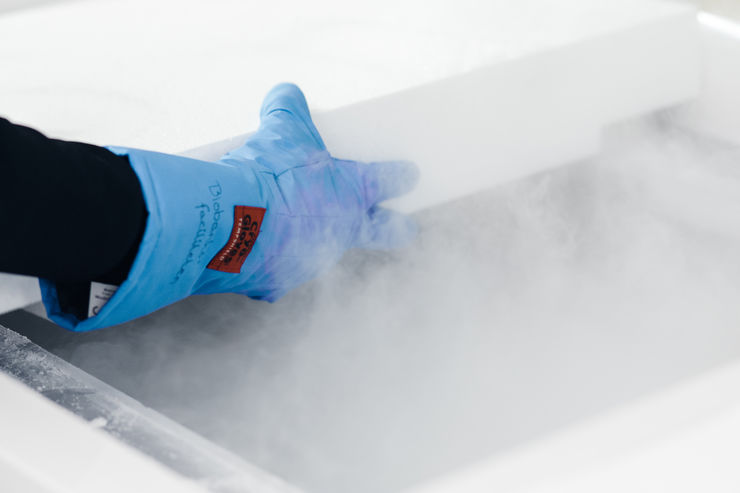 Photo credit Anna NilsenIt's very important for research that the specimens are fully traceable and that they are stored with as much information as possible: this increases their usefulness in many ways.
"Research is dynamic, and must be allowed to be so. Each sample is now stored in twelve identical portions. This means that a researcher can come up with a new idea, and can carry out a completely different analysis on a previously used sample."
A tendril of frost smoke sinks to the floor when Marianne Petersson, research nurse in the Rheumatology Clinic, opens the cfreezer. She deposits three samples.
"It's extremely valuable to have the material all in one place down here", she says, before hurrying back to the clinic.
"Useful"
Henrik Andersson, research engineer working with anaesthesia and intensive care at Region Östergötland, has spent many hours down in the freeze storage facility. He is studying, among other things, anaesthesia and heart injury. Being able to use a blood sample to assess whether a patient runs an increased risk of heart injury, or is in the early stages of such an injury, may enable doctors to determine suitable treatment at an earlier stage.

"We have around 1,300 patients in the study and around 50,000 frozen samples in the Biobank Facility. The blood samples that we archive down here will be useful in Swedish research for a long time", says Henrik Andersson, as he carefully selects certain test tubes.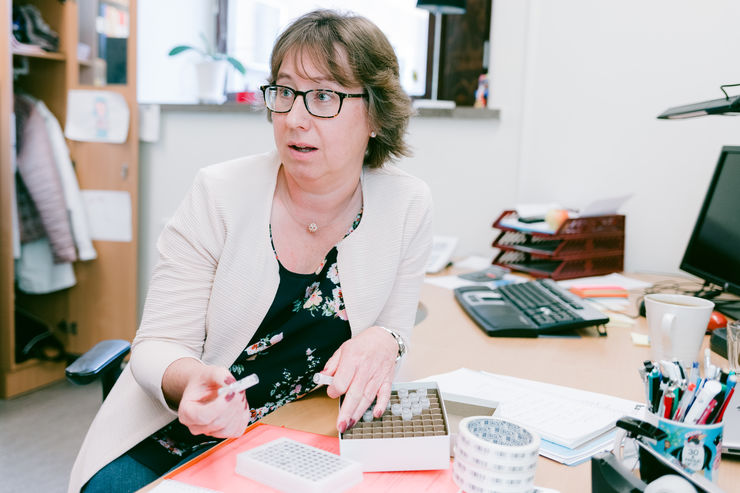 Photo credit Anna NilsenEmma Ridell makes sure that the alarm telephone is in her pocket. It must always be carried by one of the employees. If a freezer breaks down or if the temperature starts to rise, it sounds an alarm. This is initially sent to an alarm centre, then to the employee with the alarm telephone.
"It's vital that we can rely on the technology, but sometimes something goes wrong. The alarm goes maybe a couple of times a year, and when it does, we have to act quickly. It has happened that I've had to get up in the middle of the night", says Lena Thunell.

So what do you do?
"We come out here, repack the material in a back-up freezer, photograph and describe what has happened. Then we go home and try to go back to sleep", says Lena Thunell smiling.
The personnel have a fierce loyalty to the facility. Lena Thunell is also eager to talk about the future. The facility is involved in huge research projects that that will make a difference in the medical care system, helping patients.
Are you conscious when walking around here that you have samples from thousands of people?
"Not all the time. But when I see a scientific publication, I can stop and realise that what we do here is important. Then I'm conscious of how we are a part of that research", says Emma Ridell.


Brief facts – the Biobank Facility at the University Hospital Campus
The Biobanks in Medical Care Act from 2003 was drawn up to protect the integrity of persons giving samples.
At the same time, the act is to ensure that medical research has access to the experimental material that the
healthcare system needs to advance.

The Biobank Facility in Linköping can ensure safe storage, and that the provisions of the act are followed. It was founded in 2013 and is a collaboration between Linköping University and Region Östergötland.
It is also part of Biobank Sweden and the Swedish Biobank Register, and collaborates within the south-east
Sweden healthcare region.


One of the largest projects stored here is part of SCAPIS, which is a Swedish population-based study
of the cardiovascular and pulmonary status of 30,000 randomly selected women and men aged 50-64 years.
More than 5,000 people from Östergötland are participating in the SCAPIS study.