Brushes, pens, paper, paint, clay and stickers cover the tables at Hedvig's Vicarage, a venue in Norrköping. The participants in the project Migration and Movement are busy with preparations: on 24 May they will exhibit their artworks at the Norrköping City Library.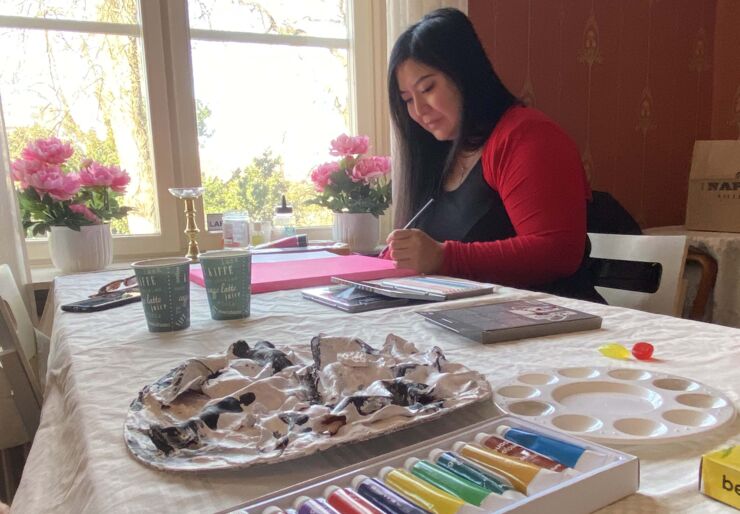 "I've always been very interested in art, and have painted a bit on the side, so being able to create like this is both rewarding and important", says Mavis Hooi, doctoral student in ethnicity and migration at Linköping University (LiU).
Visualising discussions and short stories
During the spring of 2022, the 11 participants of Migration and Movement met for workshops about matters relating to migration, integration, gender-based violence and human rights. All the participants have some form of experience of or engagement in questions of migration. Most of them are students at or graduates of the master's programme Ethnicity and Migration at Linköping University.
They have created works of art based on these discussions and on several stories about people on the move. The short stories, written by Rudeina Mkdad and Roula Alnakoud, are also part of the exhibition.
"Although at times it has been tough, because it's about difficult issues, it has been very interesting seeing participants discuss, immerse themselves in the characters of the short stories, and then create art based on this", says Rudeina Mkdad, doctoral student at LiU, and project manager.
One of her aims with the project was to offer a meeting place for young people, a democratic space where the participants are able to express themselves and experiment with different art forms. The project also aims to engage the public in questions of migration, and to highlight the importance of art in the community.
"Stories and art both have the power to influence, give hope and let the senses explore unknown worlds. And the reader or viewer has the power to interpret the story or art, which opens these forms of expression to discussion and different perspectives."
From clay to digital art
The exhibition comprises ten works, in everything from clay to paint on canvas to digital art.
Özge Sarialioğlu, visiting doctoral student at LiU, and Hargita Horvat, LiU alumna, have worked with clay. Their piece is based on a short story about a woman who wears layer on layer of clothes, to protect herself from being raped. In the end, the heavy clothes cause her death.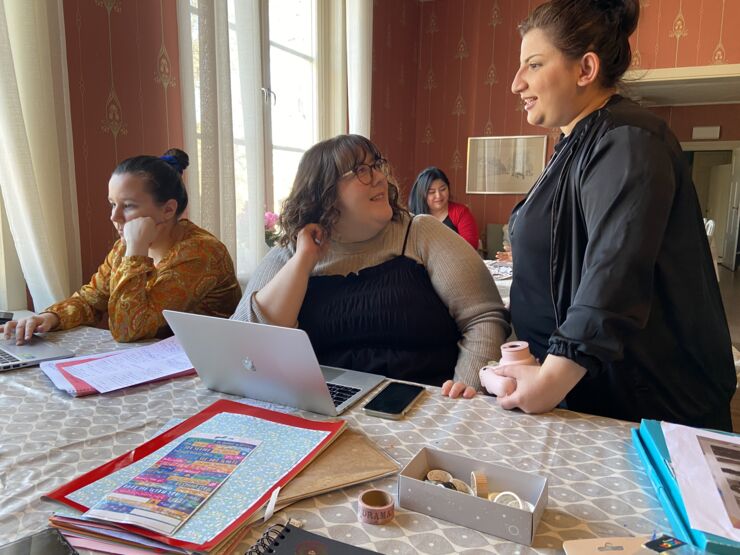 "We have worked with layers of clay and paint, to visualise the layers of clothes", says Özge Sarialioğlu.
Minna Buller, master's student at LiU, Kenna Sim, LiU alumna and Dominique Haas, exchange student at LiU, are experimenting with digital expression. With their piece, they want to show how the Swedish labour market works for a person who is new in Sweden. They have analysed a number of employment ads and conducted surveys to plot peoples experience of finding work in Sweden. They describe the labour market as a jungle, and this is conveyed in their artwork.
"We haven't found a clear answer, but we want to provide a picture of how the labour market is perceived and looks", says Kenna Sim.
Minna Buller says the way the art project has allowed the participants to combine theory and practice has been rewarding.
"The course has given me knowledge and theory; it's great to turn this knowledge into something practical, and do something creative together with others."
Translated by Martin Mirko.