A young boy in Seattle hacks his way via a phone connection, thinking that he has found the world's coolest computer game. But it is the US nuclear weapons system.
Unaware of this, he can now start World War III.
This is, roughly, the story of the 1983 film WarGames. And it is an easy guess that Leif Nixon has a relation to it.
War dialling
"Yes, I've seen it a few times. It was really cool when it came out. It's a bit exaggerated, but it does have some realistic features, like just browsing the computer system. And "war dialling", scanning through all phone numbers. Nowadays, you scan IP addresses. I actually showed the film to my children, only a few weeks ago!"
What did they think?

"They weren't that interested in the hacker part. They get enough of that at home. But the Cold War, the political tension between East and West and the nuclear war threat − we talked a lot about that. I can remember how relieved I was when the wall came down, in 1989, thinking that my children wouldn't have to grow up with the threat of war. We can't take that for granted any more."
I could have erased all their
storage servers and back-ups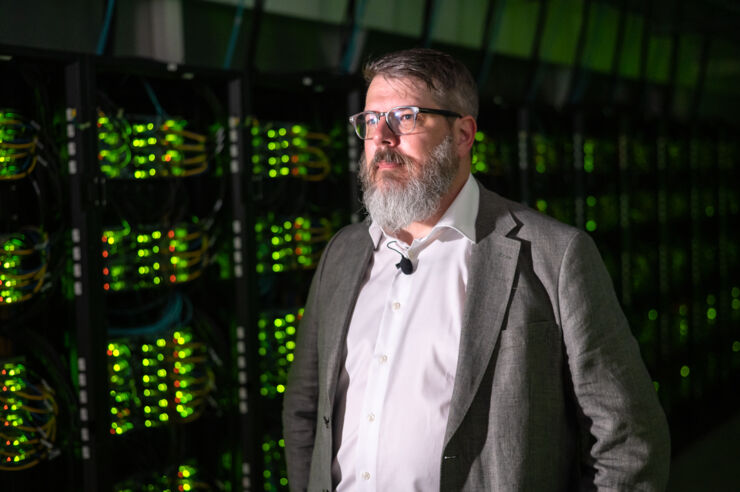 Photo credit

Magnus Johansson
Leif Nixon often answers questions about cyber security, computer intrusion and cyber war. He has collaborated with legal systems in various countries and provided assistance in large computer intrusion investigations. He has helped identify two individuals who are now on the FBI most wanted list. His efforts have resulted in several prison sentences and crackdowns on a worldwide Internet paedophile network.
He has also been tasked with hacking into the computer network of the world's largest particle physics laboratory, CERN, in Geneva. Twice.
"I could have erased all their storage servers and back-ups due to a flagrant mistake in their maintenance."
Were they grateful?

"Their head of security sent me a bag full of Swiss chocolate and a bottle of his favourite wine!"
Photo credit

Charlotte Perhammar
Deeply moved
Leif Nixon was deeply moved when Linköping University contacted him to say that he is Alumnus of the Year.
"I still can't believe it's true. I'm immensely proud of this. It's a huge honour, of course."
He was born in the US, but grew up in Norberg, near Västerås. He has been interested in computers since he was a young boy.
"I used to borrow programming books before I even had a computer, I joined the local radio club so that I could borrow their Commodore Vic 20, and I spent my work experience period in the computer department of Fagersta Steelworks."
Lysator, and the student
pantomime. So much fun
But it was student life at Linköping University that really made his interest in computers take off. Leif Nixon came to Linköping in 1988 to study computer science.
"It was a whole new world. I met others with the same interest, who were much smarter than me. Mad, fun people. We would sit in the computer halls until late. I was in the computer association Lysator, and the student pantomime. So much fun. This is where I grew up. LiU is my alma mater!"
Hacker attack decisive
After graduation, he took up a post as postdoc in the Department of Computer and Information Science (IDA). But he decided not to follow through and after some time became systems administrator at the National Supercomputer Centre (NSC) at Linköping University. On 18 June 2004, the NSC was subjected to a hacker attack.
"My wife usually says that I didn't get angry, but very quiet and determined. I spent a lot of time trying to find the culprit. And since then, I've basically been working in computer security only."
The hacker managed to acquire a password, and then stole more passwords by eavesdropping. He then sent insults to the co-workers.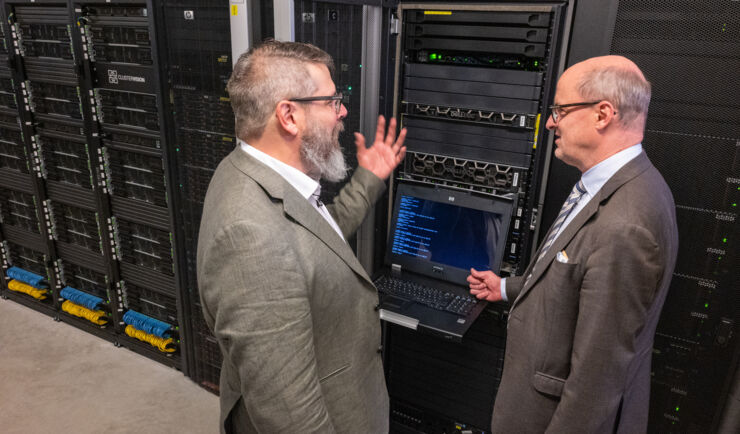 Meeting with Niclas Andersson, at the University computercentre, NSC.
Photo credit

Magnus Johansson
"On one occasion he made a mistake, and I found out his real IP address, although he was using a server at Stockholm University."
He had been hacking supercomputers in Europe and the US. Also military websites and a global IT company. He was a 16-year-old from Uppsala!
"He didn't have much else to do, was understimulated and had low self-esteem. He was convicted of the crimes."
University supercomputer centres worldwide are often subjected to hacker attacks. Leif Nixon was working locally at NSC in Linköping, while also leading an international incident handling group together with supercomputer centres on almost 400 sites in some 70 countries.
What is your opinion of hackers who become 'good guys' and are employed in security departments?

"I find it hard to trust people who have shown that they're willing to commit crimes."
Human behaviour
How do you ever trust anyone?
"It's often human behaviour that leads to intrusion. The job I have is very social, with many personal contacts. You work with people, not computers. Building groups of trust is about psychology, about choosing the right person to trust."
That's more difficult
than you may think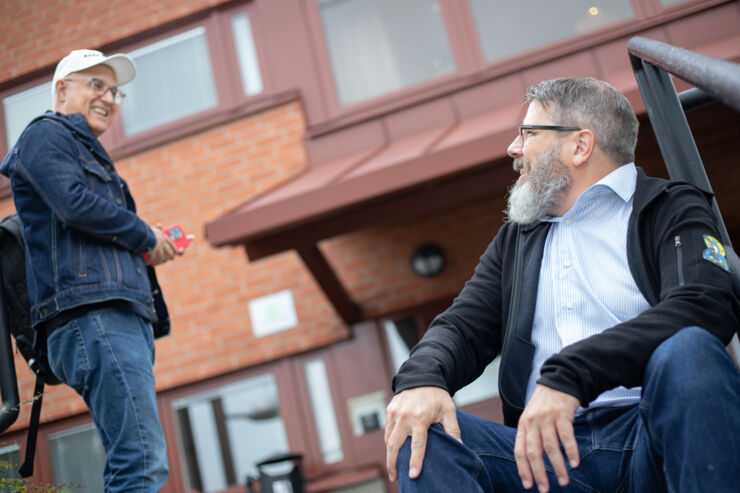 Spontaneously, one of Leif Nixon´s former teachers came by on campus. Photo credit Charlotte Perhammar In 2014 he collaborated with the Swedish daily newspaper Dagens Nyheter (DN) in examining Swedish IT security, including in police stations. They discovered several vulnerabilities. This led to DN journalist Kristoffer Örstadius receiving the Stora Journalistpriset (The Swedish Grand Prize for Journalism). Leif Nixon later left the NSC and has since been working for various companies as a consultant, with clients such as international police organisations and large energy companies.

What is the risk of a cyber war where an attacker can disable vital systems?
"Many people erroneously think that an enemy may disable everything through cyber attacks. But that's more difficult than you may think. It's more about pinpointed disruptive attacks, carried out to create public concern and distrust in society's capacity. Like turning off the heat for an entire residential area."
Just like in the movies
Leif Nixon's choice of profession is like something that happens only in films. Like that young boy in front of the computer. Maybe it's because Leif Nixon's father was working as a chemist in a nuclear weapons factory in the US that he is so interested in global politics and the global security situation.

"The way things are going makes me sad. Weren't we supposed to be rid of this polarisation? Haven't we got more important things to spend resources on than war?"