CMIV offers a doctoral program with both medical and technological entries and coherent research education. A basic principle for our doctoral program is the close connection between different disciplines. The doctoral students have a main supervisor from his/her own area of expertise and an assistant supervisor from another field. The formation of "twin pairs", where two doctoral students from different disciplines work concurrently in close cooperation on adjacent projects is encouraged. The students have educational background in medicine, health, technology, and natural sciences.

The PhD students in the CMIV research school meet once a month to discuss what's going on at CMIV and if there is any new opportunities or courses coming up. After the meeting there is a seminar where the PhD students present their projects to each other and to senior researchers. At the annual CMIV conference the students present their projects at a poster session. This is a great opportunity to really discuss and receive feedback from the senior researchers and other PhD students. The conferences often include a workshop or lecture directed at the research school. Once a year there is also a PhD student day with a workshop or study visit.
A sit down with two former PhD students at CMIV Research School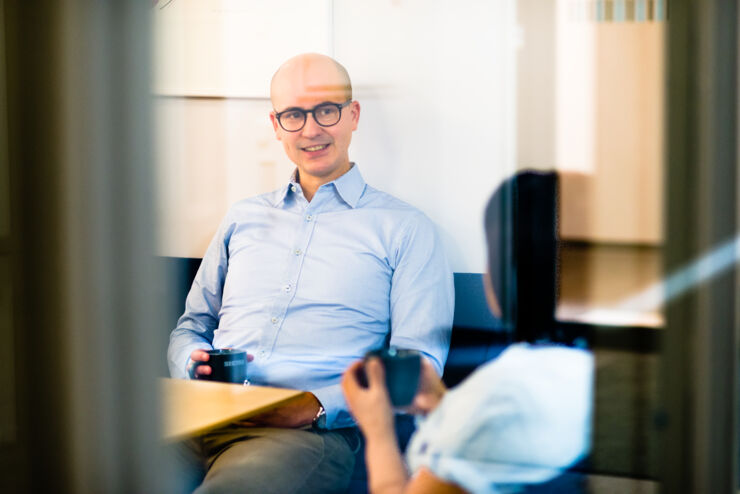 Photo credit _Thor_Balkhed
Currently there are around twenty PhD students admitted to the CMIV research school. Here you get to meet two former PhD students, Bharti Kataria and Mikael Forsgren.
What does CMIV mean for your research?
Mikael:
Without CMIV it would not have been possible for me to conduct my research. It is an incredible strength to be able to work so close to clinical practice and skilled personnel.
What is it like to combine research with clinical duty?
Bharti:
I am interested in doing research linked to clinical operation – research that drives development. The work load is sometimes intense, but it is also a part of what makes it interesting. You become an expert at time management and keeping many balls in the air.
Why did you choose be a part of CMIV?
Bharti:
To take advantage of all opportunities available at CMIV. Here researchers from a variety of disciplines are working together and even though my research is a little different I get a lot of input from others. At CMIV there is a great range of knowledge because everyone has different areas of expertise.
What extra does the graduate school bring that you can't get connected to your institution?
Mikael:
Close contact with CMIV and the people who work there and contact opportunities with other researchers and graduate students who are using the same medical techniques in their research. It would have been very difficult to get these valuable contact surfaces if I had only been connected to my institution.