At the end of May, WCMM Retreat 2023 was arranged at beautiful Sandvik Gård. The participants got to try out new and spontaneous ways to talk about research. It led to many laughs and insights, but above all to meet in an inspiring environment.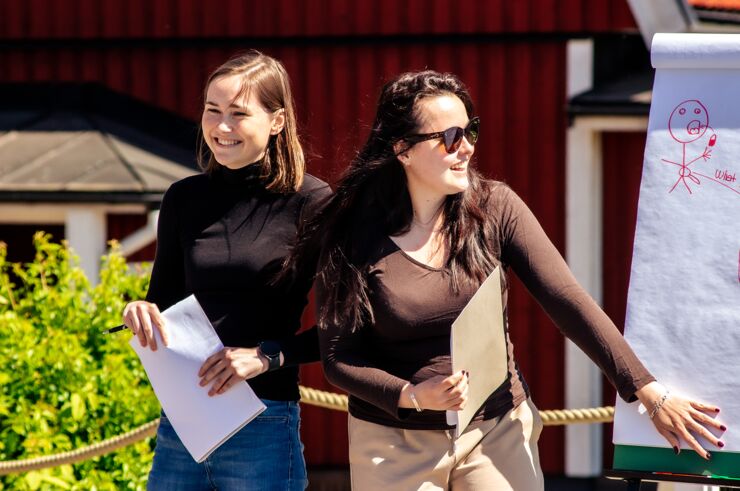 Project presentations took place by the poolside one of the days. Pierfrancesco Pagella
On May 29-30, all WCMM affiliates at LiU were invited to a two-day retreat at Sandvik Gård. It is the second year that it has been organized and the days are filled with several group activities, networking, mingling, sauna by the lake, but also invited guest speakers. This year it was Sara Liin and Marcin Szczot who came to visit and gave interesting and appreciated talks.
Claudio Cantù and Francisca Lottersberger, WCMM group leaders, are the organizers of the WCMM retreats. Their goal is to always try something new and this year was no exception.
Pictionary as a research activity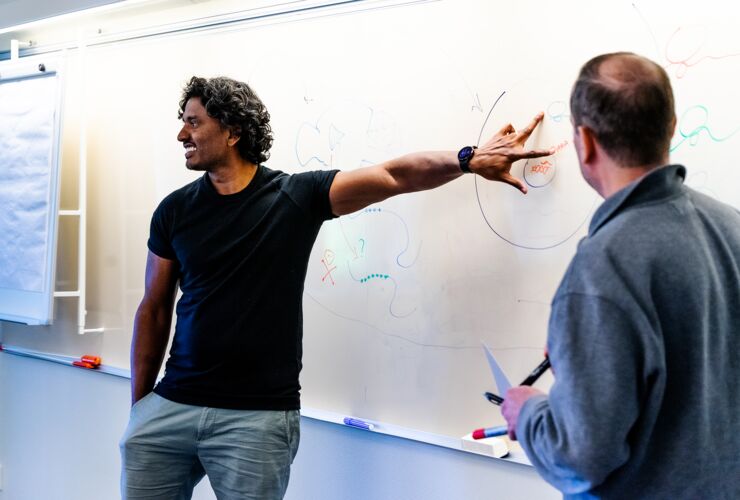 The researchers' pictionary skills were put to the test in a fun activity where their research would be presented by drawing on the board. Photo credit Pierfrancesco Pagella One of the activities was Pictionary. You know the game where you try to guess what kind of word the drawing is meant to represent. But in this case it was about drawing one's research.
Srivathsa Magadi, researcher in Walker Jackson's research group, found it to be an incredibly rewarding activity.
"The Pictionary skills of researchers at the retreat were on a whole other level, everyone was passionate about their work, and how they described their research work was fascinating and puzzling sometimes, but in the end, we figured it out and it was a great way to communicate our research. Some drawings just cracked us up including mine, it was a nice bonding exercise with colleagues. The retreat far exceeded my expectations, it was a perfect mixture of theory, networking, and fun!"
Crazy research presentations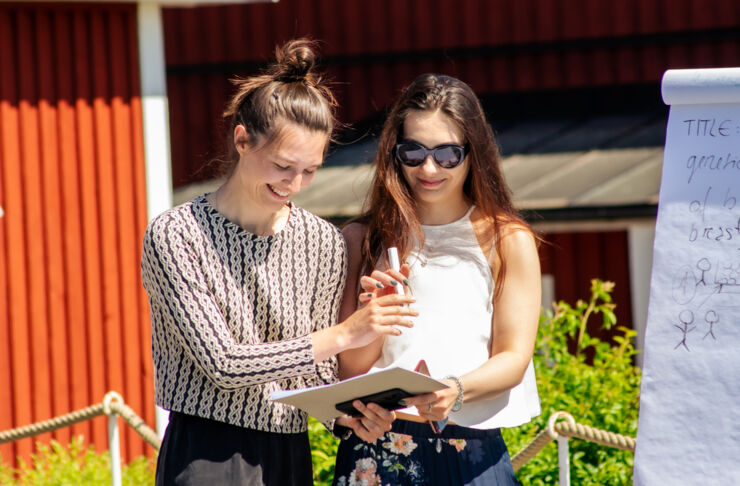 An appreciated activity among the participants was the "Poolside Crazy Project Presentations". Photo credit Pierfrancesco Pagella The innovative activities did not end there. "Poolside Crazy Project Presentations" was another exercise that really gave participants room to use their imaginations. The participants were divided into mixed groups with members from different labs. In the pot was a large sum of money (not real money, of course) for which they would compete. The task was to design a presentation for a long-term research project to win the made-up grant. Creativity was allowed to flow there by the pool.
Highlight of the retreat
Andreea Medeea Matei, whose supervisor is Francisca Lottersberger, found the "Poolside Crazy Project Presentations" to be the highlight of the entire retreat.
"It was the cherry on the top! It turned out to be a fantastic exercise in trying to unite the group members' different research experience and knowledge. The relaxed environment and freedom in creativity brought forward great project presentations from each single group, but there was something interesting that our judges noticed as well. While some groups maintained a more grounded theme for their research ('Earth projects'), other groups let their ideas flow freely resulting in projects named later 'Sky project'. Some even consisted in the idea of establishing labs in Spaceships to study developmental biology and how it may differ in zero gravity (we even had theme background music from Interstellar). Others had the idea of 'Teeny tiny hospitals' that could be injected into the body, to eliminate the need of physical hospitals. It was super fun, we laughed a lot. And of course, we had two winners for the contest, one from each category."
In summary, it was two successful days and Andreea was more than satisfied with the stay at Sandvik Gård.
"I think it was a very well-done retreat. The organizers spent a lot of time and energy, and it turned out an amazing experience filled with fun and creative activities."
Pictures from WCMM Retreat 2023
Visit WCMM LiU's site to view photos from the retreat.