Kalas – Sweden's largest event for new and old students – returns on 7 September. We welcome performing artists HON and Tove Styrke, while companies and student societies display what they have to offer in a huge, teeming trade fair. And all of this is on-campus at Campus Valla.
Entrance to the event is free for students and co-workers at LiU, which regularly attracted 8,000-10,000 visitors in the years before the pandemic. Attendance was lower at the digital events, but now Kalas is back as a physical event the organisers are hoping that it will return with renewed force.
"We hope that we can breathe new life into Kalas, and people will come flocking back. I mean – who can resist a free party?" asks Vendela Stenholm. She is one of the Kalas directors, responsible for marketing the event, and is taking the master's programme Energy - Environment - Management.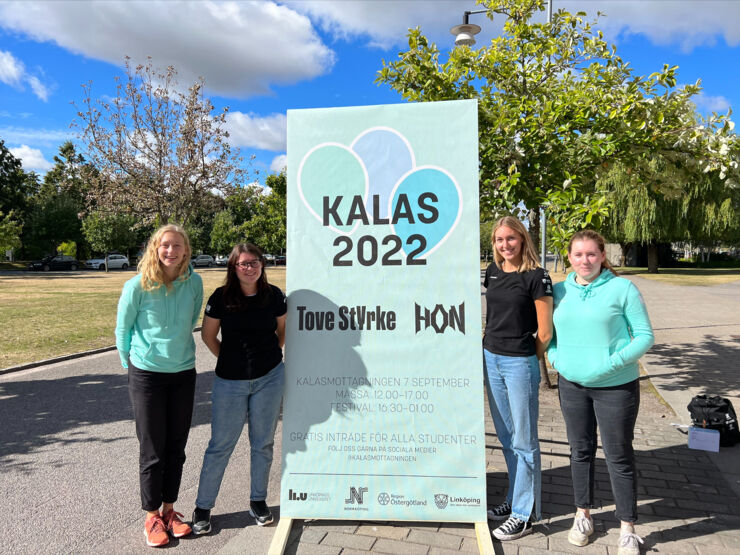 The four Kalas directors Vendela Stenholm, Filippa Troy, Majken Nilsson and Filippa Sandberg. Four Kalas directors have been working together to manage the Kalas project this year.
"It's been great fun and has taught us a lot – getting involved and organising an event as large as this. We've had to keep many irons in the fire, and bear a lot of responsibility. We came to understand in detail how the various parts fit together, got to know each other in the project group, and established many new contacts", says Majken Nilsson, Kalas director responsible for the festival, and a student taking the Business and Economics Programme.
A new stage, behind the Zenit Building
One innovation this year is holding the huge Kalas show in the car park behind the Zenit Building, which offers a large area free of trees, with good illumination. The rest of the festival area will be the place for entertainment, with foodtrucks and many other activities.
"We're planning on a mechanical bull ride, a wipeout machine, and a photobooth for crazy photos," says Majken Nilsson.
Several student bands such as Teknologbandet, EBF, the Cabaré band, LiTHe Blås and Forte will entertain the audience, before the main attractions HON and Tove Styrke enter the stage.
The Kalas will run from 16.30 until 01.00. Tickets for the show are available by registering an email address in Orbi, a new app for students at LiU.
A trade fair for companies and student societies in Campushallen
The main Kalas show is preceded by a fair at which students can meet the student societies that work to improve student life and make it more fun, together with local actors and companies that provide information about labour market opportunities. More than 100 exhibitors will participate in the fair in Campushallen. The doors will be open 12.00-17.00 and several competitions and activities will take place in the exhibitor stands.
"The exhibition will cover a wide range: fitness, accommodation, trade unions, and insurance, for example. And more than 70 student societies will be there. Everyone will be able to find something they are interested in," says Majken Nilsson.
"It will be a perfect opportunity to get to know the university and see what life as a student offers. We hope that the complete Kalas event, the fair and the festival, will be one huge meeting place!" says Vendela Stenholm.