On 14 June, hundreds of excited students received their congratulatory letters on the stage in Concert and Congress Hall and received warm applause from family and friends who sat and viewed the ceremony in the audience.

The mixed student choir Chorus Lin began the ceremony with high and uplifting tones and received compliments after their performance.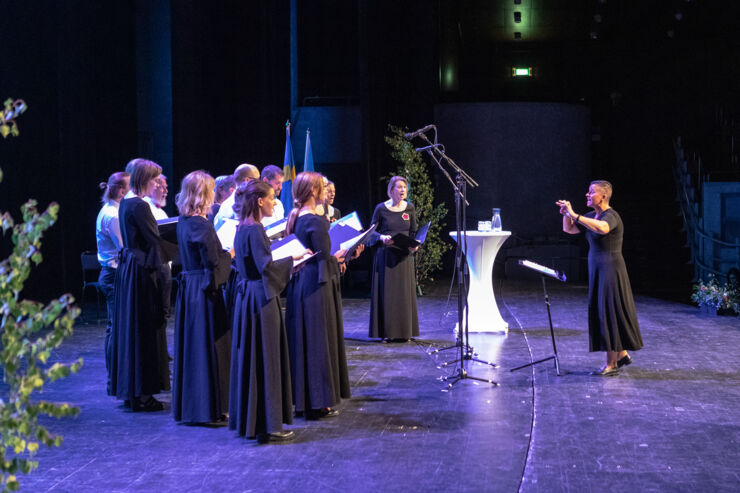 The student choir Chorus Lin performs at Farewell Ceremony. Photo credit Patrik Ekenblom
Then LiU's deputy vice-chancellor Karin Axelsson began with an inspiring speech to the students and wished them good luck and said she looked forward to taking part in their future through LiU Alumni.
Then the first roll call began, and the programme students entered the stage to shake hands with the deputy vice-chancellor while receiving their congratulatory letter, to then be photographed with their fellow students from their programme.
Afterwards, Mikael Axin, Associate professor at the Department of Management and Engineering, who is also involved in several of the international programmes at the department, gave a speech that focused on the experience of having international students at LiU, and how the education is enriched by their presence at the university.
After the speech, the next round of students was called out to receive their congratulatory letters.

Then it was time to listen to the ceremony's student speaker, Rebecka Fonseca Duarte Pilzecker, a student in the programme Applied Ethology and Animal Biology. She talked about the challenges of starting to study in the middle of a pandemic, the contrasts around the Swedish seasons and how she handled it, how she had started to think more about sustainability, and that one should not be afraid to try new challenges in life. Everything can be achieved if you set your mind to it.

After that, the last programme students walked up on the stage to receive their congratulatory letters.
The ceremony ended as it began, with Chorus Lin singing out in tunes to the Swedish classic, Nu grönskar det, which translates to Now the valley embraces us, and ABBA's swinging tune Does your mother know, which gained momentum in the audience.

After the ceremony portrait pictures awaited, and an opportunity to talk to family and friends underneath beautiful, gleaming crystal chandeliers in the Concert and Congress Hall foyer. The happy conversations were combined with the taste of Swedish summer, in the form of an excellent strawberry cake with lots of whipped cream, bubbles, coffee, and tea.

Indian programme student Ritwika Pal and German programme student Mara Jakob, who have both studied Business Administration - Strategy and Management in International Organisations (SMIO) were very pleased with the event, but also with the two-year education, they have received at LiU.
- The SMIO programme is known for being one of the best, and what I like about the education at LiU is that everyone is equal. You have a good relationship with your teacher, at home you would never call the teacher by the first name. You collaborate a lot with other students and learn to think freely and that it is ok to question, says Mara Jakob.
- Even though it has been part of distance education due to the pandemic, me and my peers have found ways to get to know each other digitally. The teachers also ensured to offer quality education despite the circumstances. That is why we have a good relationship today, adds Ritwika Pal.

Both are planning to return to their home country to apply their new skills. Having an international education is attractive in their home countries and the opportunity for a professional career is promising. But when it comes to their strong and warm friendship, there is only one common goal.
- We will keep our friendship alive, regardless of whether we live in different countries, they both say and nod happily to each other.

Finally, the mingle ended, and the programme students embark on new adventures in life. LiU wishes them good luck.