It is an early Wednesday morning in California. Gunilla Jacobson starts her day at home before making the short journey to Stanford University and the Clark Center lab. This large research centre is home to a variety of different disciplines such as biology, medicine, chemistry and technology.
"There are windows from floor to ceiling. Despite it being a lab, it resembles more an office. It feels almost like working in a doll's house. You can see what other people are up to all the time, and can take a look at what's happening with other projects. It's fantastic", says Gunilla Jacobson.
More freedom
Apart from a few years in the early 2010s, when she moved home to Sweden and worked at the Karolinska Institute, Stanford has been her workplace since 2005. She has had several different jobs throughout her years at one of the world's most prestigious universities, right in the heart of Silicon Valley.
Today, she is the head of translational medicine, and leads several projects. Translational medicine involves taking results from experimental research and translating them into patient benefits within healthcare.
"Often when you think about academic jobs, you think of somebody being a lecturer or professor. But here there are lots of jobs just like mine. Jobs where, just like in industry, you work with leading projects. Private universities such as Stanford have more freedom to employ people outside of traditional academic roles."
"It is an exciting environment. There is a great openness and generosity. People want to help each other", says Gunilla Jacobson.
Photo credit SpVVK

Her days are varied: no one day is like the other. She tries to get out to the lab as often as she can. But there are lots of meetings to be had and walks to be taken between Stanford's various hospitals.
"Every day, the goal of everything we do is to help our patients. Ideally, we don't want people to be at hospital – we want them to be free of disease. We are trying to find new ways to cure and prevent illness with the preventive work which we call precision health."
Moved till Linköping
One of the projects she runs is working on developing a plaster with micro needles which people in the future can use to inject themselves with 50 times lower doses of mRNA vaccines. An innovation which can reduce side effects and lead to a lesser need for vaccines. And which means that the jab doesn't need to be delivered by a nurse.
"Our research group is looking at this together with 17 other groups around the world. We hope that the result of this collaboration can be used in healthcare in the future."
Gunilla Jacobson's career began in the 1980s when she left the Swedish town of Finspång and moved just a few miles southwest to study chemistry in the university town of Linköping.
"It wasn't such a long way from home, but I remember it feeling like a big step to move to Linköping. My mother studied and worked there, and both my brother and my sister have studied at LiU. And their children are now studying there, so it feels like the whole of our family consists of LiU!"
After two years on what was then the chemistry undergraduate programme, she chose to do the last year on exchange in Boulder, Colorado. When she was back in Sweden, there was a PhD position waiting for her in Uppsala, before it was time for her next trip across the Atlantic. This time for a postdoc at the University of Texas at Austin. There, she found opportunities for collaboration with a major research centre in Los Alamos, New Mexico, which became world famous when it was founded to construct the atom bomb in the 1940s.
"It was truly thrilling to be a researcher there", says Gunilla Jacobson, who remained there as part of a research team for several years.
Filed a patent
A lot happened during this period of her life. Gunilla filed a patent for a method of cleaning computer microchips. A Californian start-up snapped up the patent, and her bags were packed.
"But then came a phone call – they had been bought out by a company in Arizona. So Arizona it was! It was great fun and I learned a lot. But after three years, when they were bought out again, I felt like I was ending up too far away from medicine. I wanted to test something new."
This "something new" was Stanford University. And it was in fact in Stanford that Gunilla Jacobson lived between the ages of six and nine, when her mother Birgit Jacobson was a researcher there.
"It was actually a bit like coming home. I can remember the positive feeling from my time at school here. Here, it wasn't cool to play truant. It was cool to be good at what you did. I've taken the attitudes that are fostered here – that you should dare to try new things, and that it's okay to fail – with me throughout my life."
Proud alumna
Despite many years in the USA, her contacts with Östergötland and Linköping University are still strong. In the beginning of 2022, she was a keynote speaker during the Swedish Innovation Days, when LiU announced a project in precision healthcare, aimed at strengthening collaboration between Sweden and California.
"It was fantastic to be invited, and I will be welcoming a delegation from LiU in June", says Gunilla Jacobson, emphasising that the student exchange with Stanford, begun on the initiative of professor Stig Hagström, is unique.
"I don't believe that there is any other university in the world which sends two exchange students here every year!"
Gunilla Jacobson is a proud LiU alumna – and a proud native of Östergötland.
"I can't wait for the summer when we can travel home again and see all the yellow fields. Every time, it's a must to meet the whole family in Finspång and Linköping. We love to see the Göta canal, and take a coffee by the Berg locks. My children speak fluent Swedish, and are probably more Swedish than many Swedes. In their eyes, Sweden is always better."


Brief facts
Name: Gunilla Jacobson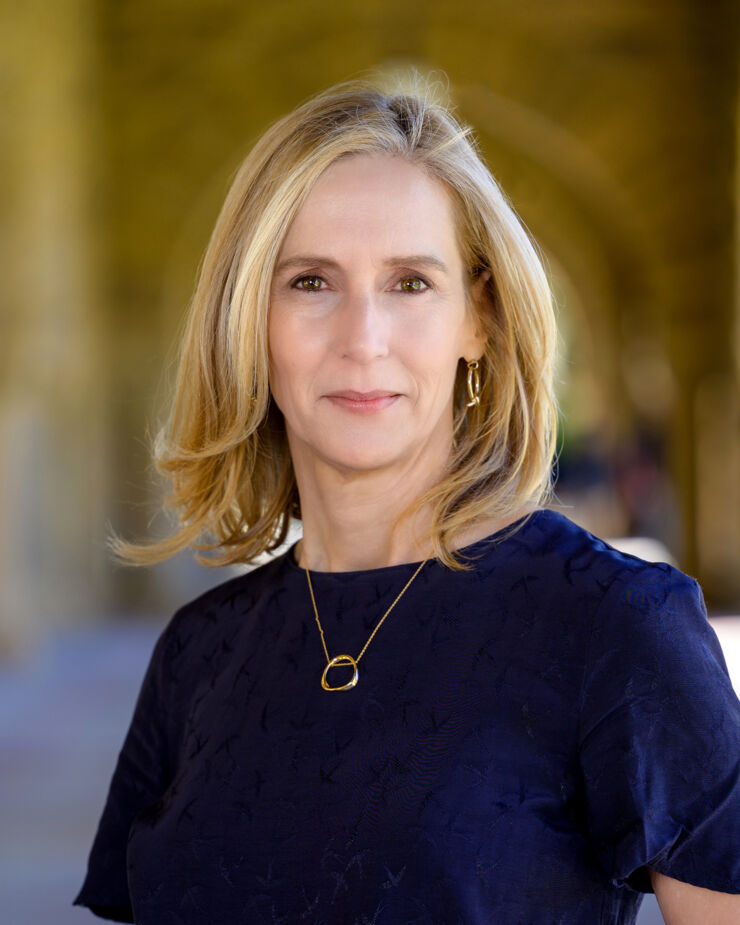 Photo credit Dass Alamillo
Family: Husband Cory and two children, Tobias and Aiden.
Lives: Menlo Park, California.
Works as: Researcher, entrepreneur and head of translational medicine at Stanford University.
Education: Chemistry degree from LiU, PhD in Organic Chemistry and Associate Professor in Chemistry at Uppsala University.
Would spend a free day: Skiing by Lake Tahoe in northern California, or taking a trip to the ocean. It's usually cold – but nice anyway!
In five years' time: We've said that we won't move again before our youngest son has graduated from high school. But I want to work with new, exciting projects and continue coming home to Sweden.



Facts about Stanford University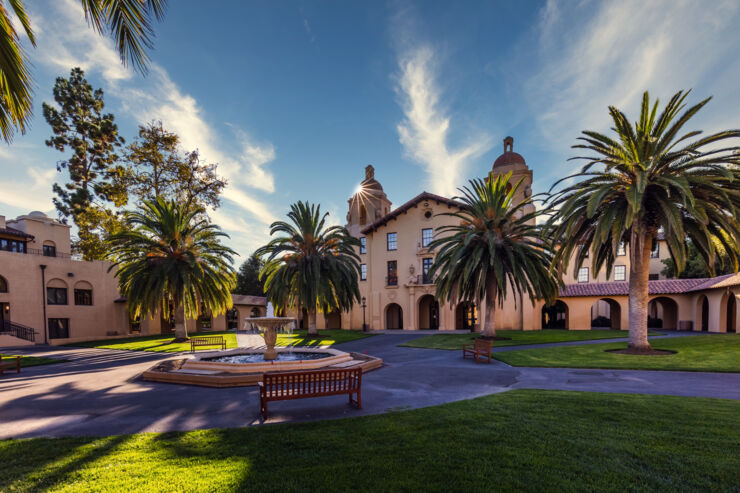 Photo credit RuslanKaln Stanford University, founded in 1891, is a privately funded university located approximately 60 kilometres south of San Francisco in California.
Stanford is one of the world's most renowned universities, and came in fourth place in the latest Times Higher Education ranking of the world's foremost higher education institutions.
Around 17,000 students study at Stanford, and the university has almost 2500 employees.