On the third floor of Studenthuset there are 13 well-built benches made of oak. They were in such good condition that they could be moved straight from Campus Norrköping.
"It's great to see that it pays off to buy good quality", says Tina Garherr from LiUI's Property Division, who has collaborated with Sybille Heise in the furnishing of Studenthuset.
"We have a well-functioning system for the reuse of furniture and office equipment, which has enabled us to reuse more. Before, we had no idea about what was out there, and what could be done with it", says Sybille Heise.
Half the price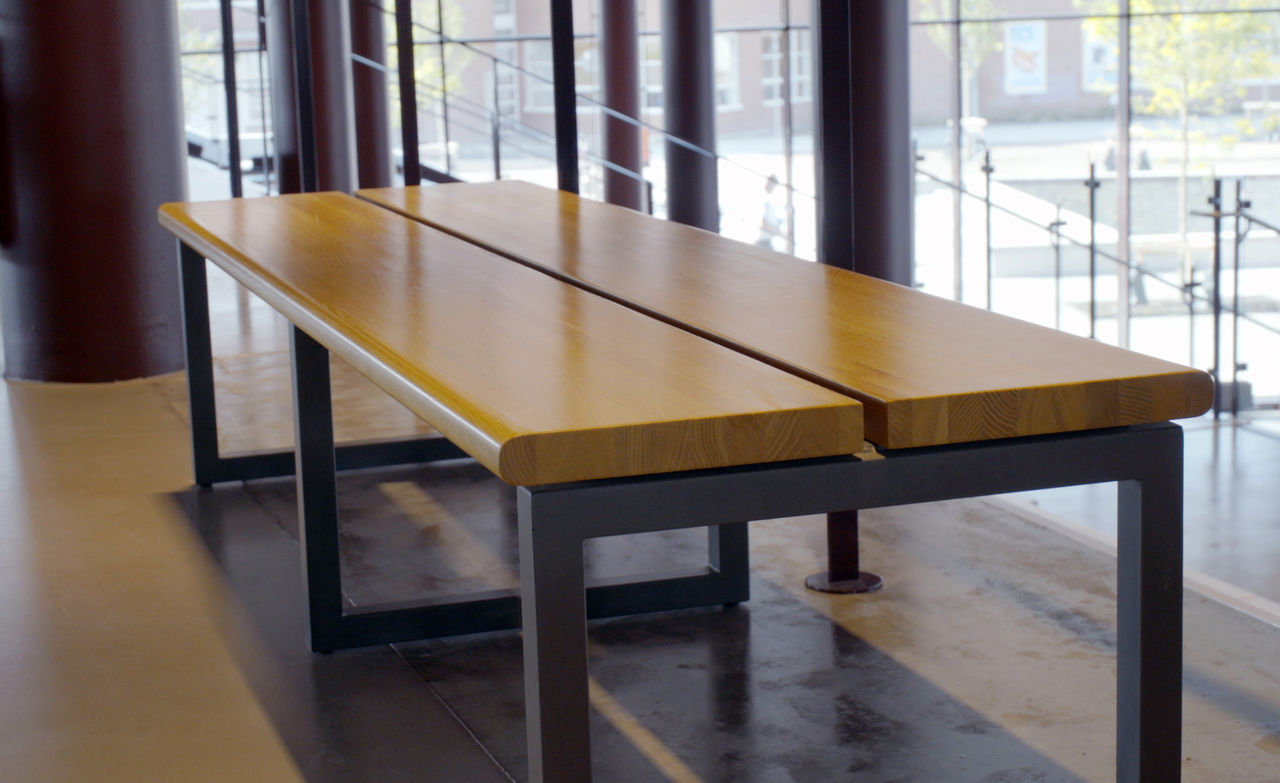 Another example of reuse is the 20-odd storage lockers that are now to be used for library books that have been ordered. The lockers were previously storage spaces for microfilm. They have been repainted in the building's characteristic dark-red colour, and new glass doors have been installed. Locks and hinges are the existing ones. This cost half as much as new lockers. Plus, the work was done by a local business, so no long-distance hauling was required.
"Interior designer Petra Bergman deserves a lot of credit. She put a huge amount of time into taking inventory of Återbruket's stock, and has a great eye for seeing the potential of old furniture. We have learned a lot from here. So the lockers were actually her and my idea", says Tina Garherr.
We stroll through the building, up to the fourth, fifth and sixth floors, which mainly house study spaces. Here there are 500 chairs, all of the same model and in fairly rough shape. They were salvaged from the Bomullsspinneriet Building in Norrköping, which the university vacated in June of 2018, as well as other locations. Now they have been repainted and reupholstered in the typical red colours of the new building.
"Here we might not have saved that much money, but the chairs would otherwise have just been dumped", says Sybille Heise.
Conference chairs look brand-new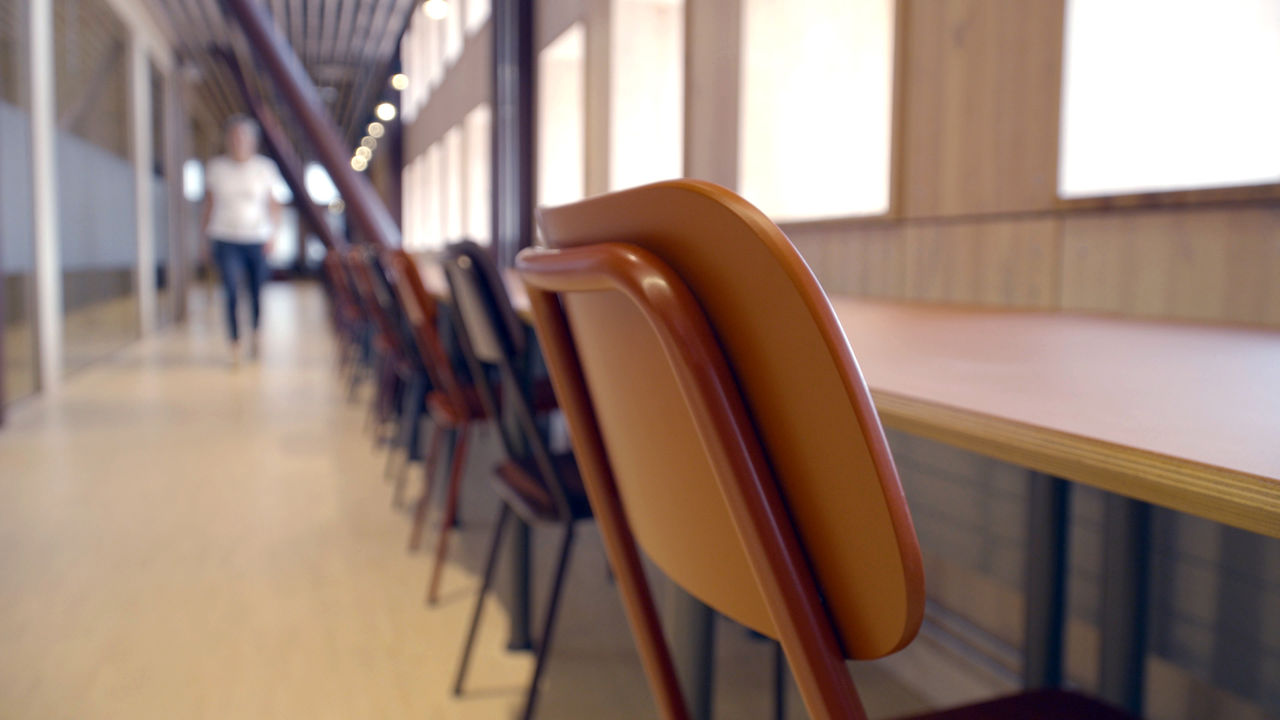 The strategy was different for the 142 blue chair that are now spread through 17 group rooms. They were different models that were repainted the same colour. Then the various models were placed in the rooms, to achieve as much of a mix as possible. Renovating them cost SEK 500 per chair, while a new chair would have cost close to SEK 3000.
DigiMaker has been allocated a large space in Studenthuset. It has been furnished with reused drawer units, lab chairs, wardrobes and desk frames.
"Here basically everything is reused, apart from the desktops", says Sybille Heise.
Some 20 study booths from the old library have been repainted and fitted with new, durable desktops.
And in a staff meeting room on the seventh floor, 16 of the 54 chairs have been salvaged and reupholstered. They were previously in the conference room of the Bomullsspinneriet Building. Previously sporting in a pale-green velvet fabric anno 1990, they now look brand-new.
Some furniture has been moved to Studenthuset in its existing condition. For instance the chairs for the staff room were taken from study spaces in the library in the D Building. Only one new chair had to be purchased. It arrived first, and it sat there on its one for quite some time before the other ones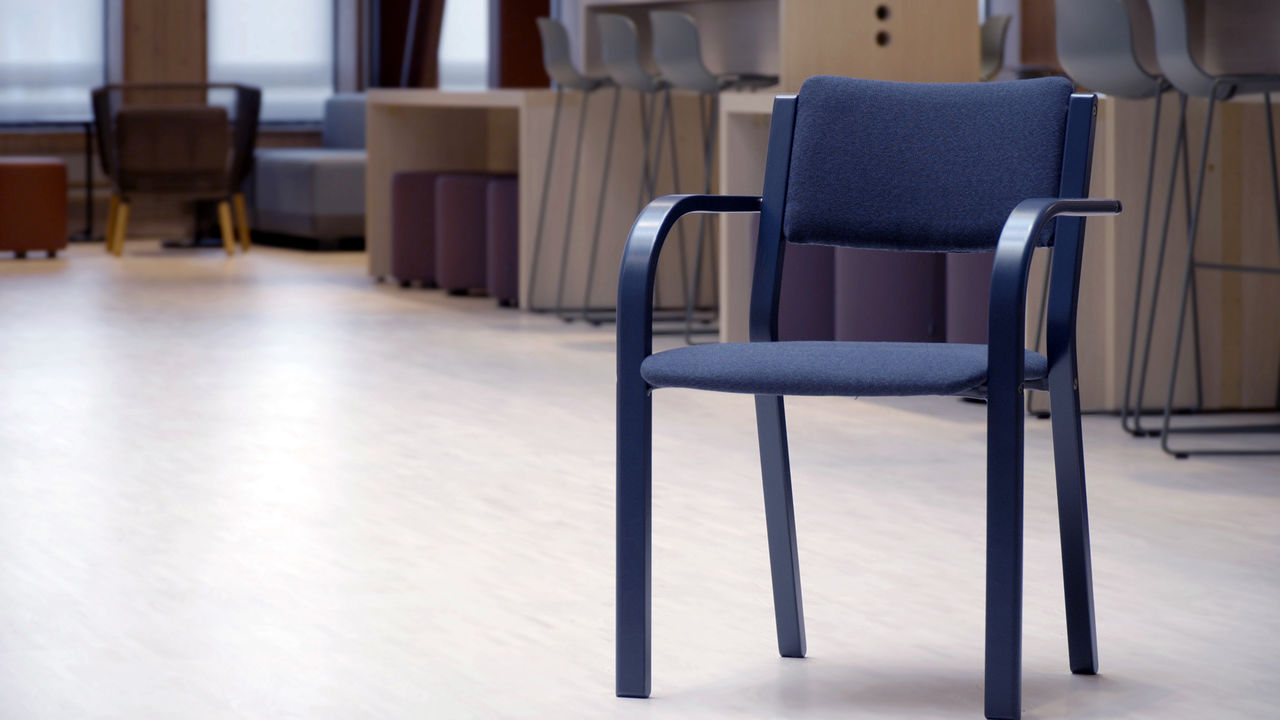 were brought in.
"We've worked on this in theory for so long, and have seen so many drawings that now that the furniture is in place, it's an almost surreal feeling. All we've got left now is to deal with a few incorrect deliveries", says Tina Garherr.
Translated by Martin Mirko