He has just moved into his own office in the B Building on Campus Valla. On the desk are a laptop, a microphone and a sketching tablet. This is the equipment Björn Runow uses to create short videos to teach maths on his Youtube channel.
"But I've been given the office because I'm now teaching undergraduates taking the first year of the teacher programme. It's a great privilege to be both a student and a teacher. I appreciate the challenges facing the students, and can use this in the way I teach."
Björn Runow has always been fascinated by maths, and has always enjoyed helping his friends.
"I'm not a genius, but I probably find maths easier than many others. Helping others is my way of learning."
After qualifying for university entrance, he had the opportunity to fill in for his own previous maths teacher at the upper secondary school he had attended in Södertälje. Shortly after, he founded his own homework tutoring company, travelling across Stockholm helping students in secondary and upper secondary schools.
"Until then, the time I spent teaching in the upper secondary school had been the best fun ever."
Then came the move to Linköping to study industrial engineering and management. Here, his interest in maths grew, and could almost be described as a passion.
"The maths education here at LiU is fantastic, and I'm extremely grateful to the Department of Mathematics", says Björn, who soon after arrival became involved in Mattehjälpen offered by the LinTek student union, while at the same time continuing to tutor his previous pupils, now online."I noticed that I was helping several pupils with the same thing over and over again, and I started to think whether the teaching could be done more efficiently, and also increase its reach."
Student helping students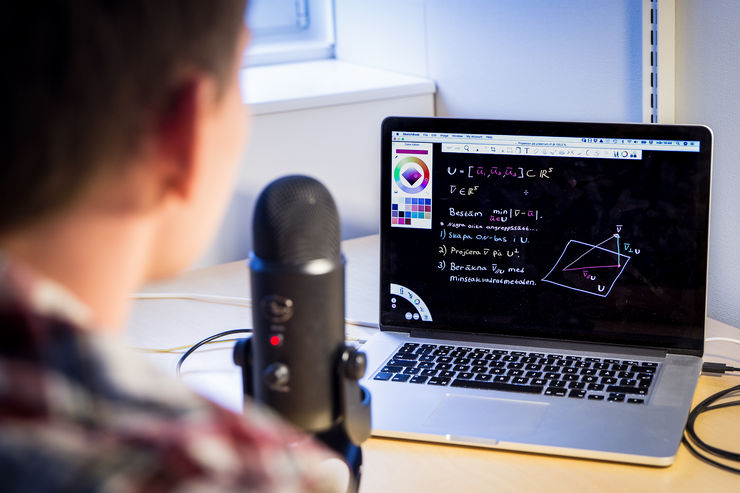 Photo credit Charlotte PerhammarSo during the first summer vacation, Björn started to make maths videos, covering topics from maths in Year 7 and up to upper secondary. Then he continued with the initial maths courses from university education in the master's engineering programme.
"I see myself as a student helping students. I know what I and my classmates found difficult, and I try to work through these items more carefully. People appreciate this, and I know that many teachers in upper secondary schools use my videos as a supplement to their own teaching."

He doesn't advertise the channel at all, except for on his Facebook page, but its fame has spread. And he doesn't make any money, either. The channel has so many subscribers, currently over 2,600, that he could open it for advertising.
"But I don't want to. There's already too much advertising on YouTube", he says laughing. "My videos are free and available to everyone. I know how frustrating it can be, and how stupid you feel when you don't understand."

Making one completed minute of maths video takes him 12-15 minutes. A completed video can be between five and fifteen minutes long. Björn uses a USB microphone, a video editing program that captures the computer monitor, a sketching tablet, and a graphics program. He has published approximately 500 videos, including a crash course in preparation for the university entrance exam, with support from the university.
Huge potential for online courses
Most of Björn's viewers are between 18 and 25 years. They can use the comments facility to ask questions, and Björn answers them there.
"They can be completely anonymous, I don't have a personal relationship with the viewers. But I do receive email from people who are deeply grateful for the help I give them. One upper secondary pupil wrote and thanked me for my material about linear algebra. He had read it all in private study, watched my videos, and passed with the highest grade. This sort of thing is really great!"

Björn is convinced that there is a huge potential for online courses in other subjects, and he is now helping the Department of Mathematics to start using such courses.
"The first thing I do as a student when I start a course is to find useful material on YouTube. I can then use this as an integral part of my education. A lot of people are doing the same, and the number is increasing. When watching a video, some people find it an advantage not to see the teacher. It's sort of like reading a book: you have to imagine what the person looks like. And this means that there are fewer distractions."

"I'm thoroughly enjoying working with maths teaching. And it's obvious that I would like to work with it at the university in the future, particularly with linear algebra."
Watch the short videos on Björn Runow's Youtube channel
Translated by George Farrants