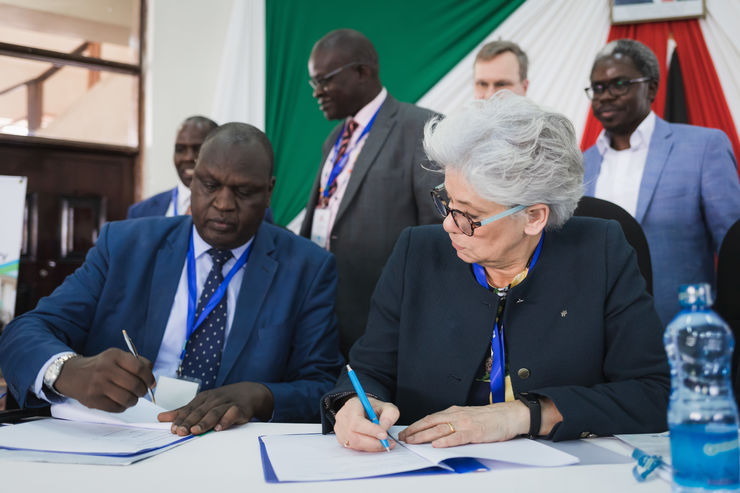 The two vice-chancellors signing a new agreement. Photo credit Anna Nilsen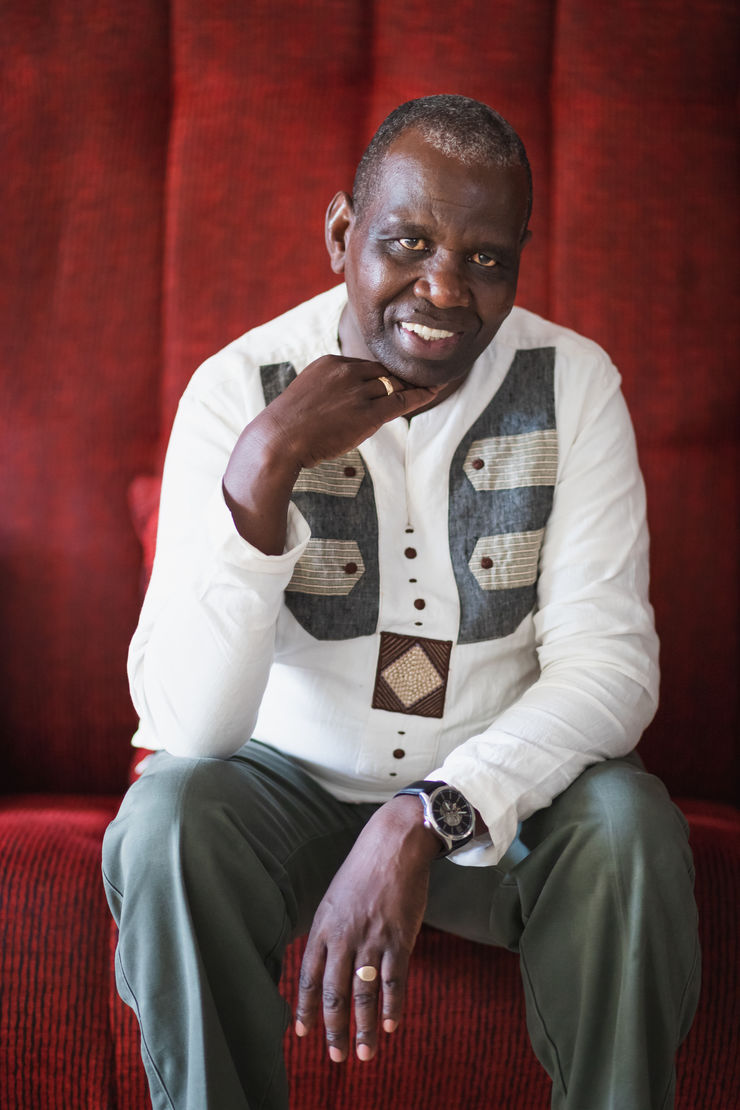 Simeon Mining.
Photo credit Anna NilsenLinköping University and Moi University in Kenya recently celebrated 30 years of collaboration.
"A collaboration that lasts as long as this is unusual. One reason for the success is that we have been fortunate with personal relationships and trust with a high level of integrity – we have both benefited greatly from each other", says Simeon Mining, coordinator for the collaboration at Moi University and honorary doctor at Linköping University, (photo to the right).

The collaboration initially concerned a new medical programme. The ministry of health in Kenya wanted to establish medical education at Moi University in Eldoret, western Kenya. It wanted the teaching methods to be modern and innovative. The eyes of the ministry were for this reason drawn to Linköping University (LiU), which had attracted international attention for its teaching model using problem-based learning. An agreement was signed in 1989 and Linköping University subsequently contributed to setting up the medical programme.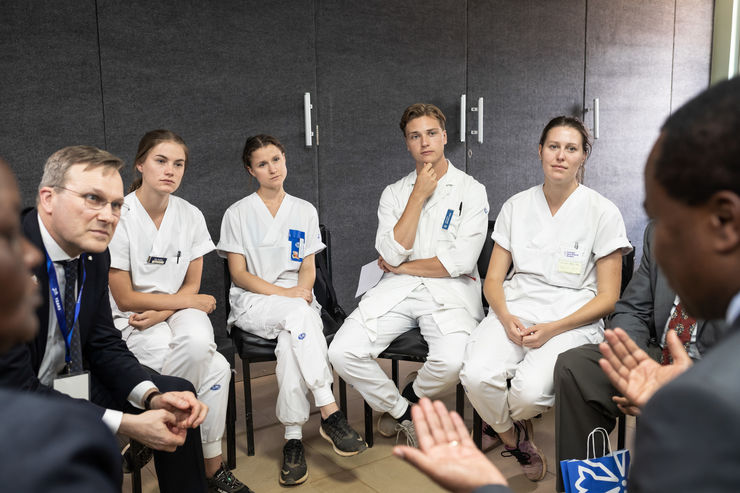 Medical students from LiU in Kenya. Photo credit Anna NilsenWith the medical programme in place, a programme of exchange visits between Moi and LiU grew. Through the years, more than 600 students and teachers have spent time in the partner country, Sweden or Kenya, in order to expand their professional horizons. The collaboration has been expanded to include several exchange visits within health and medical care.

On the occasion of the jubilee, four LiU students were present in Eldoret. They are taking the medical programme at LiU, and are on a 12-week placement at Moi university. The conditions for medical care in Kenya are very different from what they are used to: the students' perspective is broadened. They gain knowledge about other types of disease, learn to take on major responsibility for seriously ill or injured patients, and are confronted with a reality in which patients in many cases die because they cannot afford to pay for healthcare themselves. The huge difference in social conditions gives new insight.

"Many are much sicker when they arrive than would be the case in Sweden, because they wait longer before seeking medical attention. I'm gaining loads of new knowledge here that I haven't seen used in Sweden, such as many small medical manoeuvres and methods of physical examination. I'm hoping to be able to use them when I return home", says Kajsa Broman.

As the years have passed, exchange visits for teachers and students have been established for other professions in healthcare education, including nursing science and physiotherapy.

Pia Ödman teaches physiotherapy at LiU and travelled on an exchange visit to Kenya in 2018.
"I taught a course in neurological rehabilitation and collaborated with those responsible for the course at Moi about content and teaching. The weeks I spent in Kenya gave me a new way of looking at what we do in Sweden, and I have a greater sense of participation in the collaboration now that I've visited there", says Pia Ödman.

Several Kenyan students participated in the jubilee celebrations, several of whom had been on study visits to LiU last year. They also confirmed the enormous impetus to learning that occurs when a person leaves the educational comfort zone.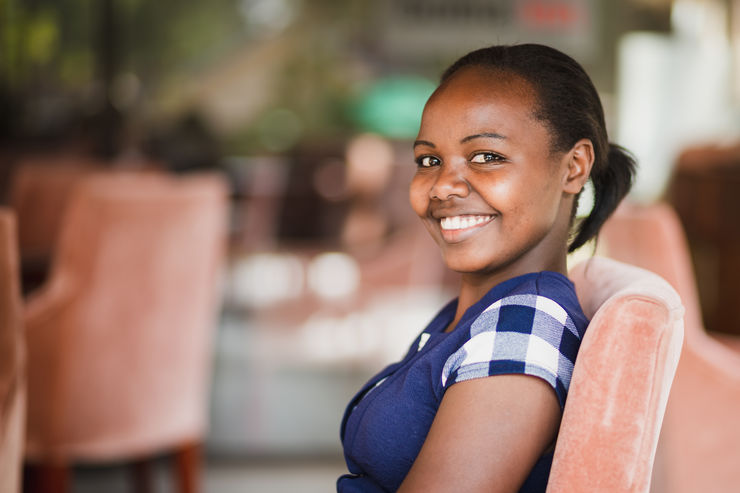 Joy Wendo Photo credit Anna Nilsen"I really valued the friendly and personal way in which the teachers treated us students. This enabled me as a student to have the courage to pose questions and reflect out loud, and in this way I'm sure that I learnt more", says Joy Wendo, who is studying nursing science.

Ashwinder Bhamra is studying medicine. He is convinced that he will benefit from the weeks he spent in Linköping for the rest of his life.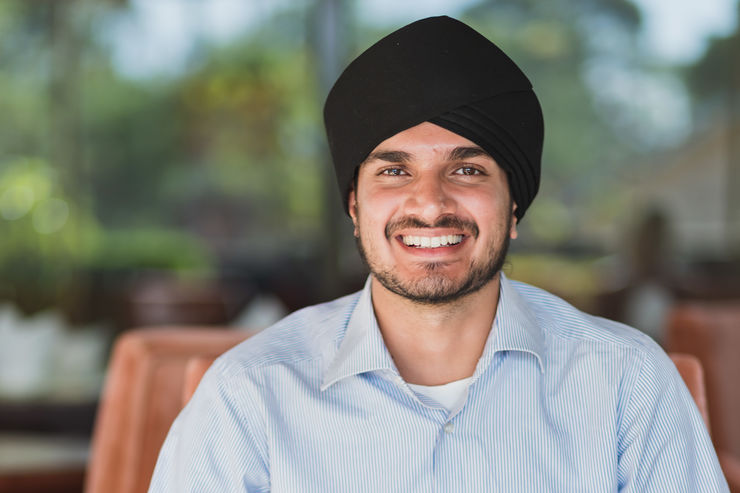 Ashwinder Bhamra Photo credit Anna Nilsen"When you meet people from other cultures, you are forced to reflect over yourself." His experience is that all such personal meetings make a better doctor.

Coordinator Simeon Mining points to other advantages of the exchange programme, from the perspective of Kenyan society.
"Our students and teachers receive a boost to their self-confidence by studying and working for some months in another country. Often, these people will eventually come to occupy central positions here in Kenya. They also satisfy their desire to see the world, and subsequently return to Moi. This means that we retain the most able people in the country; the young people start a family here and are satisfied with that."

The two vice-chancellors signed new collaboration agreements during the jubilee celebrations. More students from the Faculty of Medicine and Health Sciences, including those on the biomedicine programme, will have the opportunity to study and travel on placements to Moi University. Exchange of doctoral students will increase, and plans are in place to increase also exchanges within occupational therapy and teacher education.

"International collaboration opens and broadens the perspectives and knowledge of the universities. No one has all the answers alone, and collaboration quite simply leads to better education and research. We are now continuing to build on our collaboration with Moi University, and expand it in a manner that will benefit both partners", says Helen Dannetun, vice-chancellor of Linköping University.
Translation: George Farrants