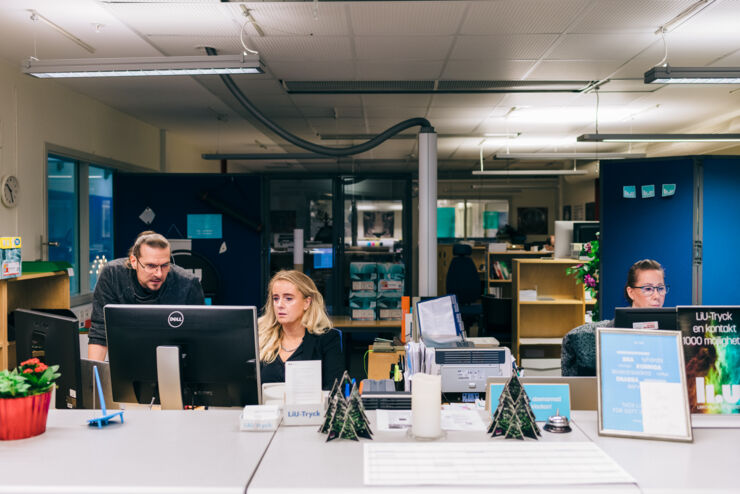 Customer reception. Marcus Lundberg, Lisa Floxner and Lis Nilsson. Lisa and Lis are responsible for customers and their orders. Photo credit Anna NilsenIf the door is open, you're welcome to come in. The head of LiU-tryck, Anita Axby, has been excitedly preparing to tell us all about this little work unit that can be found at one end of A Building, Campus Valla. After all, it's not every day that those working with internal news come and visit to research an article.
"So exciting to see you! Welcome!", she says, and starts presenting the work that's done at LiU-tryck.
"Our mission is to be the go-to printing service for faculties, departments and the University Services. However, I think quite a lot of people at LiU still don't know about us. We want that to change, of course."
Customers who are also colleagues
Customers come to LiU-tryck mainly from within the university, even if there are a few external ones. Examples of external customers include teaching staff with their own companies, or companies who want to print educational material. But LiU-tryck takes on so little external work that it can't be said to compete with private printers.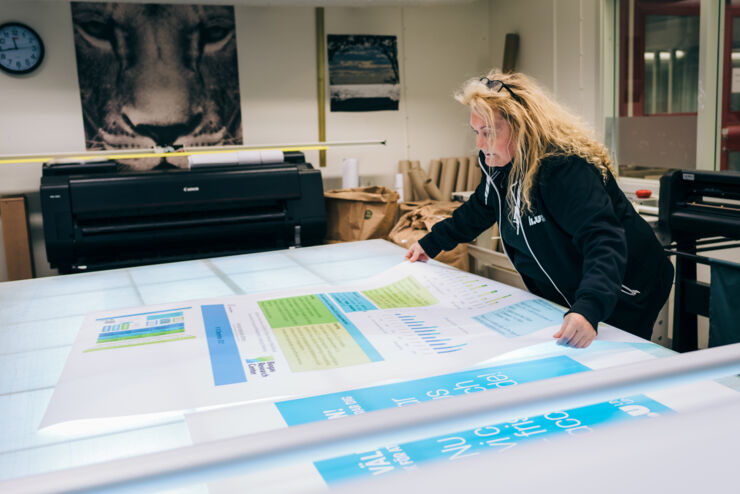 Maggan Fransson with one of the many scientific posters that LiU-tryck has produced. This one is from the Biogas Research Centre. Photo credit Anna Nilsen
Instead, its main customers are LiU-based: teaching staff, researchers and students. For example, students often get their degree projects printed, but might also request things like posters or even, as in one case, a specially designed board game.
"Our customers are also our colleagues. This proximity – both physically in this building and organisationally – is a big strength. We know exactly what our customers need", says Anita, going on to talk about another common customer: PhD students.
"We print about 200 PhD dissertations every year. PhD students are often a little nervous when they arrive, but that doesn't usually last long. We know what they're going through, and can help with a schedule and cover design.
"Here's the guillotine"
The list of products that LiU-tryck produces is long, and includes things like large-scale printing business cards and envelopes, brochures, handbooks, scientific postures and diplomas with the LiU seal in relief. LiU-tryck also produces window film and stickers – such as the kind you see everywhere nowadays encouraging you to keep your distance.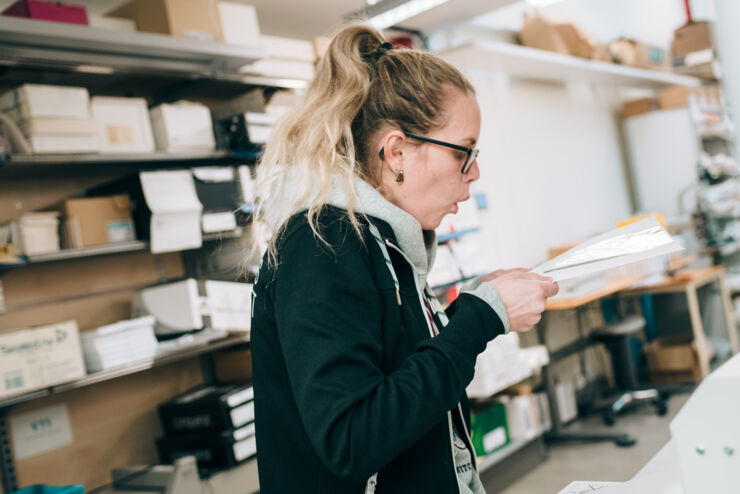 Seal print. Sabina Hörling blows away the left-over gold paper. Photo credit Anna Nilsen
The printing unit can also rent out or lend sandwich boards or so-called "beach flags", and can even pass jobs on to external companies if needed. Another important product is banners – small, large and supersize.
"The length is determined by the size of the roll, up to a maximum of 50 metres. For the New Students' Day, we made a banner that was 16 metres long. I like working with big formats – it really makes such an impression", says technician Maggan Fransson when we're shown round the printing unit.

Her colleague, digital printer Anders Lindeborg, is working on a PhD dissertation from the Department of Mathematics, with an order of 77 copies. The process involves several steps every one of which is equally important: design, printing, cutting and, finally, gluing into a book.
"Here is the guillotine. Mind your fingers!" Anders jokes, adding quickly that you have to use both hands on the cutting machine in order to avoid accidents.
Intimately familiar with LiU – a strength
One of LiU-tryck's strangest orders came from the IT Division at the beginning of the COVID-19 pandemic. "We have to screen off our workspaces, quickly. Can you help us?" was the request. "Of course, we'll give it a go!" was the answer.
LiU-tryck came up with the solution of developing dividers that could be inserted into a simple stand and thereby act as a dividing wall between two workspaces. Anita shows a picture of the simple, but functional, solution.
"This is one of our strengths, I think – the fact that we're flexible. We're intimately familiar with LiU, we can deliver fast and professional help, and we can help in many different ways. I don't think anybody else can do that as well as we do."
What LiU-tryck struggles with, however, is finances. The printing unit had financial difficulties even before the pandemic, and when it hit they lost almost a third of their revenue – nearly SEK 3 million. SEK 1 million has now been recovered, and LiU-tryck plans to break even in one year's time, 2023.
"With the plan that we have, I believe we can do that. Or rather, I know that we can do it", says Anita Axby.