"I've built in Lego as long as I can remember", says Albin Hansson.
He has just started a master's programme in engineering, specialising in design and product development. Together with his father, Jan-Erik Hansson, he is competing this autumn in the TV program Lego Masters. They make up the team "The Handy Hanssons", and the first episode was broadcast on Saturday 28 August. The program pits eight pairs against each other in building fantastic and technically complex models from Lego bricks.
"Recording the episodes was great fun. At first, I was very conscious of the cameras, but I forgot about them after a while. I learnt a lot about TV. Now I find it difficult to watch reality-TV without thinking about everything that's going on at the recording site."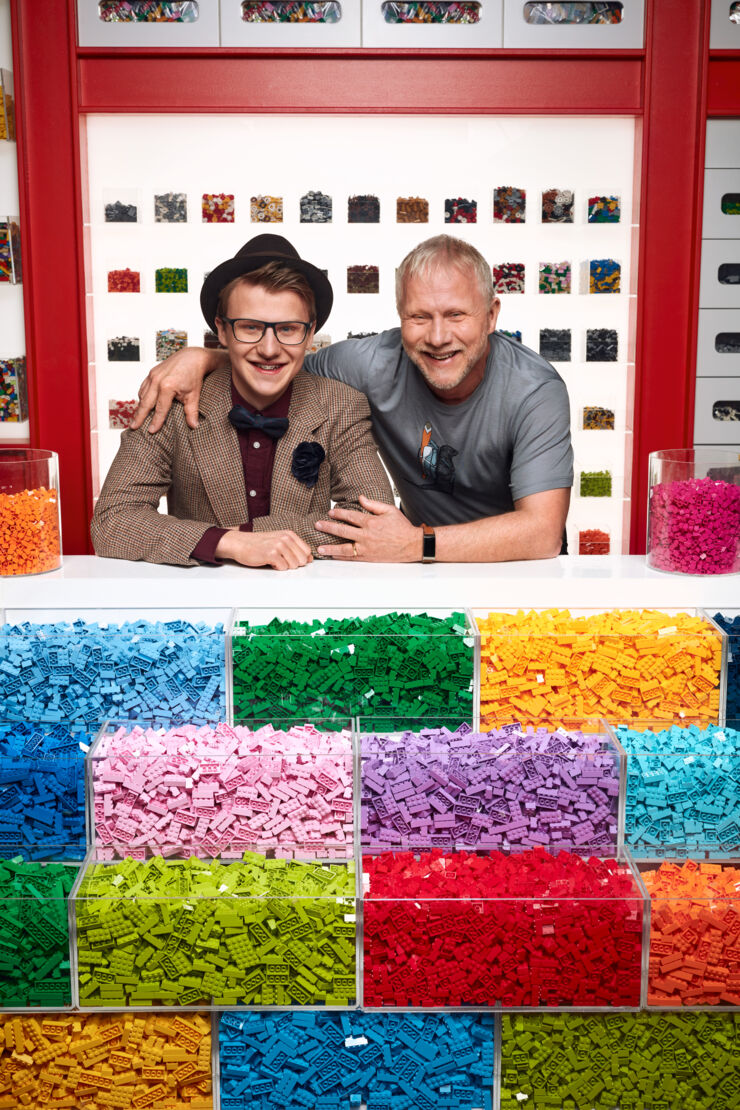 Albin Hansson and his father Jan-Erik Hansson are competing in Lego Masters. Photo credit Jakob Dahlstrom
The episodes now being broadcast were recorded in March. Albin is not allowed to tell us the results, and he hasn't seen the programs himself.
"Of course, I'm burning with curiosity to see how it turned out. Several of the participants became friends during the recording."
For many adults, building with Lego is for children, but Albin Hansson sees it differently.
"I usually compare it with painting. Many people stop painting as they leave childhood, but some continue as adults, and no one finds that strange. It's the same with Lego bricks. They are just another medium to express yourself."
Many adults who build with Lego (known as "AFOLs" or "adult fans of Lego") went through a period after childhood in which they put away their Lego bricks. They refer to this period as the "dark ages".
"It wasn't like that for me. While it is true that I didn't build with Lego so much when I was in upper secondary school, I was always following closely what was going on in the Lego world."
Albin Hansson believes that building with Lego has honed his skills in volume-based thinking and the use of 3D modelling programs.
"I took part in the Swedish CAD championships (a computer program used to make 3D drawings of objects), and was placed among the six best. And I was awarded a scholarship by the Chamber of Commerce of East Sweden for 3D modelling."
Nowadays, nearly all of his building work is done using digital Lego bricks.
"It's the same software that the Lego company uses when designing products", he says.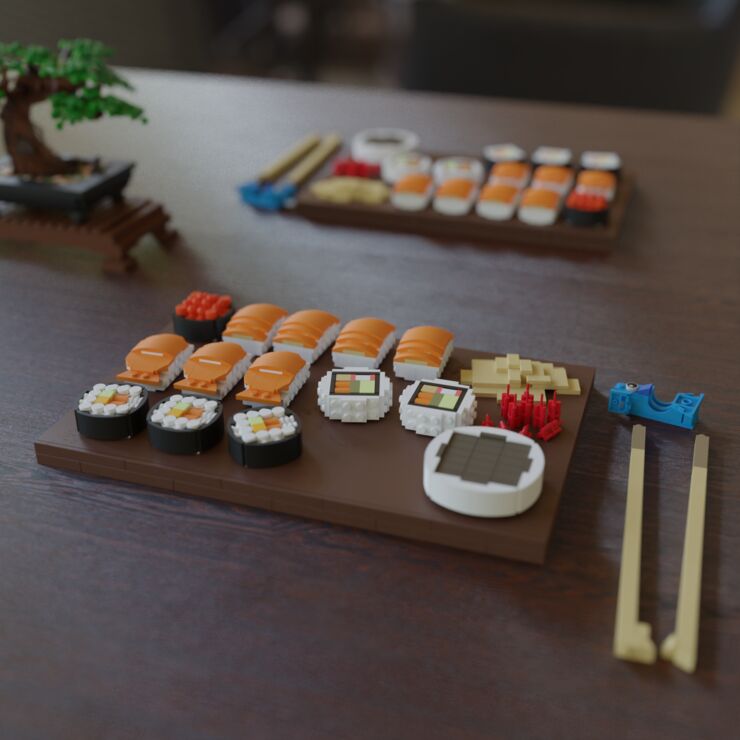 Albin Hansson's sushi meal in virtual Lego.
His most recent construction was a sushi meal, to be completed in under two hours. One difficulty with this particular model was the curved shapes. And AFOLs are often interested in using Lego bricks efficiently.
"My strength in building is that I can use iterations efficiently. When I build something, I rebuild it 15 times over, until it's perfect. If I otherwise would have used 150 bricks, I can get this down to maybe 100 through iterations."
His goal after graduating is to work for the Lego company as a designer.
"I want to design the sets you see in toyshops. Ever since I found out that you could work as professional Lego designer, when I was around 10 years old, I've wanted to be one."
The Lego headquarters are at Billund in Denmark, where Legoland is also located.
"It seems to be an extremely creative workplace full of play. Sometimes they employ folk who are simply good at building with Lego. One of their most talented designers was a train driver who was also an AFOL. But it's best when applying for a job there if you both have a background in design and are a Lego enthusiast."
So what's next for you?
"At the moment, I just want to enjoy myself and become immersed in life as a student, until I start work. I realise that I will be working with Lego the rest of my life. I've told myself that even if I was offered a job there now, I wouldn't take it. I'm not in a hurry to get there. Now I want to enjoy life as a student and get on with my studies."
Lego glossary
AFOL– adult fan of Lego
SNOT – studs not on top

Dark Ages – a Lego-free period after childhood