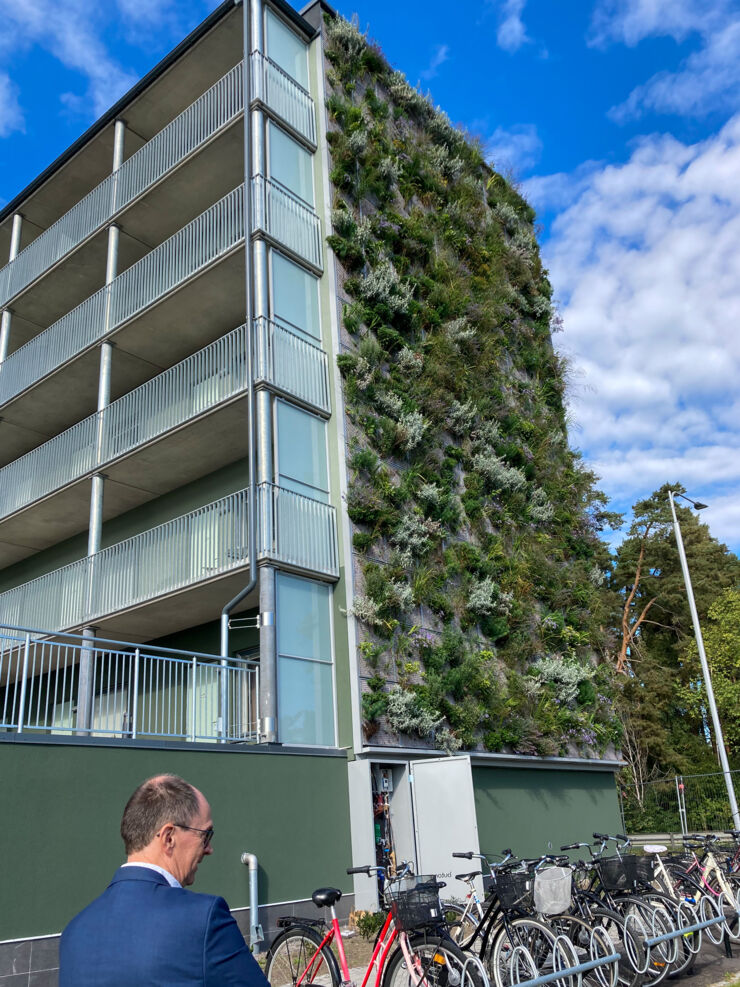 The green wall conjures up the feeling of a woodland walk. Photo credit Teres WramellThe second phase of the Colonia student accommodation project has now opened, and it is planned that all students will move in during September. The two phases of the Colonia project now offer 715 apartments for approximately 1,200 students, young people and visiting researchers. The accommodation comprises not only compact one-room and two-room apartments, but also apartments designed for sharing, with two bedrooms and a common kitchen/living room and bathroom. Here, two can live together and share both costs and household equipment. The WiFi covers both indoors and outdoors, and the complex has common rooms with social areas, kitchens, a study areas and pool tables. The project is part of ByggVesta's student accommodation project, Live to grow, which puts a focus on security, sustainability and community for accommodation close to campus.
"The best thing about living here is how close it is to everything: it's like living in a small, self-contained minicity. The area will also have a self-service supermarket, gym and restaurant", says Hannah Sackbrook. She is taking the master's programme in business and economics, while living in Colonia and working with two other students as student ambassadors.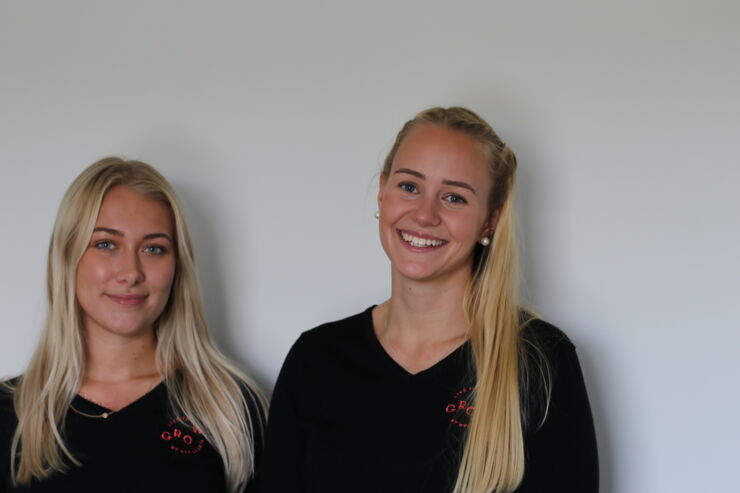 Ida Madsen is a third-year student on the master's programme in business and economics, and Hannah Sackbrook a fourth-year student on the same programme. Both live in Colonia, where they are student ambassadors. Photo credit Teres WramellHer role as student ambassador is an employed post paid by ByggVesta, where she acts as a link between the company and the students. Typical duties include letting apartments, looking after information, managing the access system, and answering questions.
"We are here to help", says Ida Madsen, another of the student ambassadors, also on the master's programme in business and economics.
"Many people are living alone for the first time and have lots of questions. It can be anything from how to switch on the fan or how the fuse cabinet works, to questions about their study programme. Since we are also students, we can answer these questions."
"Sometimes we're still at work at ten o'clock at night!", says Hannah Sackbrook.
Ida Madsen brings up the social aspects of the project as one of its advantages.
"We have an app, Your block, which enables us to communicate and keep in touch with each other. The other day someone posted that they had some left-over cake. Another time, someone wanted to give stuff away, and it sometimes happens that someone uses the app to inform about a party (and the risk of slightly louder music)."
Several of Ida Madsen's close friends live in the area and the app makes it easy to find more friends to do something together.
Contracts in demand
Ida Madsen was initially subletting an apartment in Colonia 1, but now has her contract for a single-room apartment with kitchen, of size 37 square metres. Hannah Sackbrook moved into Colonia II during the summer. Before this, she also was living in Colonia 1. Her new apartment is two-roomed of size 43 square metres, where she lives alone.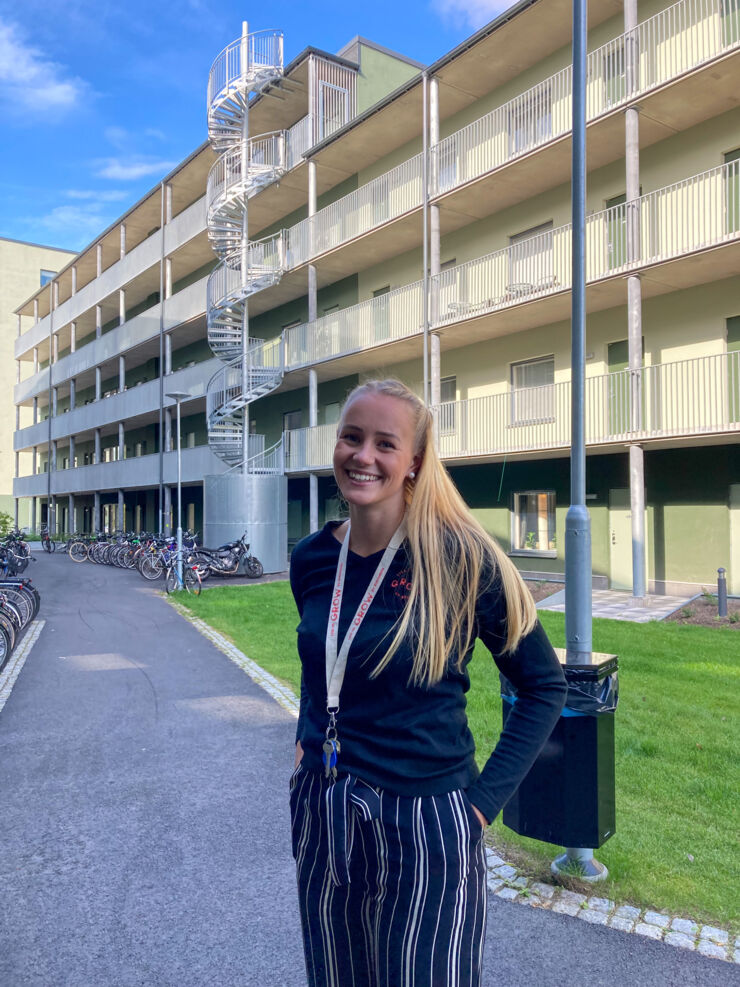 Hannah Sackbrook giving a guided tour of Colonia. Photo credit Teres Wramell"The rent is SEK 7,800 a month, but since we only pay rent for 10 months, it becomes SEK 6,500 spread over a year", she says.
The shared apartments are designed for living with a friend or a partner, with only one of the residents responsible for the contract. The other person has the status of lodger of the contract holder, and ByggVesta has a standard contract that can be used for this. The company also signs a green contract with the tenants, and measures the consumption of each apartment individually.
An investigation by the industry organisation Studentbostadsföretagen showed that most students want to live on their own, but one third will consider sharing accommodation with a friend, if they can select who they live with and if it leads to a lower impact on the climate and lower rent.
Plants improve well-being
Another important factor is access to green areas. Living in Colonia, you are close to Rydskogen, Vallaskogen and all the vegetation that has been set out as a common thread through the constructions. One façade holds the first wall of plants on a multi-family building in Sweden, and the recycling room is also full of plants on the walls and shelves.
"The vegetation on the green façade gives increased personal well-being by acting to reduce noise and relieve stress. Not only the visual experience but also the smell of plants increases well-being", says Lars Höglund, managing director of the Butong company, which has covered the property with vegetation.
Vice-Chancellor Jan-Ingvar Jönsson considers the choice of plants, while wondering about weeding and watering. Here with Lars Höglund, managing director of Butong, the company that covered Colonia with plants. Photo credit Teres WramellSome of the plants are perennials, but not all.
"Some plants will wither during the winter. And the complete façade will not always be covered. This is living material", Lars Höglund emphasises, and points out that the intention of the vegetation is to give residents the feeling of a woodland walk.
Increasing numbers of students and young people place demands for sustainable solutions.
"They don't want to own everything themselves, and try to reduce their climate footprint for travel and consumption. At the same time, a digital transformation of society is taking place. Young people want to be online: many want to continue to study remotely, and to view filmed lectures after the event, even when the restrictions imposed by the coronavirus pandemic have been removed", says Jan-Ingvar Jönsson, vice-chancellor of Linköping University.
This poses challenges for both how people study and how they live.
"We are going to work with these ideas, but the campus will be the basis of how we work. That's why it's particularly gratifying to be here and open this new residential area. It offers excellent facilities for our students with creative surroundings and a greener and more sustainable campus where everything is close at hand", says Jan-Ingvar Jönsson.