The gravel roads around Rejmyre outside Finspång wind through dense spruce forests and clearcut areas. The bumps in the road make it impossible to drive at any speed. Two master's students in biology, Rebecca Petersen and Angelica Weisner, are on the way to set some of the insect traps that have been in place since early May, and which will tell us more about which species live in our forests: insects, beetles, but also mosses, lichens and fungi. And some of the traps will be taken down, as the job of collecting beetles is finished.
"Insects are important for the ecosystem. A diverse ecosystem works better, and it's important to preserve the species that exist. Such a large study has never been done before, which is why I wanted to be involved, and so that I could contribute in a concrete way to a real project", says Rebecca Petersen.
"I was actually supposed to do my degree project in Kenya. But then the Corona pandemic came, and the trip was cancelled. Now I'm really happy that I got the chance to jump onto this instead. It's an important, fun project, a bit like what I would have done in Kenya, studying butterflies", says Angelica Weisner.
Taking inventory as a degree project
The project of mapping species diversity in the region's spruce forests is a collaboration between the Östergötland county administrative council, five major forest owners in the county, and Linköping University. The Swedish Environmental Protection Agency and the forest owners provide the funding; the county board manages the project; and the students do the work as part of their master's degree project in the biology programme. The study concerns a total of 35 forest areas around the Östergötland region, including six clearcut areas – both nature reserves and production forest adjacent to the reserves.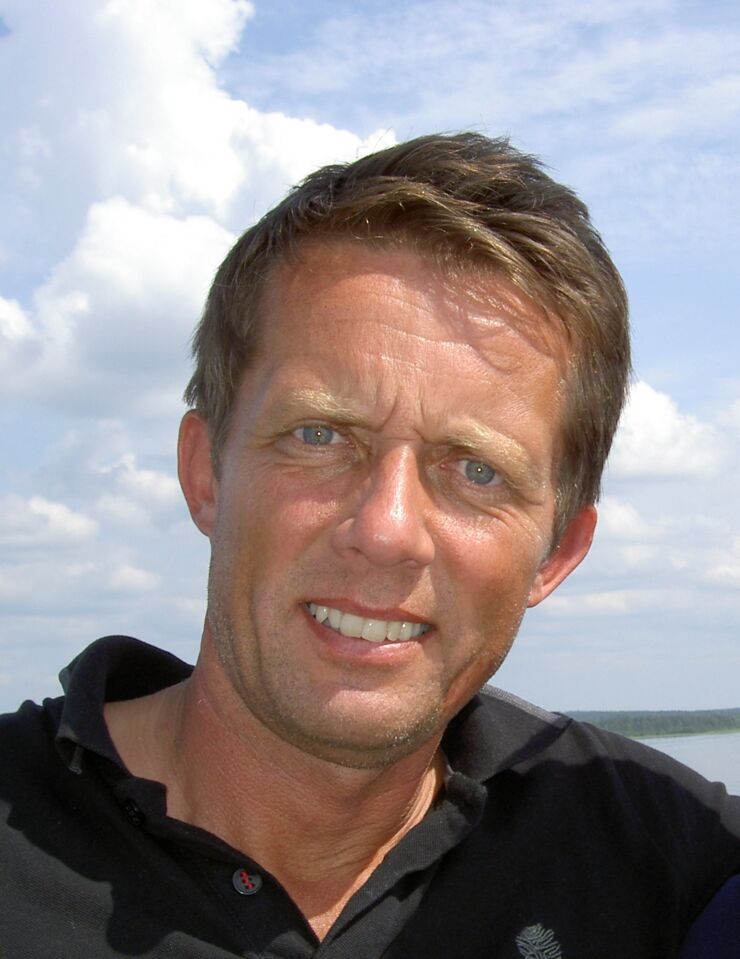 Nicklas Jansson, biologist and senior lecturer at Linköping University, is project manager. Photo credit PrivatToday the forests of Sweden are to a large extent used for production of pulp and timber. Spruce makes up an increasing share of the area, at the expense of pine and conifers. Production forest is harvested after 70-80 years, while untouched forest can become several hundred years old. A consequence of this is that many species are under stress and have trouble finding their habitat.
"There's a lack of knowledge about which species that live in the old protected forests, and in the various phases of the production forests, and which species are having extra difficulty. We perceive that insect numbers are decreasing but we don't know for sure; as this has not previously been measured. This is the first time that such a large study is conducted", says Nicklas Jansson, biologist and project manager at the county administrative council and senior lecturer at Linköping University.
The forest owners have also shown interest in the study. The measures required to foster species diversity and habitat for various insects can be quite small.
Insects from different forest types
Two types of traps are used in the study. The Malaise trap resembles a small tent. The insect flies into the trap, moves up toward the light part, and falls into a vessel containing liquid, where it dies and is preserved. These traps have been installed at locations that are representative for each forest type.
"I empty the traps every third week, and will measure the number of insects, and sort them into groups. This helps us see the difference between production forest and nature reserve, and get a rough measurement of which insects there are", says Angelica Weisner.
Rebecca Petersen uses a window trap: a plexiglass sheet suspended between two trees, with a trough underneath. The insect flies into the sheet, falls into the trough, and is preserved in the liquid.
"In this study we're looking at beetles. We will go down to species level, and see which beetle species are found in the various types of forest", says Rebecca Petersen, as she empties the trough into an ordinary tea strainer. Gleaming beetles land in the strainer, as well as some spruce needles and other matter.
"We're also going to look at the amount of sunlight, how much dead wood there is around the traps, and which mosses, lichens and fungi are growing on it. Lots of beetles live in rotten wood or in fungi that break wood down, so these factors can also have an impact."
Making their own traps
This phase of the study involves a lot of practical work. The Malaise trap can be purchased. For the window traps, Rebecca Peterson constructed them using plexiglass and ordinary baking pans. It's a model developed by Nicklas Jansson, that has been used by the county administrative board and LiU for more than 25 years.
Throughout the summer, Rebecca and Angelica travelled around Östergötland, collecting the insects from the traps. Now they will spend some time in the lab.
"We're going to sort, compare and analyse what we've collected. In order to determine their species, which is Rebecca's part of the project, we've enlisted an expert. It takes many, many years to become skilled at that. Then we have to write a report, and in May next year we present our work", says Angelica Weisner.
Translated by Martin Mirko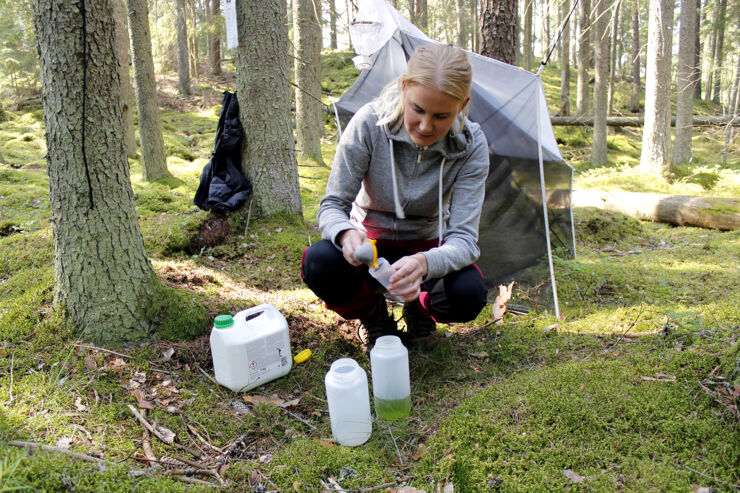 Angelica Weisner empties the trap using an ordinary tea strainer. After the summer's fieldwork, it's time for species identification and lab analyses. Photo credit Elisabet Wahrby
The Malaise trap resembles a small tent. The insect flies into the trap, moves up toward the light part, and falls into a vessel containing liquid, where it dies and is preserved. Photo credit Elisabet Wahrby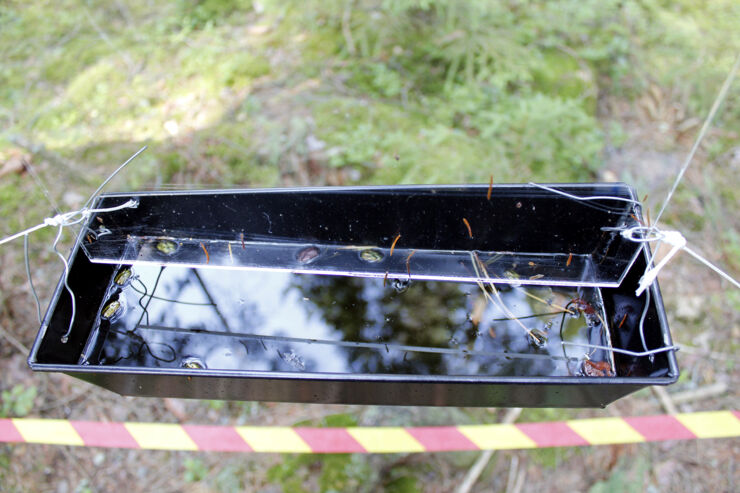 The window trap is a plexiglass sheet suspended between two trees, with a trough underneath. The insect flies into the sheet, falls into the trough, and is preserved in the liquid. Photo credit Elisabet Wahrby