"Yippee! I'm so happy! It's just so fantastic that this project has won the prize – and it deserves it! A shared vision and efficient collaboration throughout the project have given results", says Karolina Ganhammar, university architect at LiU.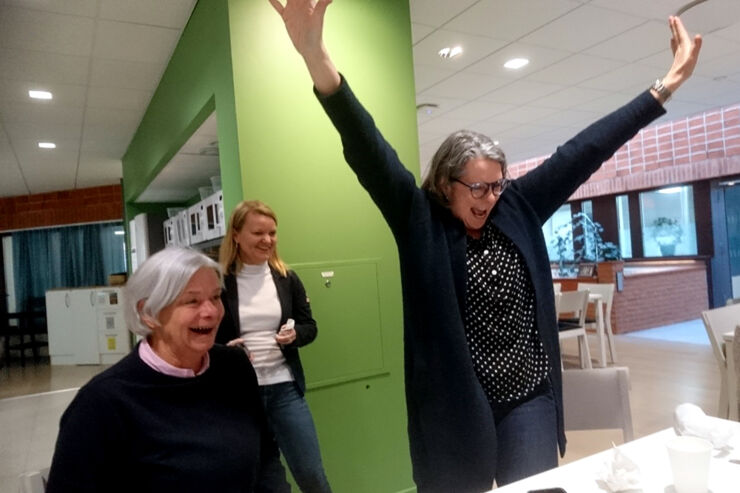 "A clear shared vision and collaboration between everyone involved has characterised the project, which is permeated by innovative solutions. And an extremely clear-sighted cost awareness has made possible the low construction cost. The winner has been awarded the highest grade for all criteria. A delight in the work, pride and good leadership have contributed to Studenthuset in Linköping now being awarded the title of Årets Bygge 2020", said jury chairman Ruben Aronsson when announcing the winner.

Of the 68 submissions to the competition, ten were selected for presentation to the jury. This became a shortlist of four, and finally one winner – Studenthuset in Linköping.

Studenthuset has previously been nominated for two other awards: Plåtpriset and Årets arkitekturpris i Östergötland.
Studenthuset – brief facts
A central meeting point and prominent entrance to Campus Valla. A building for student service, library and lectures, with 1000 study places, researcher lounge, meeting rooms, Makerspace and a motion lab. Among other things.
Size: 15,500 square metres on seven floors
Architect: Linda Mattsson, White Arkitekter
Construction client: Akademiska Hus
Construction period: Start May 2017, completion July 2019
Opening events: Held between 30 August and 5 September 2019
Environmental and sustainability facts: The highest environmental classification: Miljöbyggnad Guld. Much of the interior is in wood. Around 40% of furniture are reused items. Adaptive illumination based on the number of visitors.
Innovation: 750 integral moisture sensors that will discover any moisture at an early stage, using technology based on LiU research into printed electronics. 1,200 square metres of solar cells, providing approximately 75% of the building's electricity needs.
Translated by George Farrants